Hub Research released a new study that showed something very interesting about the streaming world. Among the findings of what it referred to as a "Battle Royal" for streaming it found that users who have streaming built-in as a bundled service are more likely to see the service as a must-have service than services that do not. Highlighted is Amazon Prime which includes multiple streaming perks like it Prime Video app, a complementary level of Amazon Music, podcasts, ebook access, and of course free shipping. In my own experience, I have found that a lot of people have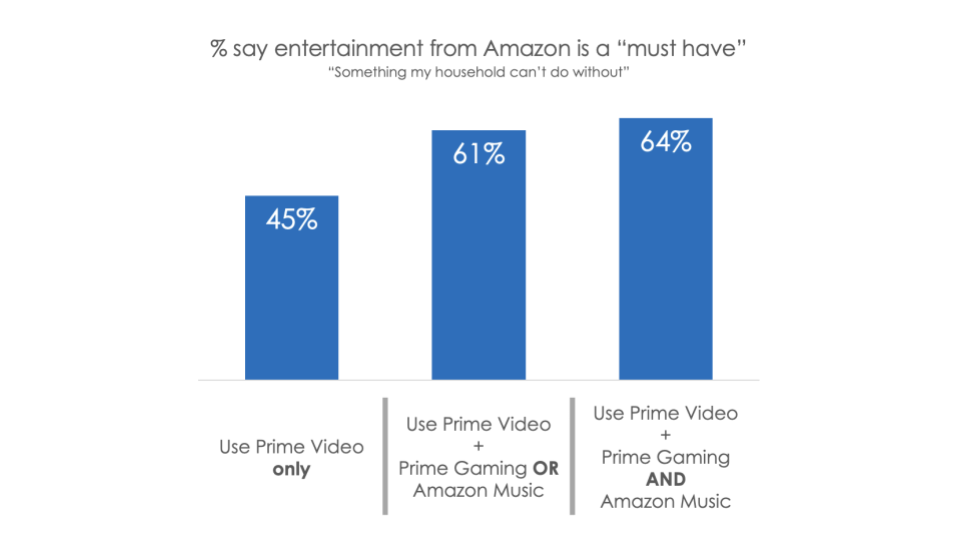 Prime for one reason or another but not necessarily because of the video service.
Among Amazon Prime subs who only use Prime Video, less than half (45%) say that Amazon's entertainment content is a must-have

But among those who also use either Prime Gaming or Amazon Music, it's much higher (61%)

And among those who use all three, 64% say they couldn't do without Amazon's entertainment content
It seems that once people begin to use multiple parts of the service they see it as more valuable than if they only take advantage of one thing. Free shipping may not seem like a big deal, but free shipping and a free on-demand music library that you can call up with any Alexa connected device, pared with access to free books and new episodes of Jack Reacher makes for a much more intriguing package that becomes part of a lifestyle.
In general, streaming is a growing entertainment option but it is diversifying more from the more out front world of video consumption to audiobooks, podcasts, streaming music services, and more. In fact, it looks like streaming-related activities that you can take advantage of while you are in a car or a plane ride are taking off (see what I just did there?).
That could be good news for Apple, which has been promoting Apple TV+ for a good few years now, yet can't seem to break through to mass markets despite high praise for the level of content available including Emmy wins.
In another eye-opening find, it looks like that service that "everyone hates" has a little more staying power than the hot take crowd thinks it does. Two-thirds of Netflix users (68%) rank it a must-have – the highest of any premium video platform. Yeah. Netflix, which has been all but declared unwatchable in the social media world and lashed due to one worse than expected quarter is rated the most must-have platform of any premium streamer. Put that on your plate Disney. 
Two-thirds of Netflix users (68%) rank it a must-have – the highest of any premium video platform. 

But YouTube (69%) is considered a must-have by just as many users, and Spotify (75%) ranks ahead of both.

Special interest platforms that focus on one genre may have fewer subscribers, but those users are very loyal:  both Crunchyroll (67%) and Funimation (65%) are among the most likely to be considered must-haves.
Netflix though is slightly less popular than YouTube, which is of course, free. YouTube and Netflix are by far the most used services in the world but as far as must-have streaming services both rank behind music service, Spotify. Again showing that Internet-based radio might be a much bigger story than has been reported on over the past few years.
It should be noted that amongst must-have providers, the same service highlighted in the bundled category, Amazon is not even in the top 5 where Stadia and niche service, Crunchyroll, are tied for fourth. Followed closely by XBOX Live Gold which is another service with multiple perks, most importantly for gamers, the ability to play against other players remotely and of course talk trash every time they blow off someone's virtual head in a first-person shooter or hit a jumper in their virtual face.
"Our new Battle Royale study shows the battle for entertainment share of mind has more competitors than many realize," said Jon Giegengack, principal at Hub and one of the study's authors. "But it also proves there are big opportunities for companies to engage consumers more deeply by leveraging IP across categories. We're already seeing this in action, whether it's Netflix's commitment to gaming or Halo's success attracting viewers to Paramount+.  In the future, cross-category bundling may be a key tool to differentiate one provider from the many alternatives."
Overall one thing is abundantly clear. Streaming is the most important technological jump in entertainment since TV. Probably because it allows people to take advantage of content from so many different corners of the entertainment ecosystem and unlike older forms of entertainment is incredibly mobile and ubiquitous. People use a lot of streaming services overall, both paid and free. Even if they only consider some of them essential. Free may well be the future if things continue in this direction.
Hub's inaugural "Battle Royale" study surveyed 3,014 U.S. consumers, age 16-74.  The data was collected in March 2022.  This study will be fielded twice per year going forward.