On John Oliver's Sunday evening show, last week tonight the comedian addressed the heat surrounding NRA TV. In so he mentioned media companies associated with the streaming option. Oliver actually poked fun at Roku because of reports sighting Roku alongside Apple and Amazon. Oliver said Roku was probably excited to be part of the controversy because it allowed the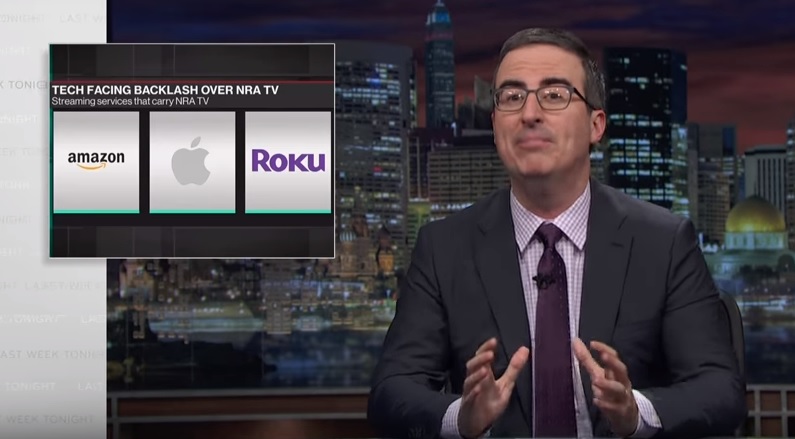 company into the headlines with much more established entities.
Roku Is More Important Than Oliver Thinks
What John Oliver does not understand is that Roku is in fact the leader in the streaming device world. While Apple and Amazon are certainly far more influential in business and comerse overall it was Roku that mainstreamed the streaming device. While Amazon is a major player in the market it did not introduce the first Fire TV product until years after Roku established the set-top box market.
Roku made streaming mainstream
Roku is the standard bearer for the industry. This is why when Fire TV and Chromecast debuted they were hailed as possible Roku Killers. Inconsequential products are not mentioned in the same light. This is why Fire TV was not immediately compared to the Western Digital Media Player. Or any of the many lesser known products that Roku displaced as it built an audience.
The thrust of Oliver's commentary was a breakdown of NRA TV and what kind of content is actually on the streaming platform. But it will be interesting to see how Roku might respond to Oliver if the company will issue any reaction.
Oliver pays pretty close attention to streaming and Internet issues. Or at least someone on his staff does. He brought a great deal of attention to the Net Neutrality debate 2 years ago. Here is a prediction. John Oliver will have a Roku channel one day. He may even have one before his show is no longer on HBO. HBO could choose to monetize his content with clips or more. If this happens I wonder if he will mention it on air?