---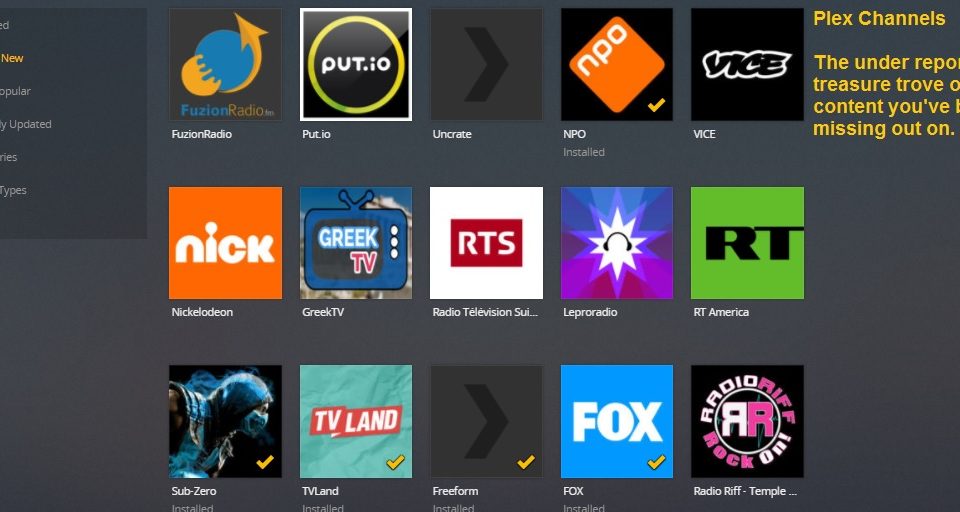 Plex is the premier cross-platform app for managing digital media in the streaming world. It has apps for every major platform including Windows, Mac. IOS, Roku, Fire TV, Apple TV, Android TV and numerous Smart TV's. But there is a feature for Plex that has been somewhat forgotten that has been available for years. Plex Channels.
Plex Channels, like apps for all of your favorite streaming boxes, phones and smart TV's, access content from websites and can add a ton of great content portals to whatever you are using to access streaming content.
Plex channels are an easy way to add free and legal content from CBS, NBC, ABC, the CW and PBS to any platform. This means that you can watch current CBS shows without CBS all access. Though it must be noted that you can't access CBS All Access exclusives like Star Trek Discovery. On the other hand, The Big Bang Theory is available.
Plex offers a number of categories and channels that can be hard to find anywhere else including international offerings like the BBC iPlayer (for residents of the UK) and a number of other international offerings. The Plex channels also include content from a number of websites that may not have official offerings on a given device. Yet with the Plex channels there they are. For instance, The CW has a free app available on a number of devices that provides access to all of its current shows every week. But Android TV users do not have access to the app. Not even Nvidia Shield has an app for the CW. But with Plex it does. You will find a number of exceptions along these lines.
In order to add channels to the Plex app users have to have a free Plex account and log into the Plex Website. Once in launch the online app and check out the menu on the left of the page. At the bottom of the menu is a section called online options and channels is located under the heading. Click this and explore the menus to add to your heart's content.
How many Plex Channels are there? 
officially there are 88 video channels. Some are dependant on location and like anything community supported there may be some channels that do not work from time to time. This is usually due to a change in the website where the content is hosted.
Do the Plex channels cost money?
No
Are Plex Channels Legal?
Yes. Plex channels pull the content from the respective network websites, not some shady server in China.
Can I watch all of my favorite shows on the networks?
You can watch whatever the networks put on their websites. This will normally include current shows. Don't expect to watch full house on ABC or anything. 

---
Trending Now
You may also like