---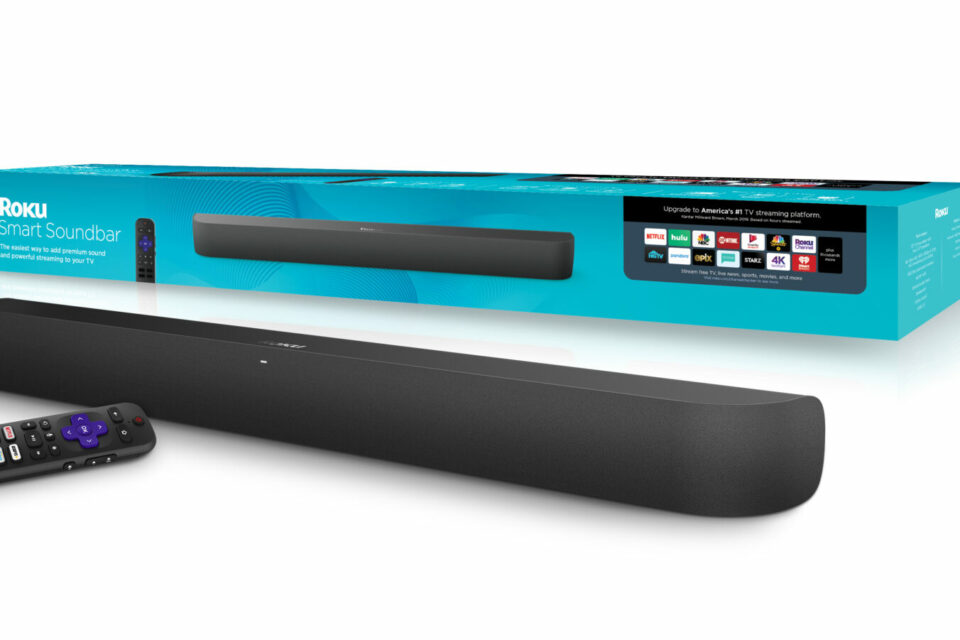 Did you know Roku has a sound bar? The same company that makes the inexpensive streaming boxes also makes a sound bar that brings a lot to the party. We recently had a chance to work with one and take it through the paces. This is a product that changes the TV experience and the way you look at simplicity in entertainment. Check out our full review below. Want to buy one click here.
First off the top let's cover the basics
Cost
The Roku Sound bar costs $179.99
Specs
32" 2.0 soundbar with four 2.5" speakers
4K Ultra HD, HDR, 1080p & 720p HD streaming up to 60fps
802.11ac dual-band wireless
HDMI ARC
Optical audio input
Bluetooth
Dolby Audio
USB 2.0
Video Capabilities
HD TVs: Up to 1080p (1920 x 1080) with up-scaling from 720p
4K UHD TVs: Up to 2160p at 60fps (3840 × 2160) with up-scaling from 720p and 1080p. TV must have an HDMI input that supports HDCP 2.2
4K UHD HDR TVs: Supports HDR10. TV must have an HDMI input that supports HDCP 2.2*Requires TV with HDMI ARC or Optical outputs
Ships with
Voice activated Roku Remote (with batteries)
HDMI Cord
Optical Cable
Setting up
Setting up any kind of sound system used to be kind of a pain in the neck. All the wires and receivers and big heavy speakers made the task daunting to non tech types and even techie types who don't have a lot of extra time on their hands. Setting up a Roku sound bar takes about 5 minutes if you already have a Roku account set up. You can do so here. If you do have to set one up we might bump set up time to 10 minutes or less.
Requirements for setting up a Roku Sound Bar are the same as setting up most any other Roku device. You need
A wireless Internet connection
The password to the wireless Internet connection
The name of the network for your wireless Internet connection
The supplied HDMI cord or optical cord
TV and electricity (of course)
The username and password of your Roku Account
It is very important to note that you want to hook the sounder to the (ARC) HDMI port. This insures that the speaker will work with multiple TV settings.
*Pro Tip: We suggest using the supplied HDMI cord because it is a high speed HDMI and what you already have in place may not be and could affect performance. If your TV or set up does not have an ARC port but does have an optical port Roku provides a cable for this as well.
Once you have the Roku hooked up to the ARC port plug in the power and let it get started up. The entire set up process consists of pointing your sound bar to your preferred WiFi network and typing in the pass word. The system will automatically figure out what kind of a video signal you can get as far as 1080p, 4k HDR, etc. Just agree to the settings. The rest of the setup is taken care of on the Roku home page. You will be directed to link the sound bar to your Roku account. And just like that it is set. Once you are finished the sound bar will load your channels if you have any attached to the account and take you through a helpful demo of the system to give you a feel for what you have added to the system.
Sound difference
The difference between using a sound bar and watching TV with the built in speakers sort of has everything to do with what kind of speakers the TV already has. There are some upper end TV's from LG and Samsung that do innovative things with their speakers to
provide an almost full surround sound experience. But for the most part TV's have been getting bigger and thinner for a long time and this has reduced the power and clarity of the speakers to a great degree. The TV we set up on is a mid level 4k TV. A Hisense H8 TV with Android TV built-in. On its own the TV speakers are more than up to the task of providing the sound from a movie or TV shows and even playing music. But once we had the sound bar hooked to the TV the difference was night and day. As is listed in the specs the item has 4 speakers and Dolby Audio. You can hear the difference. In fact depending on what you are taking in you can feel the difference.
One of the wonderful aspects of the sound bar is that it has internal audio settings within the Roku menu that do simple things like add or reduce base, which is helpful for music. But the stand out difference in performance that we saw was speech settings. Under audio there is a setting to add speech clarity. What this does is increase the channel used for speech without changing the volume of anything else. This means that if you can't hear something over music or background noise you can turn make the dialogue easier to understand without making all of the sound louder. You may not need this option in fact you can even tone it down. It also has built in modes to level volume out for night viewing as not to bump everyone else up.
Bluetooth connection
The Roku Sound Bar also allows separate devices to connect via bluetooth. This is a great feature because it means that you do not have to have the soundbar hooked to a TV to use it. Though you will have to set it up using the TV. That means don't bring this to a party for everyone else to use or you will have to hook it up to a TV first. But for home use it's great. Once you have paired it with a phone, computer or tablet afterwards (as long as the sound bar has power) your device will be able to connect to it. So set it up with all of your items and bring it out side for a cookout or for spring cleaning company. Just don't leave it outside because it is not an all weather speaker.
Expandability 
While you might feel that a sound bar is as far as you need to go as far as perfecting your home theater experience those who want more have choices to add to the package with ease. The Roku Sound Bar can be paired with both a wireless subwoofer and a pair of wireless speakers that also set up in minutes. The speakers and subwoofer sell separately. Once you have them you can add them to the set up in a built in menu within the Roku Sound Bar TV interface.
Built In Roku
In addition to all that the sound bar is a full-purpose Roku. It deliveres a full TV experience up to the level one would expect with a Roku Ultra, the highest end Roku system on the market. This includes 4k picture at 2160p at 60fps. More about all the technical aspects is listed under Specs and Video Capabilities.
If you have never used a Roku let's cover some basics. Roku products are set up to be very simple and user friendly. There is an
expansive App Store broken down into nearly 20 categories. It sets up so that everything is right out in front of you in a simple 9 by 9 grid. This is why it is the most well known streaming platform in the US. If you want to get a better understanding of Roku as a format click here for our review of the Roku Ultra.
All in all let me say this. We have been using Roku products since the top model was the Roku XS. That was a second generation product and was the Roku Ultra of its time. The Roku 3 changed the game for Roku by introducing the modern grid and vertical menu that we all know today along with a big upgrade in power. The next big can't miss feature was the remotes that could control volume and turn any TV off. These were all great evolutions and innovations for the product line. After using the Roku Sound Bar it almost feels like I am discovering an entirely new product line. Like rediscovering Roku for the first time. This is because of the way the increased sound clarity changes the experience from a basic TV viewing experience to a premium viewing experience. It makes you just want to listen to music and pull up movies with lots of sensory elements.
---
Trending Now
You may also like