---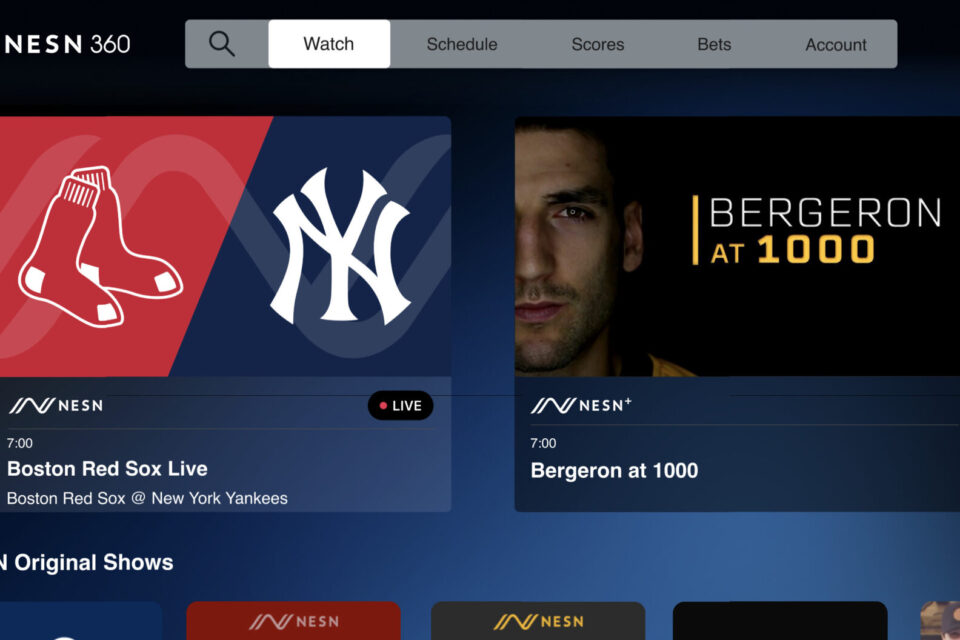 The streaming and sports community have been following the plans of Sinclair's Bally Sports with bated breath wondering when the group of regional sports networks would launch, how much would the service cost and whether the model of reaching out directly to the fans who clamor for the content would be profitable. Unfortunately, Bally Sports has provided none of the answers to those questions thus far. But another regional sports network, the New England Sports Network (NESN) has announced pricing plans, features, and availability.
The streaming service, NESN 360, will be built right on top of its traditional TV network and feature over 220 Boston Redsox games and Boston Bruins games along with college sports from area universities. Anything viewers can watch on the TV network will be available via the streaming service. That is a pretty cut-and-dry setup. The Other sports content includes 300+ additional live events from New England teams, including the Connecticut Sun, Worcester Red Sox, Hockey East, and ACC
What will the NESN streaming service cost?
The standalone streaming service will cost $30 per month, with a first-month promotional price of $1. An annual subscription costs $330 per month.
Who is the service for?
Nobody expects average TV viewers to jump at the chance to pay $30.00 per month to watch the Boston Redsox and Boston Bruins or anything else that NESN offers. But New England area fans who live, eat and breathe the Redsox and Boston Bruins will now have the opportunity to see their beloved team without cable. That kind of viewer has always been the target for RSNs, which is why they have fallen out of favor with major providers. RSNs demand a lot from providers and cause prices to increase while at the same time proving unable to draw the kind of attention that more general network programming generates. The kind of viewer who will sign up for an RSN like NESN is the kind of person who will not want to miss a second of the action and skip anything else going on. With a price point like that, one would have to prioritize it.
Will you be able to see all of the Redsox and Bruins games?
RSNs do not have access to games that are locked down to other networks. If a game is going to be on ESPN for instance users can not expect to see it on NESN. On the other hand, (for those who want to see as much action as possible no matter when it was live) the on-demand library will also contain full games of 2022 Red Sox season matchups including nationally broadcast games once they've aired. potential viewers should check the listings to see what the viewing lineup looks like. But there are certainly going to be games that are not on, especially live.
How do I stream it?
According to a release by NESN subscribers can access NESN 360 on a computer, iOS, Android (Mobile devices only), Apple TV or Roku device. As of press time we were unable to add NESN via Roku. All of the other platforms were verified and available for download. NESN 360 does not have a dedicated app for Android TV devices like the Chromecast with Google TV or Nvidia Shield TV. The app does allow for casting to the TV from Android devices.
Ticket Perk
The company will provide 8 Boston Red Sox tickets to yearly subscribers. But, it comes with a lot of legalese including a note that ickets must be redeemed by August 31, 2022. Here is the way it is explained on the info page about the promotion. (The bold text was edited by The Streaming Advisor)
Upon purchase of an Annual Subscription during the Entry Period, all Eligible Persons shall be automatically eligible to receive up to eight (8) tickets in total for use at certain Red Sox home game(s) during the 2022 Major League Baseball regular season (the "Tickets"), subject to availability and while supplies last. A limited quantity of Tickets shall be made available to Eligible Persons during the Entry Period on a first-come first-serve basis; provided, that NESN reserves the right, in its sole discretion and at any time, to cancel, modify, or suspend the Promotion (or any portion thereof). Each Eligible Person that purchases an Annual Subscription during the Entry Period shall receive via email eight (8) codes (each, a "Code") which may be redeemed for Tickets to select Red Sox home games during the 2022 Major League Baseball regular season. All Codes must be redeemed on or before August 31, 2022 in accordance with the instructions provided. The Released Parties are not responsible for any lost or stolen Codes or any unauthorized redemption of a Code.
Will the NESN service be a model for others to follow?
It certainly sets a price point. The question we ask is if the passion that Boston fans have for their sports teams matched throughout the country? The app was launched in partnership with the Boston Red Sox, the Boston Bruins and Major League Baseball (MLB). Bally sports for instance does not have that sort of structure and the teams involved in various markets may want to have more say in how things work. NESN as well is just one standalone network. But what it does do is provide a model for channels like the YES network and other owned and operated services tied to specific teams and regions.
So the NESN 360 experiment should turn out to be very important if not groundbreaking service for sports fans and cord-cutting. It will give fans who worry about FOMO when looking to cut cable a viable option, that while expensive compared to other non-sports specific streaming services, is leagues different than paying for a bloated expensive cable service just to hold on to one channel.
---
Trending Now