There is a new player in the streaming and e-shopping space today. Imagine watching a show to get a discount on a new pair of shoes instead of having a show interrupted in order to give you a commercial for that new pair of shoes. ClixTV is a free service that is available via apps for IOS and Android Mobile devices as well as via its website Clixtv.com. The service looks to be trying to be a marriage of short-form video content and content and Internet-based retail.
What can I watch on ClixTV
On the streamable content front, ClixTV has 16 categories of short-form content ranging from mature entries like The Mom List to kid-friendly content like clips of Animals in the wild. The content is pulled together from numerous sources including established brands like National Lampoons as well as lesser-known independent developers. The Mom List for instance originally debuted in 2018 via Facebook. On the other hand, it also features Sinbad's Life Lessons, shorts from the comedian that originated on YouTube.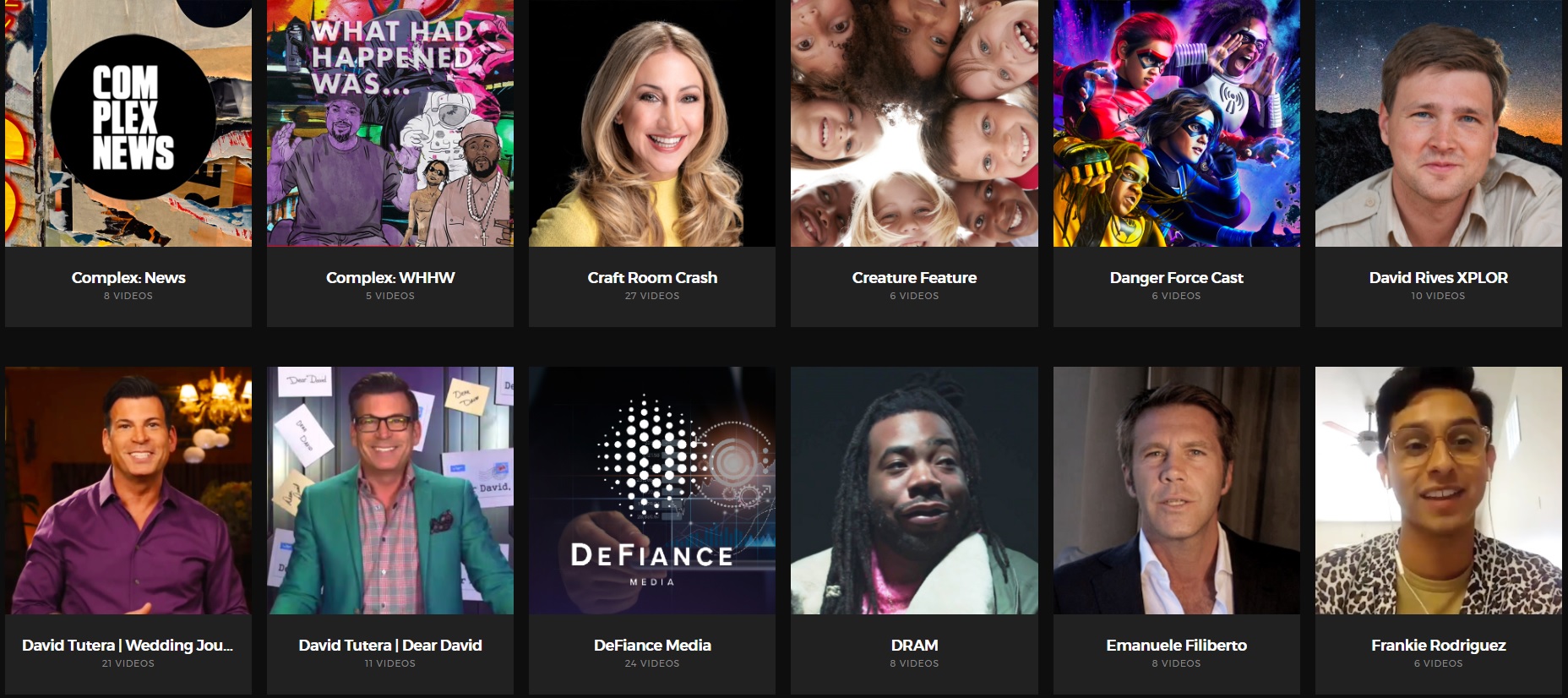 Where the service struggles at launch is its intermingling of actual viewable chunks of content with previews for series and movies that are available on totally separate services like Dinsey+ or Netflix. For instance, one of the categories Entertainment features trailers for shows and movies for multiple brands that are not reachable via ClixTV such as the Netflix series "The Queens Gambit" along side two-minute mini-episodes of content that is viewable via the app.
How do you use ClixTV
The easiest way to zero in on actual content that is findable via the app and not separate subscription services is via the Stars heading. There are currently 66 listings where users can find videos broken down by personality and brand organized via alphabetical order from Alexis Sablone to Yo Yo Ma. ClixTV has a Categories section as well, but we found it to be interspersed with content from so many angles it was difficult to follow any type of path.
"In the streaming wars ClixTV is uniquely everyone's ally, delivering clarity in a time of chaos," said former Sony Pictures Entertainment President, Man Jit Singh. "With the abundance of long form entertainment offerings, it takes the average person thirty-seven minutes to find something to watch. That is a clear problem screaming for a solution."
"By catering to platform-agnostic viewers who want entertainment right now, a new media venture has the opportunity to thrive," said leading international media valuations expert, Larry Gerbrandt. "The streaming industry has matriculated from its adolescence with an abundance of great content, but it's often hard to find. The vital need in the industry is this: a streamer that can support the industry by pointing viewers to programming that might have been overlooked as well as providing a platform for emerging video talent. By aligning multiple agendas – short attention spans, multi-platform proclivities, and by becoming an asset to the mega streaming giants – a new future-thinking media venture can prove to be an indispensable ancillary arm to the industry, to creators and advertisers seeking new ways for viewers to find what they wish to watch."
E-shopping
seemingly at the heart of the service is its Shopping section. It has a section dedicated to showcasing deals on streaming services and other brands. The deals are the standard offers that each individual service typically advertises on their own websites with links to the individual offical sites. These can range from Netflix to Warby Parker. But it is all put in one place where people can find them.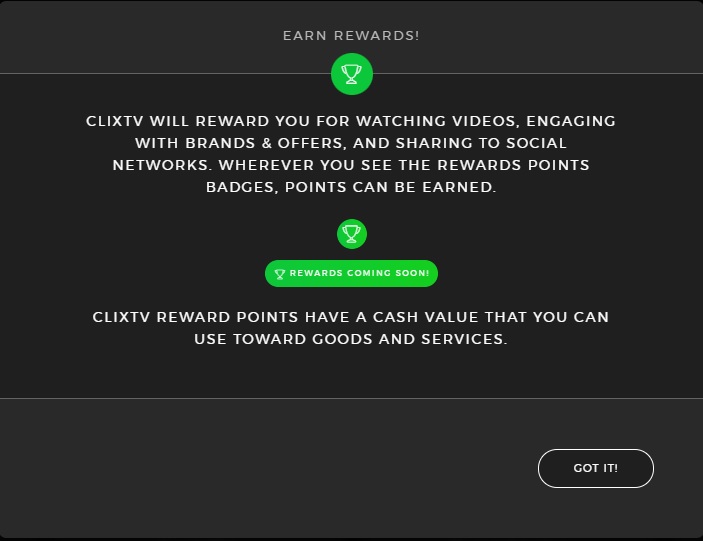 The shopping offers could almost be its own unrelated stand-alone tool. The shopping section allows users to save deals that they find almost like clipping coupons for later use. But the key is that it plans to launch a way to earn shopping credits by watching and sharing video content from content partners as seen in the picture.
While the app pushes itself as a streaming service of sorts, the shopping connection is probably the key component to ClixTV. It seems to be looking to leverage brands and content in order to coax people to purchase merchandise or services from its partners. The approach is not unlike what has been seen in social media-based freemium gaming communities that award customers game-based currency for watching ads or even trying out services/ taking surveys and other tasks.
The credit earning service is not yet active but information about the shopping integration is available via the homepage of the website with a Coming Soon banner in the right-hand corner.
The approach we see from ClixTV is a rather unique model for video content that offers users something different from both subscription-based services and ad-based services. While there is obviously going to be a heavy push to get users to connect to brands, the approach offered by ClixTV seems to be a reverse engineering experiment that instead of using video content to promote advertising partners via preroll ads instead the app will promote creators by prompting viewers to watch their content in order to make purchases.
"ClixTV is reinventing the entertainment experience for consumers on every screen to simplify the search for great content and tantalize viewers with compelling programming that they may never have known about," said ClixTV CEO and Founder, Ed Sullivan. "We've also created unique benefits for creators, distributors, and advertisers caught in the vortex of technology-meets-media."
How well this approach works out could shape the way some services look in the future. At the moment we really don't know just how interactive TV viewing will be down the line. But if ClixTV ends up being proof of concept for advertisers it could definitely impact the way brands associate themselves with streaming apps and even OTA channels in the future. This is a real cart driving the horse model to advertising that has not been seen on TV up until now.