If you are in the market for a streaming device the number of choices may seem dizzying. The selection at most big box stores is pretty pedestrian compared to the overall selection you will find online or suggested in Facebook groups and other forums. In this article, we will talk about all of the different streaming devices on the market, what makes them stand out and what you might like about them. As we always say when we talk about streaming platforms, we believe in having more than one. It gives users so many other options and can be a lot of fun if you understand what you are doing.
Editors note
A question we get a lot about various streaming platforms is "Is there a monthly fee to use it?" It should be noted that no streaming device straight up requires a fee. These are not services, they are media players. Think of them like VCRs, DVD Players, video games or anything else that you have ever hooked to a TV. Some though will add functionality if you sign up for company-related services. When that is the case we will note it in the description. Also we omitted the streamer (the AirTV Mini) due to the fact that it is primarily designed to deliver one streaming service and is not marketed toward a general audience.
So without further adieu, as Mills Lane said "Let's get it on"!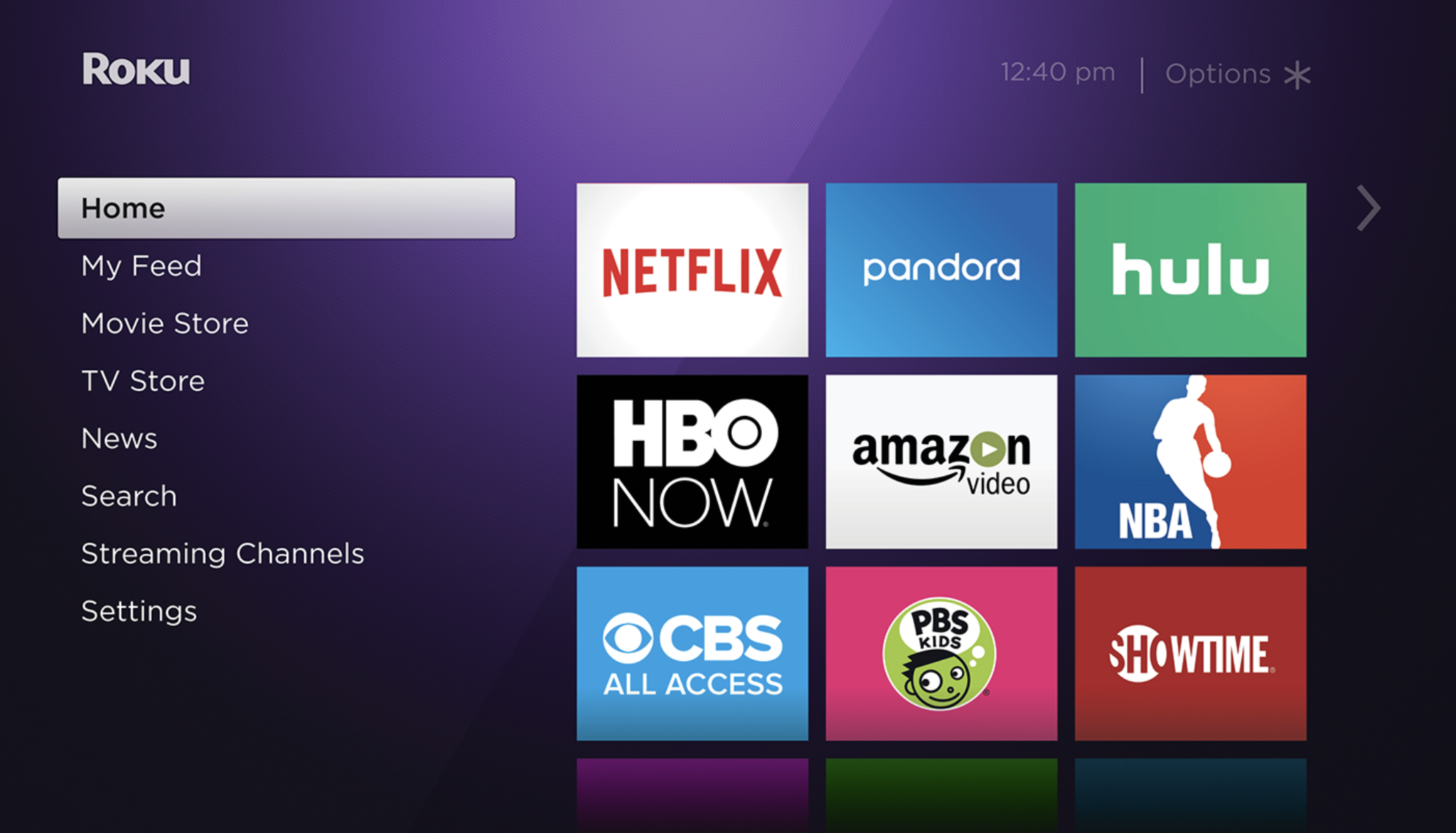 Roku
The conversation around streaming should start with Roku. Why? Because Roku kind of started the conversation about streaming in the first place. While TV manufacturers were struggling to put together the concept of smart TVs Roku came up with a straightforward way to make any TV a smart TV with one cord and one box. Roku, which (trivia time) means six in Japanese was spun out of Netflix which was looking for a way to get its small streaming library on TV without depending on large computer towers being hooked to a TV. Along with the first Nintendo Wii, Roku brought the concept of streaming into the living room for many.
Why people like it?
Roku has a very simple and straightforward platform that is easy to learn and navigate for even the most technophobic users. There are not a lot of bells and whistles and the navigation is quiet and crisp without too many things taking your attention away from what you are doing. There are thousands of apps (which Roku calls channels) available via its app store which it calls "Streaming Channels". Roku also works to help users find free content right off the bat by integrating free streaming options into its home screen headings and its branded Roku Channel which is home to hundreds of original titles that it picked up from the failed project known as QUIBI as well as a growing slate of original TV projects and content from a number of studios.
Its layout is very easy to digest and focuses on finding content and apps. No more than 9 large channel/app icons are present at a time in a layout that almost feels like a standard phone number pad.
The best search in the business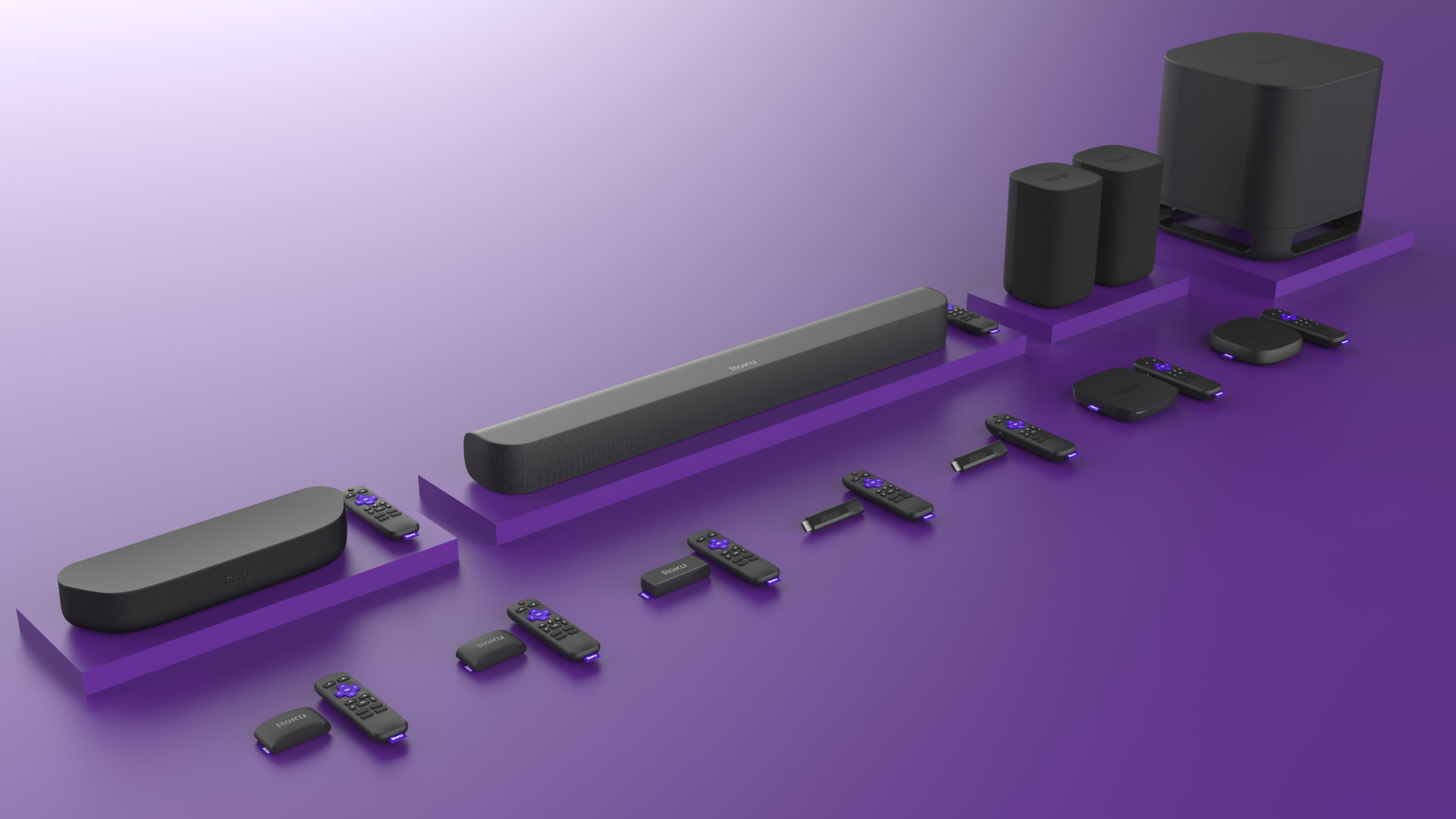 You cant find everything ever made via streaming, but nothing comes closer to delivering that than Roku does. Its search lets users cull thousands of apps for movies along with TV show titles, director and actor names. If it can be seen on a Roku, you will find it and be shown all of the places it can be viewed. This is helpful because often there are free ways to see the content along with ways to view the same content by purchasing it or being part of a paid app.
Multiple price points
There are almost as many Roku models as there are competitors to Roku on the market. This is because Roku wants to give people as many ways to get into streaming as they feel comfortable with financially. I personally have a go big mentality when it comes to this kind of technology, but Roku has a number of products from a price range of $29.99 for its entry model, the Roku Express all the way to the Stream Bar Pro, which combines the Roku streaming platform with a solid soundbar that opens up the viewing experience with more immersive audio than can be found on any TVspeaker.
Its most basic model gives users HD streaming and a simple remote with the minimal buttons needed for basic navigation. The next step up offers a voice-enabled remote that lets users open apps and search for content by just asking for it.
Where can I buy one?
You can find Roku products at any major big box store retailer like Walmart, Target and any other place that sells TVs and other electronics. You can also order via Amazon or Roku's website.
See Roku Products here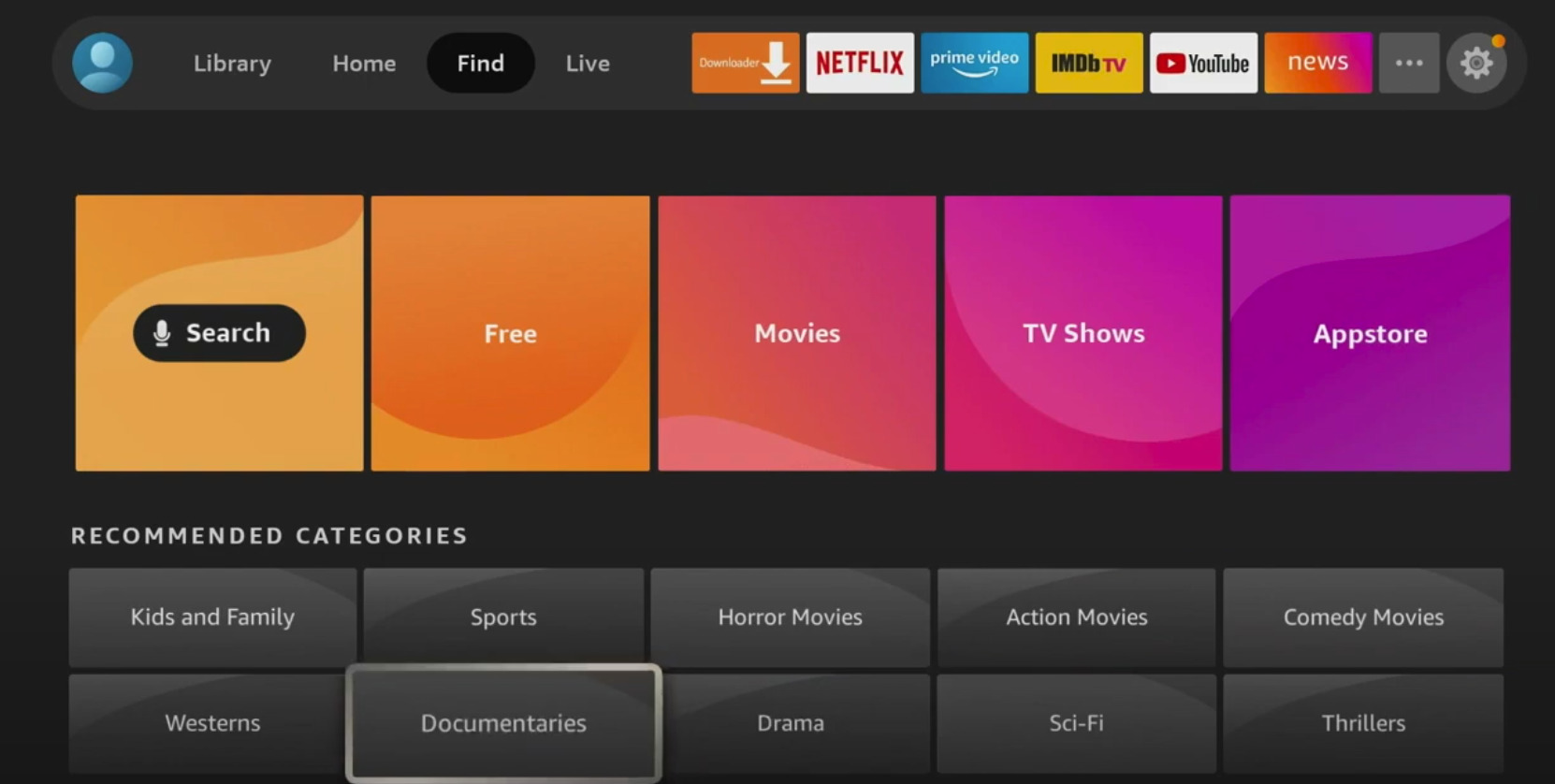 Amazon Fire TV
Amazon makes two kinds of streaming devices. They have their streaming sticks commonly called "Fire Sticks" and a small cube. The cube is not very common but as of the writing of this article, it is still on the market. Both devices provide users with the same interface and viewing options with the cube adding a sort of hybrid between a streaming device and Amazon's Alexa-powered Echo speakers. For Amazon Prime members it is a vindication of the subscription service.
Why do people like Amazon Fire TV?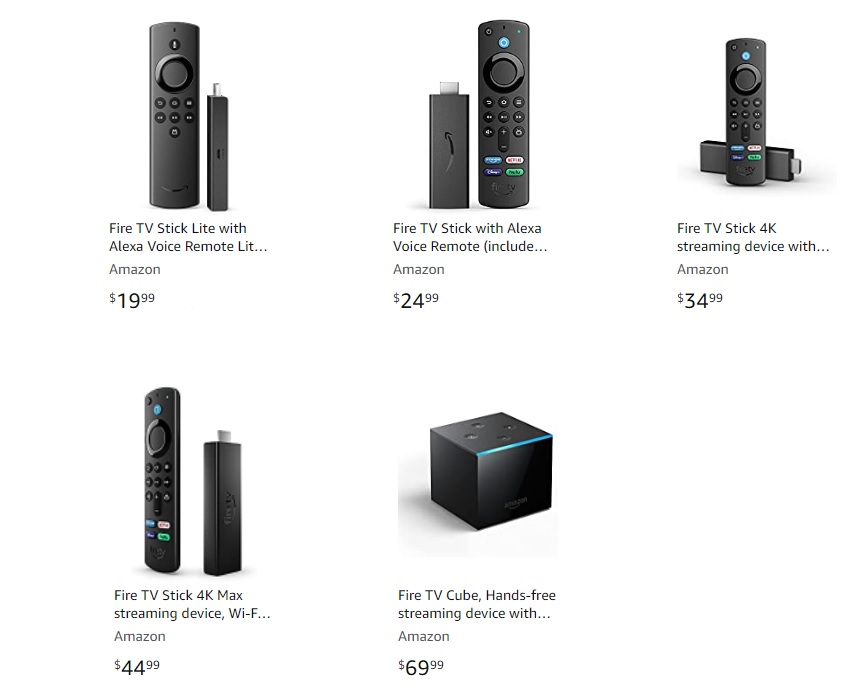 Amazon's streaming devices give users a lot of bang for their buck, especially if they are also Amazon Prime members. This is because Amazon blends all of its services together into the devices. Amazon Fire TV devices include Alexa (The Amazon voice assistant), smart home controls (for anything that works with Alexa), Integrated Amazon Music, integrated Prime Video selections and even shopping options. The voice assistant can do everything from initiating a content search. launch music from your favorite artists with the push of a button, turn on the lights, tell you the weather, the results of the game, update the status of an online order and more. Its interactivity and interconnectivity is its key feature
Best On-Screen Browsing
Amazon Fire TV devices are one of a few streaming platforms overall that offer users the ability to browse traditional websites online. The Internet browser allows users to bookmark sites and is set up to work logically with the included remote control. Being able to use a browser give users so many options that are hard to come by any other way. Many other products do not provide native on-screen browsing at all.
Innovative live Streaming integration
The Fire TV operating system has a "live" TV tab that allows users to find streaming content from providers that offer live 24-7 news and programming including some traditional channels for free. On top of that, users who have subscribed to many of the live TV cable replacement services including Sling TV, Philo and YouTube TV can build a custom live TV grid and furthermore integrate their paid channels with multiple free streaming sources. Users can also integrate subscriptions from linear premium channels when purchased and paid for through the Amazon Channels program.
Downside
If you are not in with Amazon Prime the device feels like it's lacking. The coolest features like the music and information on-demand require an Amazon prime account. The home screen is also packed with titles available for free if you are a Prime member that otherwise will prompt you to sign up for Prime. The screen is very busy with video previews and other things to draw your attention and get you to click.
Where to buy Amazon Fire TV devices
Amazon Fire TV devices can be found almost anywhere TV's are sold including major retailers like Walmart and Target. And of course, you can get them from Amazon's website here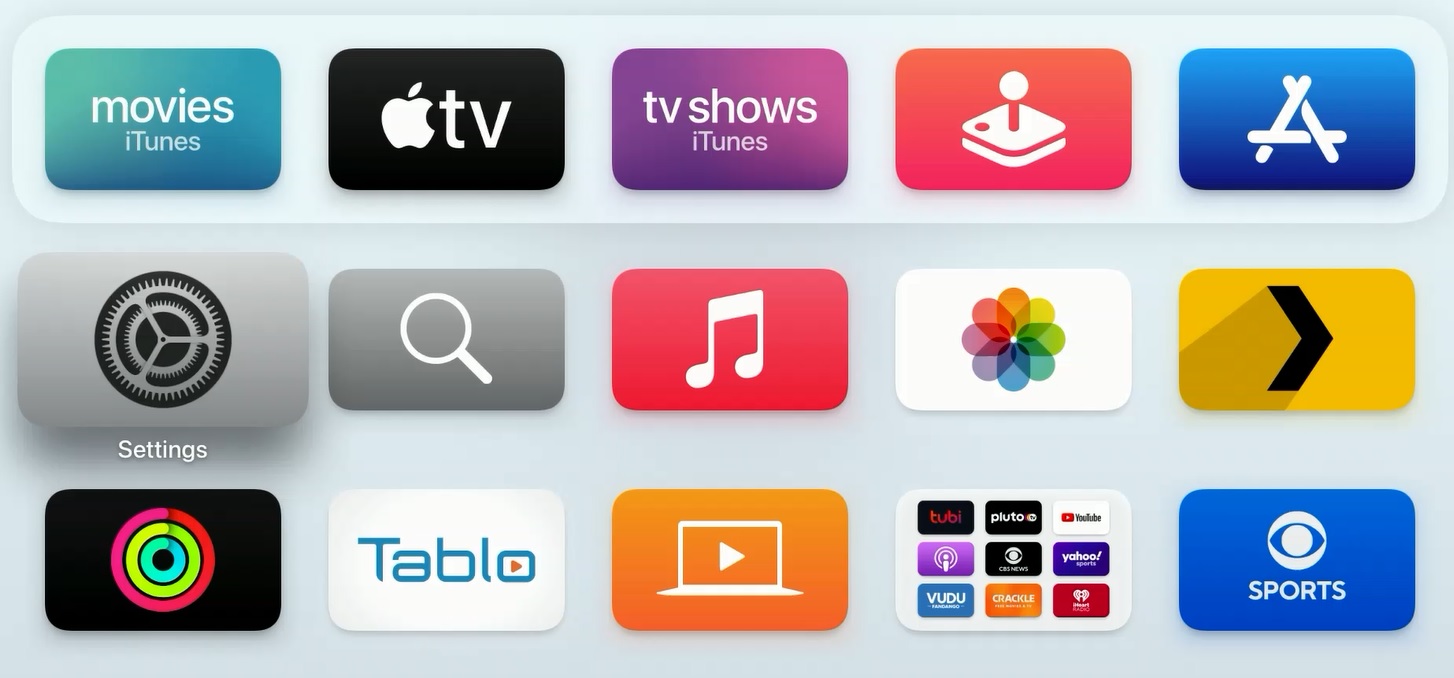 Apple TV
Apple TV is a streaming device from Apple, the makers of the iPhone, iPad, iMac, and other computer products that have become household names. Apple makes two versions of the Apple TV. Both are set up as small hockey puck-sized boxes. The entry model (The Apple TV HD $149.99) will work for almost any streamer but Apple offers one with extra storage (The Apple TV 4k) priced at $179.99.
Why people like Apple TV
Apple TV offers an IOS-inspired interface that looks and feels very much like what Apple users find on smaller screens like iPhones and iPads on the TV screen. It's remote is designed to allow users to swipe and force touch in the same way they would on a Magic Track Pad pad or mouse. Apple TV also allows users to create folders to group apps and keep things together for quick access.
Great feature
The TV App for Apple TV has a confusing name but is a really helpful option. There is an option within the app to browse content by Genre which groups content from multiple apps into one section so you can find titles from multiple services without going to the app itself. An example is that users can search Action and find Disney+ show Moon Knight right next to Paramount+ series Halo and ABC show Station 19. Apple also has an interface that allows users to sign up for premium services through the Apple TV app to integrate their programming into the search as well as bill customers through their Apple Accounts alongside other Apple Services like iTunes or Apple Arcade. All new Apple products also give users three free months of Apple TV+, the company's premium streaming service.
Apple Arcade
Users who have embraced Apple's services will be happy to find that Apple's video game service has its own app on Apple TV. The system supports wireless game controllers including Xbox and PlayStation gamepads.
Integrated experience without It being all encompassing
Apple users like Apple TV because all of their Apple services are accessible through the device and their Apple ID. Any purchases made through iTunes are accessible via the device as well. But Apple doesn't pigeonhole users into its own neighborhood. Apps can be placed wherever a user chooses to display them within the basic confines of the interface. If you don't use any Apple services at all and just want to access other streaming services no problem. Apple also integrates Siri (its personal assistant) into the streaming device. The system does not talk back to you but is responsive providing info about whether, sports, app searches content searches and launching services. All answers appear via text.
Voice entry
Users can enter content like passwords via the voice remote saving them from needing to bounce around an on-screen keyboard.
Killer Feature
AirPlay and Mirroring: AirPlay and Mirroring are features that allow users to do two key things. Mirroring allows users to display the screen of a IOS device such as an iPhone or iPad as well as a Mac computer or laptop to their TV screen. This is helpful for presentations and accessing content that can only be found via a website. Apple may not be able to offer an app for every service among the thousands of choices it provides, but if it has a website you can stream it with its other products. AirPlay is an innovation that allows users to push any video from mobile devices onto the streaming device/TV. Both features unlock a lot of potential.
Downside
Apple TV is one of the most expensive streaming options on the market. With an intro price at $149.00, it is a bit more of an ask. For users that do not also use Apple products and services, it can feel like you are missing out on the features that make it truly unique.
Order an Apple TV here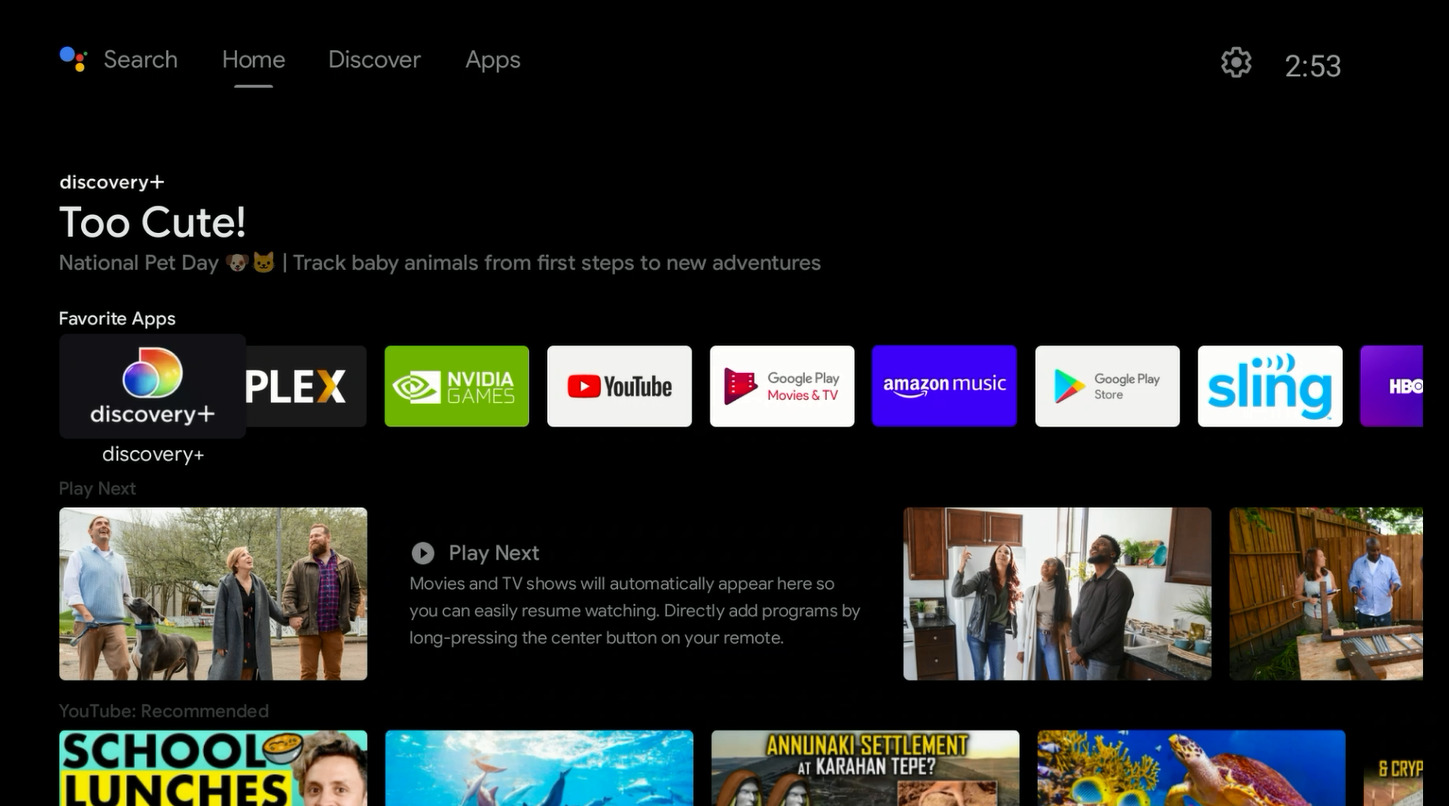 Nvidia Shield TV
The NVIDIA Shield is a streaming device from NVIDIA, a major player in high-performance graphics cards. The Shield TV is the most powerful Android TV streaming device and based on the fact that it is made by a video game chip provider you would not be wrong in guessing there are some gamer-inspired perks to the device. The Shield has two models starting with the Shield TV at $149.99 and the Shield TV Pro at $199.99. The differences between the two products are more than price point. The question is what are you looking to do with the device? If you are just looking for a great streaming experience and have no other major needs the Shield TV will work out just fine. If you are looking to max out storage space and stream PC games to a TV then you want to go with the pro model.
Why people like the NVIDIA Shield
Back when Nintendo hit the market in the 1980s its catchphrase was "Now you're playing with power!" That's what you get from an NVIDIA Shield. When it launched it was far more powerful than anything on the market as far as speed and delivery of 4K video. The power though is more so to allow users who enjoy playing video games built for a personal computer on a TV like a traditional game console. This is a technology the NVIDIA spearheaded in the marketplace and makes it very unique. For those just looking for a good streaming experience the power gives a zippy operating experience and great video and audio performance.
App Support
The app store for the NVIDIA Shield is powered by the TV-centric version of the Google Play store. This means users will get apps built for TVs without accounting apps and everything one would find on a phone or tablet. It supports all of the most popular services along with thousands of others.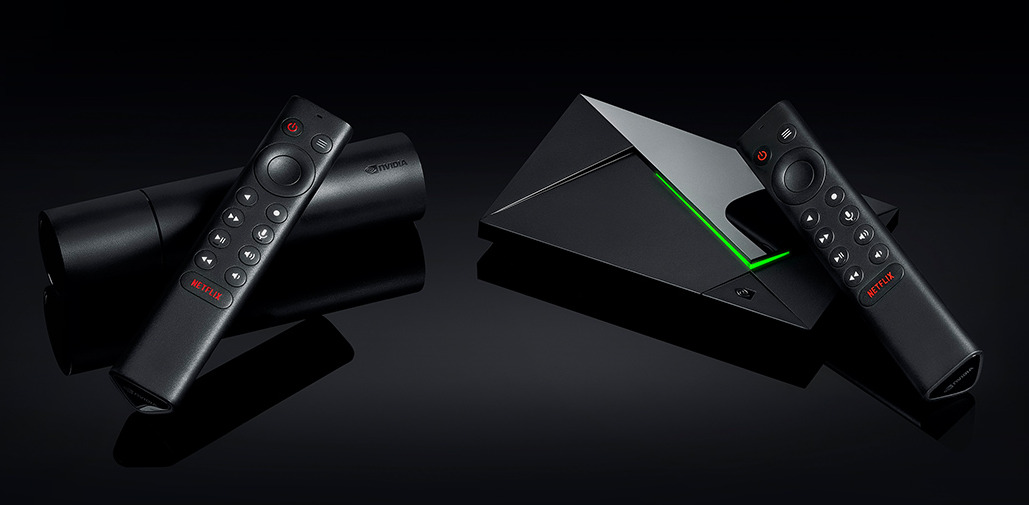 Best of both worlds
The NVIDIA Shield runs on Android TV, but has the built-in feature that allows users to interface with Google's new content-based home screen simply by choosing a different tab. It gives users the choice between essentially 2 home screens with one click.
Voice Powered
NVIDIA Shield TV is powered by Android TV which means that it has the Google Assistant built-in. This will allow you to ask the streamer to open apps, search for info on topics, control smart devices around the home and more.
Killer Feature
"Chromecast Inside": Chromecast inside is shorthand for you can send videos from Android phones, tablets and Google Chrome browsers to the Shield. Users simply click an icon in the corner of any video app or website and the system will recognize the Shield TV as a receiver and launch it onto the screen. Once the video is playing on the screen the user can control playback via the Shield TV remote. The feature means that almost any video app or web-based video is technically available on the Shield TV. The amount of websites with videos that do not have apps is somewhat surprising.
Support for multiple browsers
Besides support for Chromecast features, the Shield supports multiple TV-based browsers. These browsers will allow users to access web-based video without the need for a phone or separate computer.
Downside
There is a pretty big price tag on this item, even the less expensive one. For users who do not want to take advantage of things like a built-in Plex server or playing PC games on a TV the experience may seem like overkill when you really just want to check out Netflix and a few other apps.
Order an NVIDIA Shield here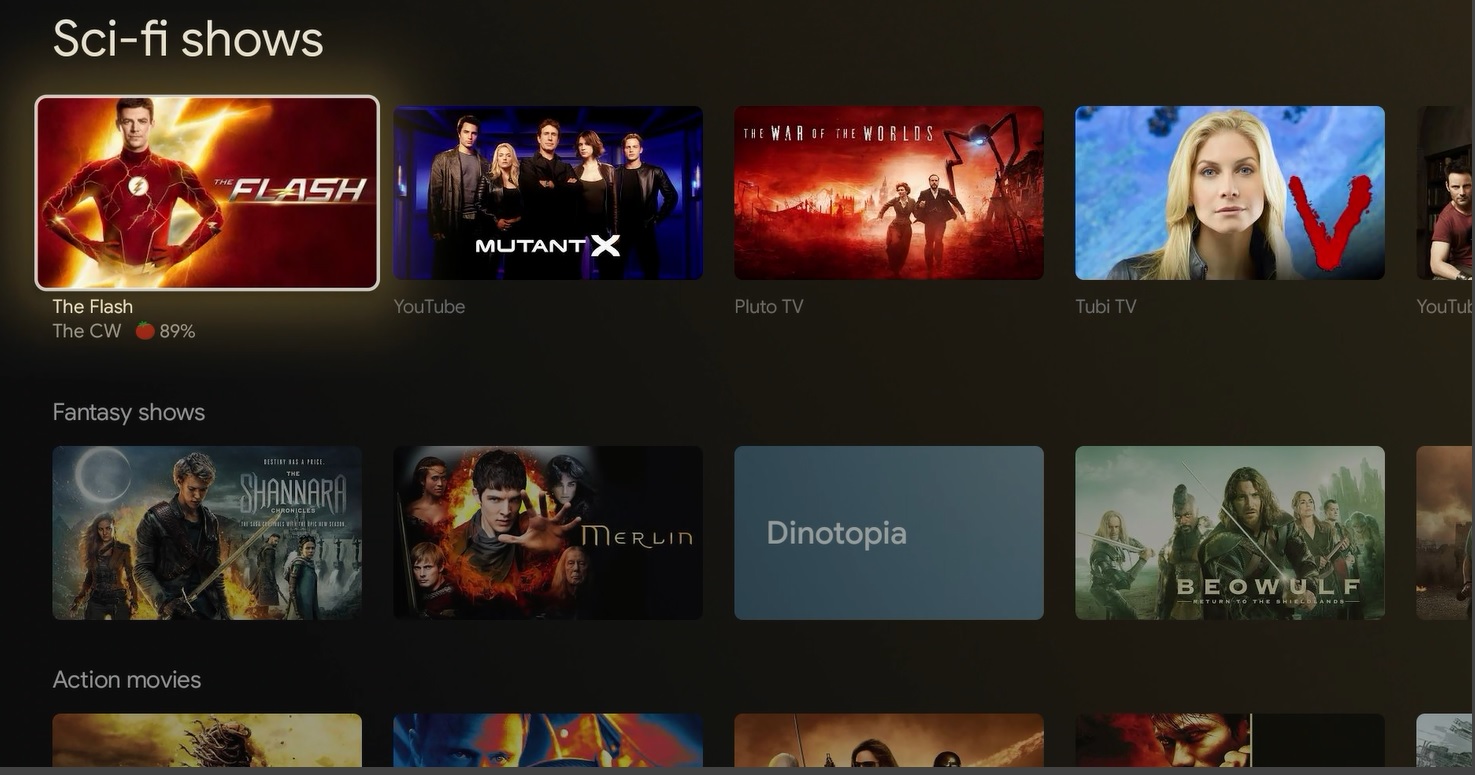 The Chromecast With Google TV
The Chromecast With Fire TV is Google's budget-friendly but feature-rich streaming dongle. The device has a content-based home screen built to help users zero in on what to watch without worrying so much about where it comes from. While some devices have content discovery built-in as a feature the Chromecast operates with that as the front and center starting point. By organizing the home screen into rows of genre-based content using the user's own preferences the Chromecast lets users dive into their shows and movies without as much searching through apps or even multiple app searches. The search features are still there but may not be needed.
Nice Price
The Chromecast with Google TV has one model and one price at $39.99. This means there will be no need to compare and contrast features and such.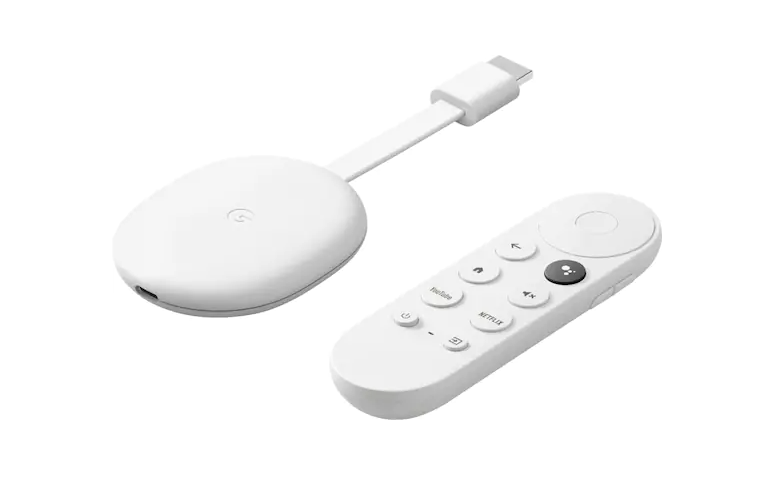 Killer Feature
With the Chromecast, you can send videos from Android phones, tablets and Google Chrome browsers to the TV. Users simply click an icon in the corner of any video app or website and the system will recognize the Chromecast with Google TV as a receiver and launch it onto the screen. Once the video is playing on the screen the user can control playback via Chromecast remote.
Apps
While the premise of the device is to deemphasize apps and push content to the forefront don't worry. The Chromecast with Google TV still has the Google Play App store built in with access to thousands of video and music services. You can also access the apps directly if you choose to and jump into the standard Netflix or Hulu search. Google TV is simply a stylized version of the Android TV operating system.
Support for multiple browsers
Chromecast supports multiple TV-based browsers. These browsers will allow users to access web-based video without the need for a phone or separate computer.
Downside
The Chromecast with Google TV does not have a tremendous amount of storage and is not upgradable. For casual users, this is not going to be a big issue, but if you are looking to pile on the apps and services you may find yourself being forced to delete apps often to make room.
Order a Chromecast With Google TV Here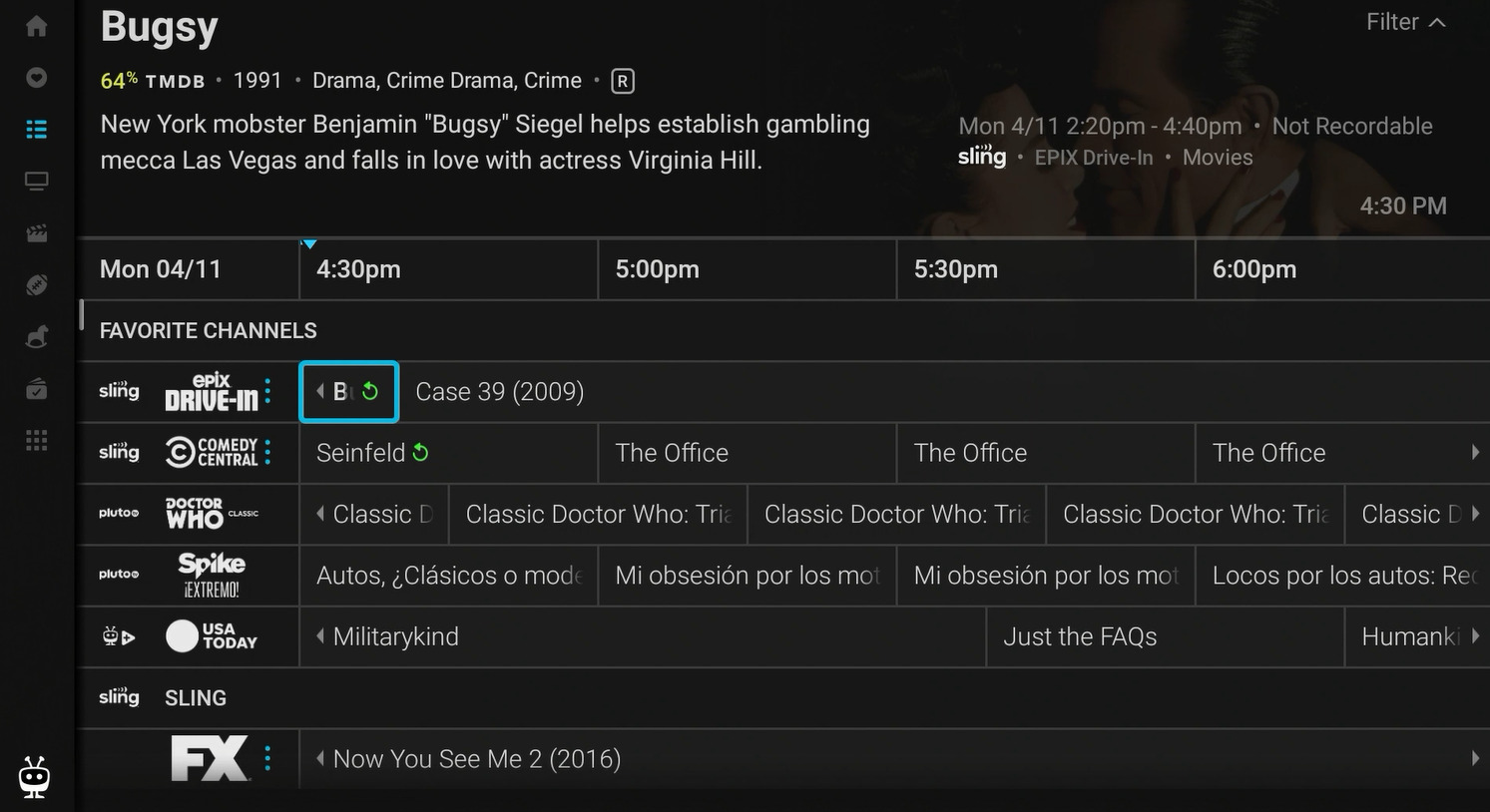 The Tivo Stream 4k
TiVo has been a name in the streaming and content business for years. Made famous for its innovative DVRs, the company has more recently made a foray into the world of Streaming operating systems. The first take on s a dedicated streaming player is the TiVo Stream 4k. The device is powered by Android TV meaning it has access to all of the apps and services from the Google Play Store but launches into a stylized content-based interface complete with a traditional TV grid that can integrate Sling TV and YouTube TV.
Killer Feature
TiVo Stream 4k has the quickest cross-platform genre search of any of the devices on the market. It is very straightforward and features a simple menu with obvious categories like TV Shows, Movies, Sports Kids, Guide, and My Shows. Take a wild guess as to where you will find options to watch movies? The TV and movies sections break down by genres like Sci-Fi, Romance, Action and so on. Each category will present titles from amongst the most popular streaming services all in the same place.
TiVo Free Channels
The TiVo Stream app also builds in content from free live streaming sources giving users the ability to check out their paid and free content all in one place.
Apps
While the premise of the device is to deemphasize apps and push content to the forefront The TiVo Stream 4k still has the Google Play App store built in with access to thousands of video and music services. You can also access the apps directly if you choose to and jump into the standard Netflix or Hulu search.  The launch app is meant to help users zero in on content in a TiVo branded environment but users can still access the standard Android TV format and app store.
Support for multiple browsers
TiVo Stream 4k supports multiple TV-based browsers. These browsers will allow users to access web-based video without the need for a phone or separate computer.
Downside
The TiVo Stream 4k does not have a tremendous amount of storage and is not upgradable. Also at the moment the integrated TV Guide only supports two services, Sling TV and YouTube TV. With other services out there not supported on the default home screen, users are limited to either subscribing to one of the services to use the screen or ignoring the guide option altogether.
Order a TiVo 4k Stream here