The recently announced move by Comcast that it will be pulling part of its programming from Hulu might be seen by some outside of the streaming world as a big loss for the streamer, which has been the main streaming home to most of the NBC shows including Saturday Night Live since the on-demand service launched. But it will likely have a negligible effect on the service. Why do we say this? Because Hulu is much larger than a handful of popular shows. Now, if there are customers who subscribed to Hulu only because of access to Saturday Night Live and Lebrea and do not like anything else Hulu has to offer, then Disney and Hulu will have to say goodbye to them. But over the past 5 years Hulu has become more than just a place to watch network shows from NBC, ABC and FOX the day after they air.
Lets look at some of what it will probably lose to start with.
The Endgame
Young Rock
Kenan
La Brea
The Voice
The Tonight Show
Late Night With Seth Meyers
Brooklyn Nine-Nine
Chicago Fire
Law & Order
This Is Us
Law And Order SVU
30 Rock
Those selections are not for lack of value. Saturday Night Live is a hugely popular show, The voice has been appointment television for some, and Law and Order has a very dedicated fan base. But do they drive Hulu? Not likely. services like Hulu are strengthened by the nature of their overall libraries. With multiple studio libraries contracted to Hulu on top of the studios owned by Disney the listed shows can leave and have only a marginal impact.
Hulu has made major investments in original content over the past 5 years and keeps rolling out buzzworthy shows that help create an identity independent from the network content. Disney has been quite aware that Hulu would be loosing shows owned by NBC since long before Comcast announced Peacock. Hulu can counter with racier, high production value originals and was recently announced as the exclusive streaming home to 20th Century Studios titles.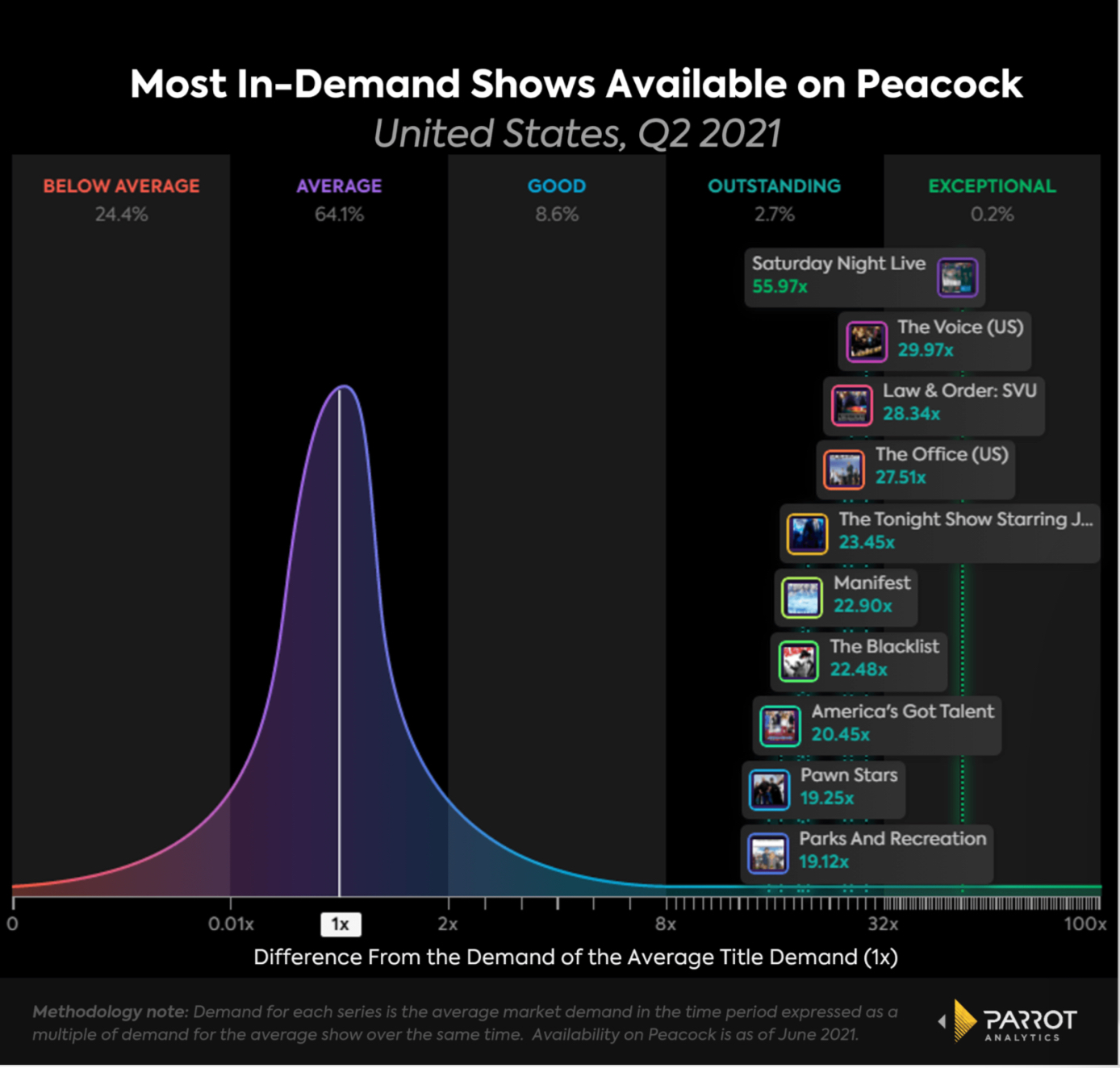 On the other hand the move will be big for Peacock. Since it launched Peacock has been very derivative of Hulu as far as NBC shows. It could not market itself as the exclusive home of any of the top-rated broadcast TV content it made. For instance, its most popular show is Saturday Night Live.
Also in its top most watched shows of 2021 are Law And Order SVU and The Office, which it pulled off Netflix soon after the service launched. Even more of a problem for Peacock is its original series have not made an impact meaning that it's main value is as a replay service for NBC content. And until that content is exclusive there is less reason for potential customers to sign up even for the free version of the service. It isn't until things just disappear from one place that people get up in arms and say what happened to Saturday night live or whatever it is they were watching and then they hit google and find out where it is.
Peacock has a chance to be a strong service but Hulu will be just fine without NBC's programming.