Disney has its fingers in all the streaming pies right now except for one. The free streaming services. Known in the industry as FASTS (Free Ad-Supported-Streaming Services) these outlets were the hot item a few years ago as media powers scooped up Tubi (FOX), XUMO (Comcast)  and Pluto TV (Viacom). All three free services have grown and prospered since, with Pluto TV seeing the most high-profile rise in awareness and popularity due to its live channels full of content from its corporate cousins which include, Paramount, CBS, Comedy Central, Nickelodeon, MTV and more.
Media conglomerates are realizing that FASTS are a great way to monetize content that is not big enough to build pay services around but good enough to draw in an audience that just wants to relax and watch some TV. In the case of Pluto TV the service works as a gateway to the more premium side of the Paramount ecosystem. The company regularly highlights programming that would otherwise be available via pay services with freebie episodes so that new audiences can discover that they may actually like them if they give them a chance. And all of the services have content from other providers to fill out a large programming lineup including news, sports, comedy, and the whole range of TV genres.
So why isn't Disney on this train yet? Keep in mind that its soon-to-be-former partner, Comcast started its own freemium service Peacock which offers both on-demand commercially supported content and a growing list of branded "live" streaming channels as well. This makes Disney the only major corporate entity without a horse in that race. Maybe it is looking for the right brand to acquire or quietly developing its own.  Launching a totally new free streaming brand may be more work than it is worth for Disney. But there are two major services that would make for a great match for Disney.
Vudu
Vudu might not jump off the screen as an obvious acquisition for Disney, but to our minds, it makes a lot of sense. If you have not been paying attention to Vudu let me catch you up. The service started as a Walmart property. In fact, earlier in the earlier days of streaming devices Walmart sold its own Vudu Box. The idea at the time was to sell and rent movies and TV episodes through the service and allow users to convert physical media like DVDs and Blu-ray disks to digital media accessed through Vudu online. In a short time, Walmart abandoned the Vudu standalone box and developed a mobile app that launched first on Roku and spread to other platforms over time. Though there was one more short-term Vudu dongle that appeared after the fact the service became far more associated with the app than a physical device.
Vudu shifted its business from only paid on-demand options launching Movies on Us and was soon acquired by ticketing and on-demand movie service Fandango. Fandango, which is owned by NBC Universal combined the two companies video-on-demand services and moved to use Vudu as the on-demand and free video service while keeping the Fandango branding for movie ticket sales. This move allowed Vudu to become Roku's default video-on-demand service with a TV and Movie store built right into the Roku home screen.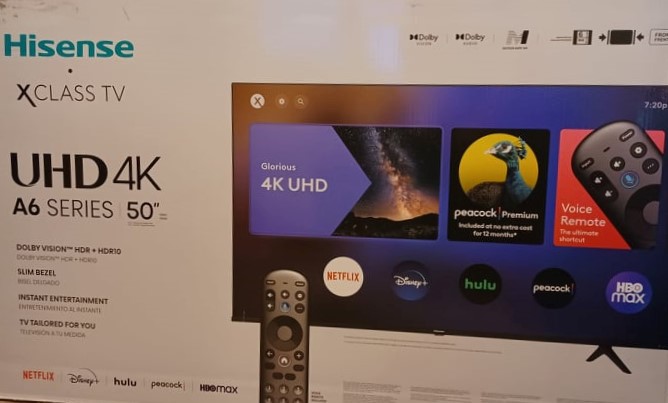 Now, why would NBCU sell Vudu to Disney? Two reasons come to mind. First of all, there is simply money involved. Disney will be buying Comcast out of its partnership with Hulu in 2024 giving it complete control of the streaming service. That might make for a good time to sell off another property that has, like Hulu become somewhat redundant. Why do I say that? Because Peacock also offers free ad-supported content. The corporation has been making big investments in Peacock and looks to be trying to position it as its prioritized streaming property for the future with sports, blockbuster movies, NBCU favorites, and originals heavily pushed most recently during the Super Bowl. The purchase of Vudu came before the launch of Peacock and may have been a priority that has since been pushed aside. You may not have noticed, but Vudu is not marketed on TV as a source of streaming content. All that being said, maybe Disney takes Vudu off the hands of NBCU when the deal for Hulu finally does happen. This would be a gift to Disney which would give it another name brand to work with but if NBC does not have plans for it going forward it may as well pick up some cash that it can throw at rights deals for things it values more or use it to develop more exclusive content for Peacock.
Even more of a giveaway that NBCU does not seem to value Vudu to great extent is the new XClass TV brand via a partnership between NBCU owner Comcast and Hisense. XClass TVs are built using Comcast's own X1 streaming platform which includes dozens of apps including Vudu and of course Peacock, which even has a tie-in for one free year of its premium service built into the activation of the 4k sets. Notice the services advertised on the packaging of the product include Netflix, Disney+ Hulu, Peacock, and HBO Max. Why leave off its own service? Vudu is totally available on these TVs and that is saying something because the X1 platform is far more limited than others out there. We may be totally reading these tea leaves incorrectly. But if I owned a streaming service and released a streaming product to the public I would certainly give it a push. We might have a DC Universe/HBO Max situation. If you remember DC Universe was launched as a streaming service before the AT&T Warner Bros merger. Afterward HBO Max quickly became the home of DC fare and the DC Universe app was transformed into a digital comics reader. The Fandango side of the business still makes sense for NBCU, but the free on-demand streaming from Vudu does not.
Redbox
Redbox is another name in the video business with a long history. The company is currently owned by a private equity firm, Appolo Global Management. The company bought Redbox in 2016 from its original owner Outerwall. Redbox along with Netflix changed the video business by offering cheap DVD rentals via Kiosks all over the country further cutting into Blockbuster and other video stores by offering a convenient way to rent movies that did not require walking into a store or high fees to rent movies. After helping put Blockbuster out of business the Kiosks began to suffer from the precipitous rise in streaming as a mainstream way to watch entertainment, even though the free services did not have access to the same content that could be found on disks and the prices to stream on-demand where higher the convenience of streaming made it too easy for those with the option to choose to stay home. Under its new ownership, Redbox successfully launched a new on-demand purchase service and in the past few years has pivoted to include its own FAST with live streaming TV options organized into a grid along with a large library of on-demand TV shows and movies. What would make Redbox a logical target for Disney? First of all, Appolo is not a media company. It is just growing the value of Redbox as a brand but does not have its sights set on a greater streaming future in the way Disney or Comcast does.  It's just one of a number of assets in a diversified portfolio. Redbox can be had for the right deal.
Why would Disney purchase Redbox? First of all because Redbox already has an established brand it would be picking up something that has the attention of the public. Redbox already has apps for Roku, Apple, iOS, Android, Android TV, Google TV, LG, and Samsung. That means Disney would not have to do a lot of heavy lifting to get it out in front of an audience. Redbox already has a full FAST interface meaning Disney only has to integrate its own content into the system. This would allow Disney to get into the game without having to build a system from the ground up. It has ad partners for its on-demand and streaming service already in place and Disney no doubt would be able to attract more attention going forward as it already has the ad-subsidized version of Hulu which has proven to be more popular than the commercial-free Hulu offering. The purchase would probably be a cleaner deal than Vudu due to fewer corporate entanglements. Plus Disney would have the advantage of not having to create a new brand and then explain what the difference between it and it established brands are. It could just start pushing it via its numerous media properties.
What could Disney do with Redbox, that Appolo can't?
A lot. Disney has the streaming rights to so much content via its own library which includes ABC TV, the entire Disney Portfolio Marvel, Lucas Films, Pixar, Natgeo etc. But most importantly it owns all of the studios it acquired from FOX. They include 20th Century, Searchlight, FX, and a lot more. That is a giant library which part of is available through Hulu. But there is quite enough content that can get buried in a streaming service that when repackaged as a 24-7 streaming channel can make a lot of money. With a FAST, Disney could effectively monetize tons of older content that is not highlighted on Hulu or Disney+ from older movies and TV shows to cable content that has yet to pop. It would also have another tool to promote its other services. Like Paramount's Pluto TV, Disney could package new shows into the free offering to build hype. Marvel shows could have one-episode sneak peeks on the service. There could be a 24-7 cartoon channel built in to highlight content from decades worth of shows. ABC's live news app would have an obvious home on Redbox as could a freemium version of ESPN News and other properties. The app would probably get a facelift of sorts to make it look more like its other properties but the infrastructure is already in place for a successful service. Redbox has also been experimenting with ways to sell streaming services via the Kiosks themselves. Disney can use the Kiosks to offer coupon codes and specials to entice users to sign up for its bundled premium services and get access to the mailing lists that Redbox has put together since it launched. Disney is not a sleeping giant. It is Godzilla marching across the countryside. And when it gets into the space it will know how to attack it.
The fact that Disney is not in this space already means one of two things. It does not want to be in the space, which is the fastest-growing segment in the streaming world, or it is waiting for the right time/target. When it does emerge it will be polished and ready to go.