A recent study by Hub Research has shown that 44 percent of streamers do exactly what we have been encouraging for years. They have smart TVs and separate Streaming media players that allow them to get all of the content they want to see instead of being restricted by one or the other. This is a point we have made a number of times. If you depend completely on one operating system, no matter which one it is you are asking for trouble. For instance now and then Roku, Amazon and Android run into problems between themselves and either streaming services or network owners who have smart TV apps. And those problems catch consumers right in the middle of it.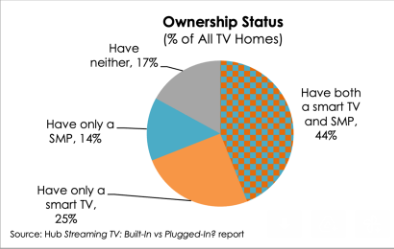 In the smart TV era, you should always have a smart TV that is running a different system than your streaming player. If you have an Android TV, plug in a Roku. If you have a Samsug TV plug in an Amazon Fire Stick. It's not that one type of TV matches up better than another. Major manufacturers like Samsung and LG usually do not have disputes with vendors as much as their systems will stop supporting apps long before the picture stops being spectacular. Those companies in fact leave customers wanting by improving their smart TV operating systems via hardware updates in new models that can not be sent to older sets.
My home setup features an Android TV from Hisense and a Roku Sound Bar Pro. The reason I love this setup so much is that it gives me the ability to see almost any video content that exists no matter where it exists. Android TV and Google TV provide access to their official app stores and third-party app stores meaning you have access to multiple video players and browsers through the TV. Android TV also allows users to cast a Chrome browser from a Chromebook to the TV. That means any video on the Internet is a click away with the right tools. On the other hand Roku devices not only support thousands of Roku apps, they also allow users with IOS devices to mirror their screens and take advantage of AirPlay and even mirror windows devices through its own protocol.
Many new Samsung and LG allow for casting and AirPlay as well, but you want to do your research to be sure which models have those capabilities.
The name of the game is choice. There is no reason to lose access to a service you love just because mom and dad are not getting along. When Fox bailed on Roku for a short period 2 years ago the apps were still on Amazon Fire TV and Android TV devices. When YouTube was fighting with Amazon, the free streamer was still on Roku and LG and other platforms. But if you were caught unaware and unprepared the issue was a problem.
I personally love the lack of limits on my setup and because casting is built into the guts of my TV it means that I can fling a video on the TV without even changing HDMI ports and bounce right back to the Roku screen when I stop casting. If you want to go a step further and really live on the wild side, add a third source. There is nothing preventing you from getting a Fire TV device to go along with a Roku and Android TV or which ever kind of setup you have. Even if you never really watch TV with it, something like an entry-level device just in case really doesn't hurt. Plus adding something like an Amazon Fire Stick Lite, its cheapest model gives users access to a powerful native browser built for TVs. Again it is all about choice.
I totally understand if you think this is all annoying and want to just have one system. Frankly, that should not be too much to ask. But the market will not give it to us. So I look at it like having more than one size pot or pan. These are the tools of modern life in the entertainment world. There is nothing wrong with keeping it simple until you need something else.