We are going to see another mega-media merger between Discovery Networks and Warner Media soon enough. And recent comments by Discovery CFO indicate that HBO Max, Warner's premier streaming service, and Discovery+ which is Discovery Networks premier streaming service will be combined into one app with a library that will include a range of programming that would stretch from HBO Max originals like Peacemaker to cooking and home remodeling shows. Discovery seems to think that this will build a compelling can't miss option to Netflix or Disney+. But will it?
Part of the impetus for putting everything together at Discovery Networks is a concern for cost-cutting and getting both content libraries on the same standard across the new company. Those are logical and smart moves for any company spending billions in a merger. The company should definitely make sure everybody is on the same page and speaking the same language in each office. And Discovery may feel that instead of say, building a new HBO Max app from the ground up, it would be better to just build a new app and put it all together to allow for cynergy between reality programming, educational programming, and other places where things overlap.
Looks better on paper than in practice
It all makes sense on paper. But I don't think it makes sense in practice, and from what I see on social media neither do fans of the two services. Because while it is nice to be able to shop at one store and buy groceries and jeans and a new TV and a gallon of paint all at the same time, now and then its nice to just walk into a paint store when that's all you need. The big key for how people react to all of this will be cost? Would a combined service be a combo of the current pricing for the two services separately or would it come with a small price increase?
Confusing marketing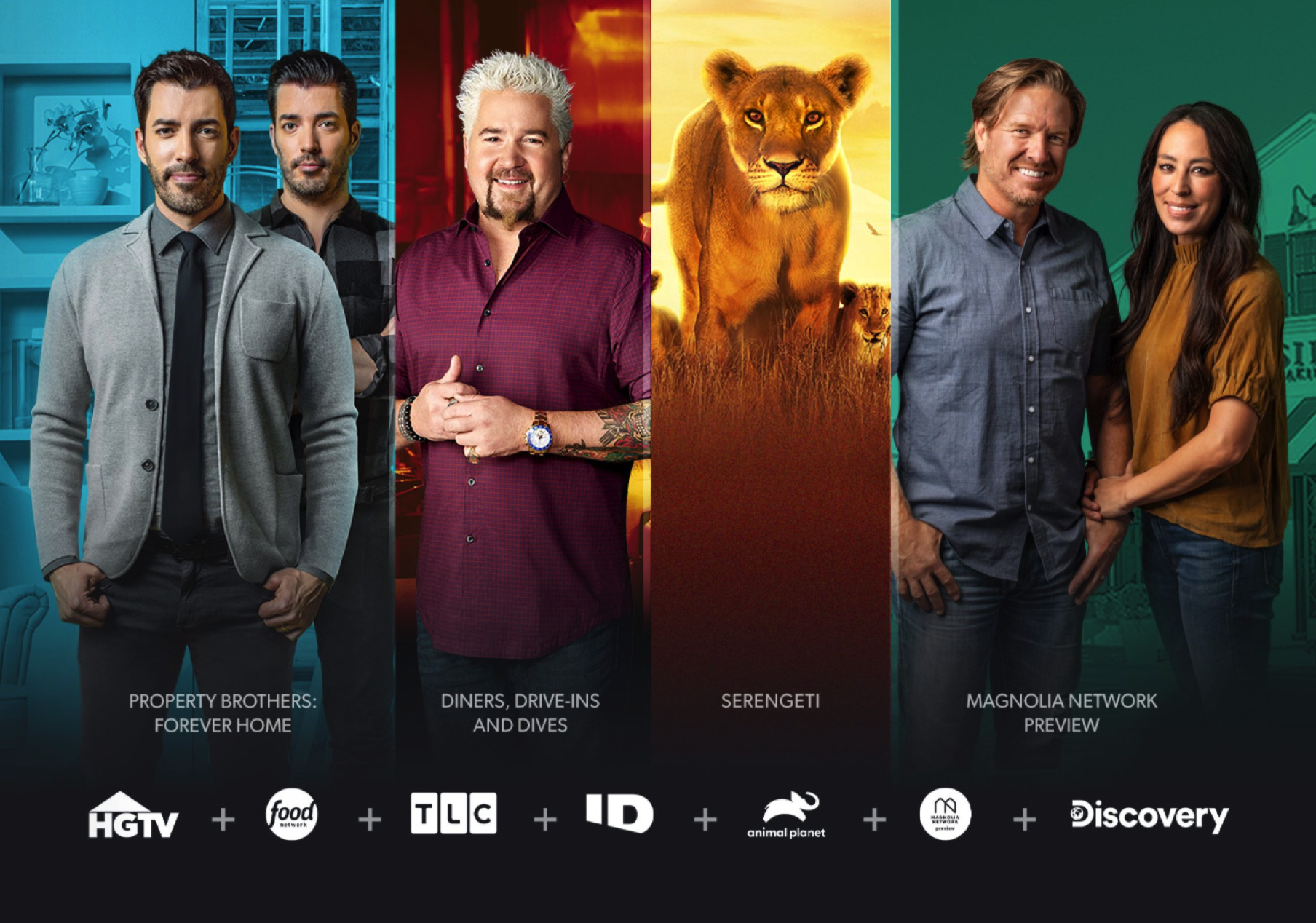 When Discovery+ launched people understood what it was about pretty quickly and for those who didn't understand it it could be explained easily. Discovery+ is a streaming service that puts together the programming you would otherwise find on all the networks owned by Discovery Networks along with a large selection of content from channels like The History Channel and OWN and other networks from A&E. It is the largest collection of reality TV programming from across the genre from cooking shows and home shows, all the way to true crime and dating shows like Naked and Afraid. It was the streaming answer for middle-aged women who did not want to cancel cable because she would lose so many of the guilty pleasure shows that their friends talk about at work. Not that the service is only going after women, (I for one love home renovation and yard transformation shows) but just like ESPN has a heavy male demo, the audience for content on Discovery+ definitely swings in the other direction. And it was the first to offer that programming in that way and frankly just about the only one that could. In a year it has built up over 20 million subscribers. It will grow larger as time goes on and more people discover it. Will it ever have 200 million subscribers worldwide like Netflix? I doubt it. But it can be the goto service for its kind of programming. HBO Max has a totally different appeal. It is the home of Game of Thrones, The DC vast number of comics-based TV shows and movies, hard-hitting and controversial series and movies that regularly reel in Oscars and Emmy awards.  Viewers are able to watch classic movies from Turner's library and Sesame Street along with Looney Tunes. Frankly, HBO Max's range might be too wide on its own. But if all of the content was in one place we think it becomes more, not less difficult to not only sell to a new audience but each existing one. Unless it is done without a substantial price increase and organized so that people can find what they want to watch without taking a deep dive.
Is there truly a large audience begging the two services to combine, or is this an example of a corporation that does not understand its audience as well as it thinks it does? Does Discovery have numbers that show a major overlap between people who watch Bill Maher and Naked and Afraid?
Warner Bros Discovery should be like Disney
There is a great example of a company that owns multiple brands that bundles them without building them into each other. Disney. Disney which controls on-demand services, Hulu, Disney+ and hybrid live and on-demand service ESPN+ maintains all three services separately. Could it build an app that would let users watch The Avengers and bounce over to live Canadian Football? Sure? Could it put The Handmaid's Tale on the same screen asThe Goofy Movie? Yes. But it does not. Yet all three services are growing. Users know exactly what to expect on each service as far as not just the selection, but the type of content as well. Nobody looking for a basketball game has to riffle past Future Man or a Spider-Man cartoon to get to it. Sports lovers looking for more live sports and access to ESPN's film library can pay $4.99 and have it. Users who want to get to the full library of the Marvel Cinematic Universe and Star Wars know exactly where to find both. Again, users know that their Disney content is not going to get mixed in with something like the adult leaning show "The Great". It's a family-friendly collection of all of Disney's iconic brands full of new original series based on its IP. Each service has its appeal and lets the public grab what it wants off the shelf. This is not to say that it does not allow for some bundling. Disney has been very successful in marketing its three streaming services as a bundle for 13.99. The price of the three combined services, which is based on Hulu's ad-supported service for less than the cost of all three which would come to 20 dollars or so. Basically, all three together is cheaper than any two separately. If users choose to get Hulu's Live TV service they also get access to all three of Disney's services. But nobody is required to get Hulu with Live TV if all they want is ESPN+. This allows search results that make sense and recommendation engines to push viewers to like content.
Warner Bros Discovery has a chance to grow both brands and put together a streaming portfolio that has a lot to say in the future, but it would do so much more effectively by allowing viewers to choose one or the other with a discount for both in their own separate orbits than they would by clumping it all together. Millions of people have been happy to walk away from huge bundles of programming and the cable model that forces users into tiered with dozens of unrelated channels simply to get access to two. Plus, if in the end, Discovery decides that it bit off more than it can chew and say sells the Turner networks it will not have to change up its entire streaming system to do so.