There are now multiple streaming services that offer both ad-supported and ad-free versions. The ad-supported tiers of streaming services allow for a less expensive cost than the ad-free versions typically with far fewer ads than found in a traditional broadcast or cable program. For instance, a show that may air for 60 minutes on TV will stream in 45 minutes or less. That's a lot of ads on cable. Discovery networks should be happy to know that according to a study by Hub Research out of all the streaming services that offer ad-supported tiers its customers appear most satisfied with the number of ads they see and the type of products advertised.
Discovery+ customers, like many other streaming services, will see a countdown in the corner of their screen which indicates just how long an advertisement will be playing before jumping back into their shows. Right behind Discovery was Paramount+ followed by HBO Max. HBO Max recently announced that it had found that subscriber counts for the ad-supported version of HBO Max are increasing.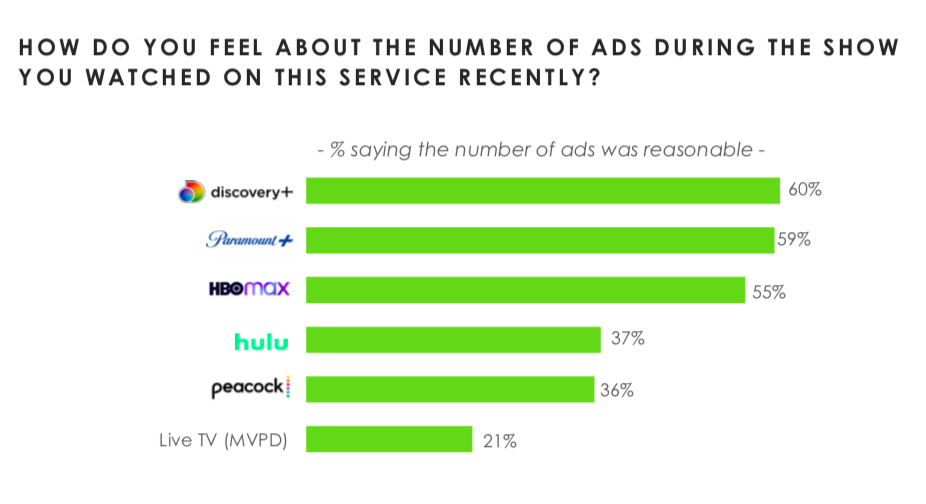 Interestingly, customers of the most long-standing ad-supported subscription service, Hulu seem strikingly less pleased overall. Even though Hulu has reported that the ad-supported version of the service is more popular than the more premium option.  Bottoming out though is traditional pay TV with only 21% of customers finding the number of ads reasonable. Considering the time spent viewing ads on the streaming services I can see why.
Users across all services also indicated that they enjoy watching ads that are relevant to them. This practice, which is called addressable advertising has been all the rage at conferences over the past 5 years and as it is implemented within services consumers are responding well to them. What these services do is use information volunteered by users based on profiles and other information-gathering methods to figure out the kind of consumer you are. And while they may not have enough data points to know whether you will one day be eaten by a brontaroc they do know whether you are more likely in the market for a life alert system or a new boat.
Discovery+ has seen fast growth since it launched as a hub for Discovery Networks programming and a mix of reality/documentary programming from other partner networks such as A&E networks and others.