We had the opportunity to review Roku's newest streaming player for this fall. Unlike past years Roku did not refresh their whole lineup instead concentrating on its entry level device and I think budget shoppers will be very happy that they did. The first time I took a look at the Roku Express was the first edition of the Roku Express in 2016. That model designation has come a long way since then. The newest Roku Express model is compact and packs great power for its very low price.
While it maxes out at full HD, it delivers it perfectly and when used in conjunction with a 4k the device delivers everything advertised and more. This is because 4K TVs allow for a process called upscaling which allows HD quality devices to perform at a clarity above and beyond the advertised capabilities. Roku though will not advertise this device as anything more than its intro-level streamer. And despite my experience on my own television it is important to point out that the Roku Express is designed to deliver streaming at 1080p with upscaling. Its a strong entry into the Roku family and a great way to get started in the ecosystem.
Setup
In order to set up a Roku Express or any Roku streaming device for that matter, you of course need an Internet connection. A user must have an account set up with Roku. This will require having a current credit card on file along with an email address. Roku does not charge users to use or activate the device but users can choose to use their profile and card to sign up for third-party services and order on-demand content with the provided information. Trust me, it's a big time saver when you actually want to spend money. And if you don't it will not be charged. We highly recommend having the account set up before you begin the setup process on the device.
In order to get started users need only plug the included HDMI cord into an HDMI port on their television and plug the USB cable into a USB port on the TV. This will take care of the power as well as the audio-video connection to the tv without needing an outlet. After the intro screen with a playful Roku logo fades to the setup users then place the included batteries into the Roku Remote. Users will be asked to select a language (choose the one you actually speak) and then enter the email address used to set up the Roku account. Roku will send a link to that email which will link your Roku account to the device and from there take the user into a setup wizard. Once the user has navigated the wizard where they can get discounts and other service offers the Roku Express will load the users channels/apps.
Upon initial setup, the new Roku Express loaded 125 Roku channels from my already-established account in 1 minute. My home internet is working on a fiber connection of 300+ Mbps, so your own performance may differ depending on the power of your Wi-Fi network. If a user chooses to sign into their streaming accounts ahead of time they will find that many apps are ready to play as soon as the home screen loads.
All of these setup features are uniform features of Roku's products.
Performance
Wi-Fi performed admirably. As stated, my home internet uses a fiber connection. The Roku Express can not actually process at that speed but used every bit of the power it had available to its advantage. I was able to stream Game Of Thrones House of Dragon in Full HD without any buffering or skipping. I accessed YouTube, Amazon Prime video and other top services. Each loaded quickly and performed with no noticeable issues. Is the Express as powerful as say the Roku Ultra? No. The Ultra is faster by a little. But for a user who is not running them side by side they will not pick up on a performance issue.
Improved Wi-Fi
For those who have used Roku Express models in the past who wonder if it's time for an upgrade it should be noted that this model has dual Wi-Fi capability. This capability means that the Express can take advantage of two bands of home Wi-Fi. Those with cable internet and dual-band modems and routers should be familiar with the idea that there are two assigned networks present when accessing the internet on many devices. It often reads basically (home network) and (Home Network 5G). By taking advantage of the two bands effectively it allows the users to free up Wi-Fi accordingly across multiple devices which keeps the whole family happier, especially if there are some network-hungry game streamers in the household.
Form Factor
The Roku Express is designed to be attached to a television with an included adhesive strip, though it is not a requirement. We would recommend that you take advantage of the strip though if only because the small box itself is so lightweight that it could easily get shifted and cause the remote to have trouble connecting. The device is very small and on a black TV, which is most TVs, it blends right in, especially when placed on the bottom of the frame of the television.
Remote
Unlike a Cable or Satellite TV remote or even a standard TV remote there is not a sea of buttons to get lost in. The Remote for the device is set up to handle all of the functions needed to navigate the system. Roku has perfected a simple and straightforward remote style that includes a home button, a previous screen button, play/pause Skip forward and backward/FF Rw and a function button. On top of that the Express also has some quick launch buttons that automatically launch some of the most popular services in home entertainment. We did find the remotes main cross control a little spongy, but not so much that it was a problem.
Interface
The Roku Interface is the calling card of the company and a big reason why the Roku OS is the most commonly found smart TV operating system in the US. It is set up to get users doing what they got the device for in the first place. Watching TV. The device features a straightforward home screen that puts apps front and center with a 3×3 grid. Its main menu is very simple and intuitive to navigate. Its overall menu is as follows:
Settings
Settings for instance will take users into a full list of the Roku's ins and outs from audio and video quality to captions and accessibility features. There are other features such as the new
The Buzz
This is a new category where trending topics and video content is featured one click away.
Featured Free
This heading takes users right into tons of free content from across multiple Roku content partners.
Search
The Search heading brings users to what we at the Streaming Advisor have always considered the most complete content search in the streaming industry. Roku includes all of its services in a content search from the biggest services like Netflix to the small independent streaming services specializing in public domain content.
Streaming Channels
This is where users will find multiple categories of streaming apps across thousands of channels. Companies have stopped using the number of apps as a measure of device value. But it is not likely that a mainstream legal app is missing from the massive selection of apps found within the Streaming Channels.
Support for AirPlay and Mirroring
The Roku Express can work as a receiver for IOS and Mac products allowing users to share the TV mobile and Mac Computer-based video to the TV screen greatly expanding the scope of what can be made available to stream on the TV.
Support for Windows Streaming
Windows Laptops can mirror their screens to the Roku Express as well by sharing the screen as a second monitor. 

Pro tips

Download the Roku App
Roku's mobile app, which is available for IOS and Android devices adds a multifaceted remote control app that features the ability to type in search selections, quick launch any channel, and add private listening to their experience. The app is free and a great help.
Check Out Roku Tips and Tricks
Roku has a special channel called tips and tricks that is a go-to for brand-new users. It will help users find the answers to lots of basic problems they run into if they are just getting started with short to the point videos.
Personalize it
Roku has multiple built-in themes, beautiful wallpapers, and tons of screensavers. This is the only streaming platform that lets users add so much personality to their TV experience.
Weaknesses
For all of its strengths, the fact that the Express is an entry-level product does come with a few things worth mentioning when making a product comparison.
Drawbacks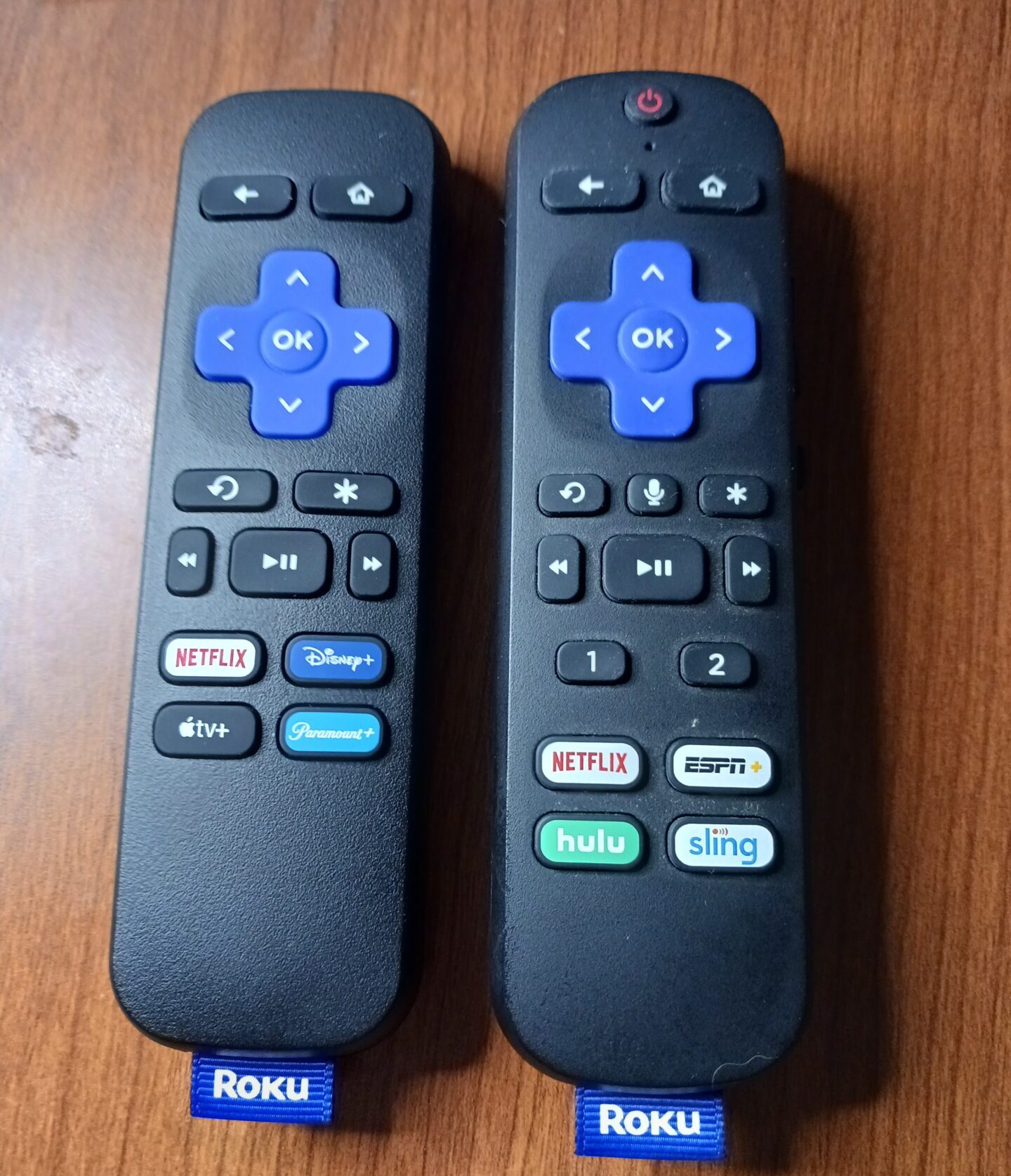 No Ethernet Port
Being an intro model has some disadvantages that should be noted. One is that the Express is a Wi-Fi only device. This means that unlike the high-end model Roku Ultra the device is only able to connect wirelessly.
Basic Remote
The included remote is only able to control video playback and Roku menu functions. TV power and volume are still handled by the television's remote. This means it may be necessary to keep two remotes handy when using the device.
No Private Listening
There is no private listening port available. Some Roku models have a built-in port for headphones. The Roku Express does not have such a feature.
The Remote must have a line of sight
While you might be tempted to use the included adhesive strip to place the Roku Express on the back of the television and hide the magic behind the TV, this will prevent the device from working effectively. The Roku Express requires that the device be affixed in a place so that the infrared light signal from the remote be able to reach the sensor on the front of the Roku Express.
No voice controls
Roku is capable of processing limited voice commands but in order to do so with the Roku Express users will need to access the Roku app for IOS and Android. The included remote does not have the feature built-in.
Should I get a Roku Express?
The Roku Express is a $29.99 product that delivers far more than what you pay for. While it does not have all the bells and whistles of the more pricy models, it provides every single one of the important features that have helped Roku define itself as a household name in the streaming industry. If you don't need the extras that come along with the top tier you will be more than happy with the Roku Express.