The Antop AT-250X2 Versa Indoor Smartpass Amplified HDTV Folding Antenna sells in a two-pack for $99.99 and promises to grab signals at a range between 35-45 miles. When it comes to channels that you can pull in with an antenna I know that there are a lot of over-the-air networks these days. And it is incredibly important to point out that what someone can receive at their house is going to be different than what someone can receive at another location. In other words, it is an inexact science or at least it sure feels that way when an untrained person (which is most people) is setting something up at home. Keep this in mind when you hear someone say that they have this or that antenna and get however many channels. Also, keep something else in mind. The majority of major popular programming is found on four key networks and they are your local national network affiliates. For the record, my main local network affiliates are well within the range of the antenna's advertised capability. ABC, NBC, CBS and FOX are all between 11-12 miles away.
What comes in the box?
Packaged in the box are two antennas with built-in amplifiers attached, two power cords for the amplifiers, a wall plug-in adapter, and two clips.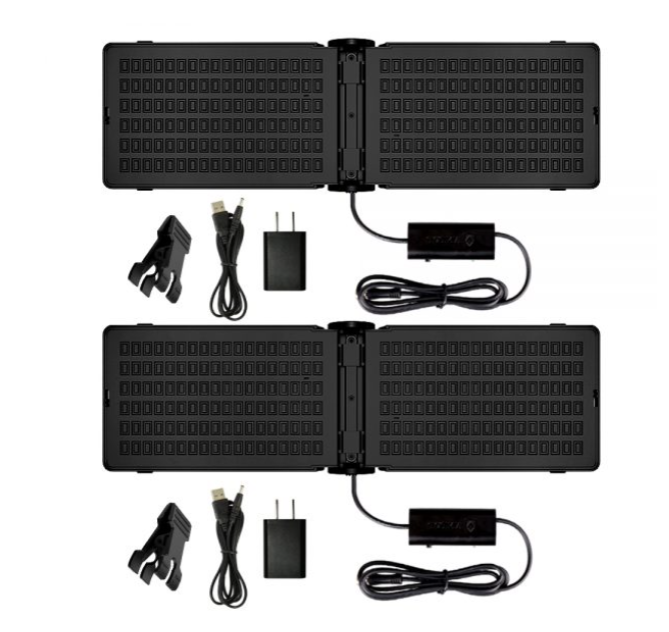 No Tacks Or Adhesives Needed
The trend with many indoor antennas is to design them as flat plastic sheets so that they can be hung on a wall or tucked into a window. This model differs in that it works more like an old-fashioned antenna. If you grew up before TVs were thin rectangles you remember when televisions were heavy and boxy.  With the old form factor, users could place objects on top of their TVs be they a rabbit ear antenna, pictures, their remote, or their cable box. This is why the term set-top box is used to describe so many devices, even 4k capable streamers (which would have to do a pretty good balancing act to sit on top of a modern tv). With a removable clip that attaches to the outside of the built-in amplifier the flat antenna clips right onto most standard indoor sets. Most modern TVs have relatively small profiles.  I was able to affix the antenna to four different TVs from four different manufacturers, Samsung, TCL, Hisense, and Element. If your TV is rounded on the back side it will present a problem. In fact, depending on the design it could prevent you from being to set it up on the TV at all. Outdoor TVs though are often thicker due to the way they are constructed. But after all, this is a product meant for indoor use.
With The Amplifier
I set the antenna up in two different rooms, and summarily on two different TVs. In one room, my office I scanned on a Hisense Roku-powered TV, the 50R6+ to be exact. When I scanned for channels with the amplifier turned on I received 33 channels. In a matter that could be all about the circuitry of the television that I tested the antenna on, I was able to receive the signals more clearly when I had the antenna as far over the right side of the TV as I could fit in as opposed to the middle of the TV. Maybe something internal was causing more noise. With the amplifier turned off I was able to receive the same number of stations but the amplifier allowed the antenna to pull in the signals much stronger than without it. So it appears that the amplification does its job.  In some placements along the top of the TV the antenna performed just as well with the amplifier turned on as when it was turned off. So we also tested it with the amplifier unplugged as apposed to powered buy turned off. Without the amplifier plugged in at all there was a vast drop in the number of channels and signal strength including dropping 2 major affiliates. The PBS station in my local area was not accessible with the AT-250X2 but to be fair, the transmitter is located outside the range of the device. When I set the antenna up on the TV the Hisense XClass TV in my bedroom I received 58 channels, the major networks even got a strong full-bar signal. As they say in sales "location, location, location!"
The amplifier must be plugged into the wall
There are some electronic devices for TVs that can be powered by plugging them into the built-in USB port on a TV. This was not our experience with the USB port on the TVs we tested the antenna on. Without being plugged into the wall the amplifier did not receive any power. And as noted, without the amplifier connected the antenna barely works.
What about in the window?
To see if there was a difference I moved the antenna in front of a window and could not pull in any more signals than I could with the antenna clipped up on the top of the TV. In fact I got less channels that way. furthermore, while Antop advertises the antenna as being able to be clipped onto a window, the device itself does not come with a cord that can safely stretch more than a foot. So in general it is really something that will have to stay close to the TV wherever it is.
I also found that the antenna performed far worse when laying next to or under the TV. I do not know if this will be the case with every user but I felt it was worth noting.
Should I buy this?
With a professionally mounted outdoor antenna, I am able to receive more channels and signals from considerably further away, as an indoor solution the Antop AT-250X2 Versa Indoor Smartpass Amplified HDTV Folding Antenna fulfills an important basic function, which is to deliver the key big four networks as well as their subchannels. This means that I can receive important information for my area like weather alerts, see local and regional sports that are broadcast on the major networks, and see national and local newscasts. Studies have shown that the vast majority of popular TV programs are on broadcast networks, like for instance The Super Bowl, American Idol, Ghosts, Dancing With The Stars, CSI, etc. For a compact budget product, this delivers what it promises. It is easy to set up and for that matter store. The fact that it comes with two in the box really means that they are $50 apiece. If you only need one, maybe you could find a cheaper solution but for two antennas that function as well as this one, it is certainly worth a look.
Editors note: No consumer indoor or outdoor antennas have the ability to get signals outside of 70-80 miles. There are lots of fraudulent sellers that advertise insane ranges and even go as far as listing cable channels like ESPN in their product listings. Those products are not advertising truthfully.