Roku has a blind spot. A recent study by Hub Research looked at smart TV use in the US and how the TVs are utilized by customers. The good news for Roku is that seeing the number of people who use TVs to stream content is probably just fine for Roku. The Roku OS is the most common smart TV interface on the market in the US due to the dozen or more TV manufacturing partners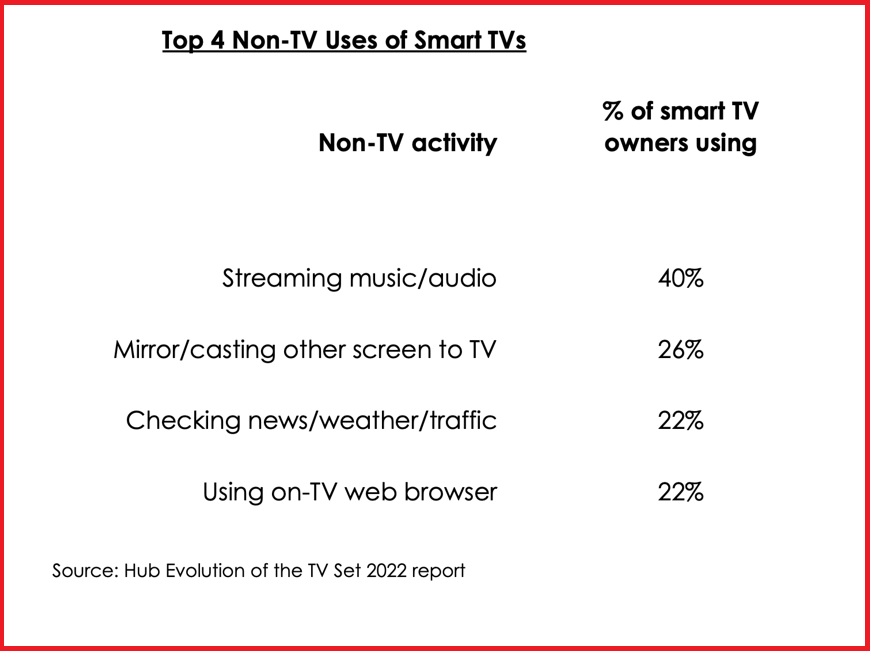 that Roku has distributing its ecosystem to livingroom across the country. While Roku still makes fine streaming boxes and sticks the company saw the future in many households would be one TV with no extra hardware for streaming. At The Streaming Advisor, we highly encourage users to pair a different streaming platform with their smart TVs and give themselves more choices and capabilities, but not everyone out there wants to learn multiple systems, nor do they see the need to do so.
Inside the numbers about how people used smart TVs Hub research revealed what people use their TVs for aside from the primary task of streaming TV shows or movies. 40% of the time, when not watching TV content users stream music. That is obviously something Roku can do very well with every major music streaming service and a lot more to offer. 26% also use their screens for mirroring other devices like a phone/tablet or computer to their TV sets. Though to put this in a separate category from TV might not be accurate as this can and is used to view content that is not available via a primary operating system. Roku devices can use both what's called Mirrorcast and Apple's Airplay and mirroring functions. So it is covered there. Where Roku misses out though is with users who like to use the TV to get news and weather updates. This, typically voice-activated feature, is not something that Roku TVs work with. Sure, a user can open a weather app and find the information pretty easily, but Google Assistant and Alexa-enabled TV can just tell you the temperature on request. Roku builds its operating system to handle TV functions and does not double as a personal assistant.
People also use smart TVs to access web browsers. This is a big part of the Amazon Fire OS which has a built-in web browser that is formatted to be searchable and clickable using the included remote for the TV and does not require any other devices. Again, we should point out that while users can obviously utilize a browser for a number of reasons, they can also be used to watch TV. I can't imagine that someone who wants to check their email or read news reports wants to fire up the Silk browser on a Fire TV or Puffin TV for Android TV and read. Maybe I'm wrong about that though, I can't know everything. Regardless, Roku does not have a web browser. The only way to get a browser on the screen would be to use one of the previously mentioned mirroring capabilities.
But we are going to go out on a limb and say that a number of people use these browsers to access video content that is not available on licensed apps and channels. It's one of those things that I know that I know but at the moment have absolutely zero actual evidence for.
So in looking at the tasks that people use smart TVs for, aside from accessing officially approved TV and video apps Roku is unable to perform two functions outright. One, telling users the weather and other basic info in general, sports scores, info found on Wikipedia, and so on. I would have to wonder how many people also have Amazon Echo or Google home devices around the house to do the same thing though. And it does not have a browser available without using another device. Could those holes in the use cases for TVs hurt Roku over the next few years? Only time will tell. It should be noted though, that aside from Android TV and Fire TV OS, no other smart TVs offer the missing functionality either. Other major TV operating systems like Vizio, XClass TVs, LG and Samsung completely ignore browsers, voice assistants, and in many cases mirroring. This means that Roku only has two current competitors that offer said functionality. And one of them, Android/Google TV essentially operates in the (others receiving votes) space as far as market share for smart TVs. The fact that Roku's OS is so dominant in the US means most smart TV customers do not have the capabilities offered by Rokus competitors anyway.
The question Roku should ask itself is whether it expects to be the preferred 3rd party operating system for so many TV manufacturers forever. If I were Roku I would at least consider finally adding a browser to the system.