LOS GATOS, Calif. — Nov. 15, 2018 — Roku, Inc. (Nasdaq: ROKU) today announced that the company will begin shipping Roku TV™ Wireless Speakers tomorrow, November 16. The new speaker bundle, designed exclusively for any Roku TV, is available to customers in the U.S. at Roku.com for $199.99 MSRP. Roku TV Wireless Speakers are easy to set up, come with a voice remote and provide a powerful performance via stereo separation, vibrant high frequencies and rich bass, plus, full, clear sound and dialogue.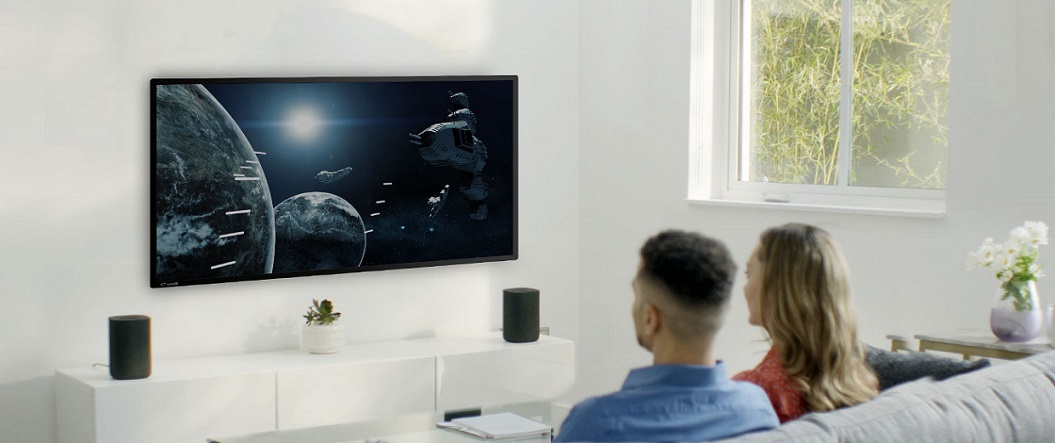 "Sound is an important part of the TV experience yet often overlooked by consumers because of product complexities, choice and price. Roku TV Wireless Speakers offer premium sound with no hassle. Our sophisticated software powers both the Roku TV and the Roku TV Wireless Speakers allowing us to offer a simple set up, multi-dimensional sound with stereo separation, voice control and much more," said Mark Ely, vice president of whole home product management at Roku. "We believe our Roku TV customers are going to be thrilled with how easy the Roku TV Wireless Speakers are to use and at the difference they hear when they watch and listen to entertainment at home."
Unlike traditional wired home theater systems, set up is simple and clutter-free with wireless pairing to Roku TVs. Once paired, users can listen to audio from any streaming channel on the Roku® platform, live TV from an antenna, or other devices such as a cable set-top box. The speakers also support Bluetooth® music streaming from mobile devices.
TV and movie viewers can dramatically improve sound for TV, movies, music and sports as Roku TV Wireless Speakers add broad frequency response and offer a variety of volume leveling features. Automatic Volume Leveling enables a uniform audio level across various types of content, so it will no longer feel jarring when a commercial comes on or when streaming channels are changed. Night mode lowers the volume level for louder scenes and boosts it for quieter ones and Speech Clarity looks for voice frequencies and boosts them to address intelligibility.
Roku TV Wireless Speakers work exclusively with Roku TVs and come with a Roku TV Voice Remote (an upgrade for many Roku TV users) and the new Roku Touch™. The Roku Touch is a battery-powered table-top remote that features a press-to-talk microphone button and makes it easy to control music and more while not directly in front of the TV. Place it in the kitchen, the entryway or patio for quick access to music and entertainment including playback control and programmable preset buttons.
Pricing and Availability
Beginning Sunday, November 18th Roku TV Wireless Speakers will be available at a Black Friday price of $149.99 through Cyber Monday, November 26 at www.Roku.com. The Roku TV Wireless Speaker bundle has an MSRP of $199.99. The bundle includes:
(2) Roku TV Wireless Speakers
Roku TV Voice Remote
Roku Touch tabletop remote
(2) Power Cables
(4) AAA Batteries