The word on the lips of many TV executives for the last 5 years has been fragmentation. While there are more options than ever for sports fans and TV viewers in general the abundance of choices has had the effect of just confusing the very audience it is trying to attract. Where is my team playing this weekend? What channel is the Alabama vs Tennesee game on? With multiple ESPN's, Fox Sports options, Regional sports networks, and dedicated sports apps it is getting more and more difficult. Especially for people who are just getting into streaming or cord-cutting. The sports experience is rolling out, so if you do not have it yet, you should shortly.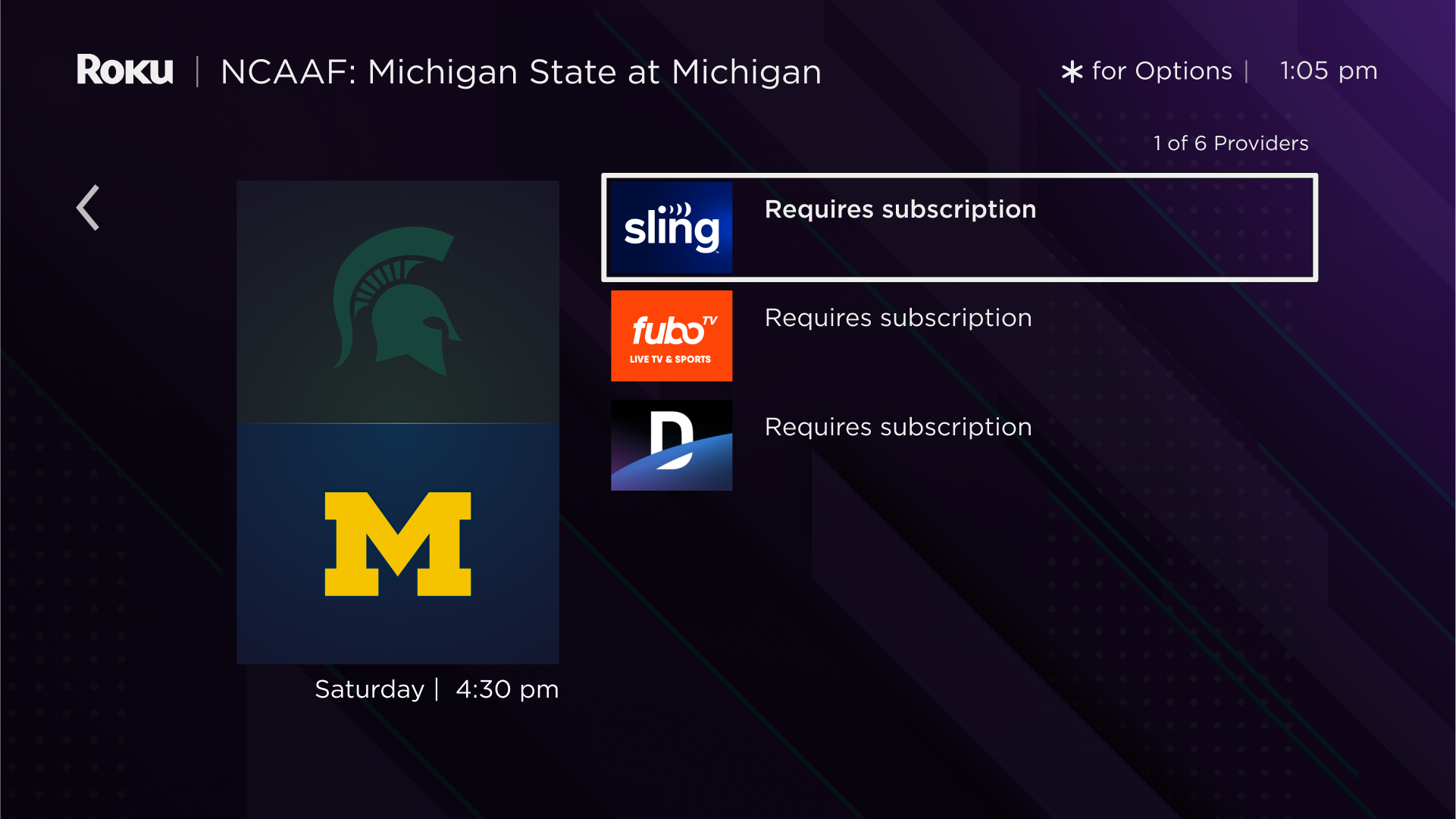 Roku has a whole new way to show you how to watch sports on Roku. The company has launched a new option on the home screen called "Sports". Pretty cryptic right? What users find in the sports tab is multiple rows of content including a selection of live sports channels from the Roku Channel, Sports movies and TV shows, apps that provide access to sports, and most importantly an interactive and categorized listing of professional and college sports contests organized in order of when they will be available. Alex Hill, Director of Live & Sports, Roku shared just why Roku launched the option. "We believe that sports are heavily fragmented across broadcast, cable and streaming services. So, whether it's a football game coming over an antenna, a soccer event coming via a streaming service or a basketball game on cable, Roku is working with content partners across these services to aggregate sports discovery, Hill said."  "Our new experience aims to provide a centralized location where sports fans can easily find all of the sports games they're looking for with ease."
Not only will Roku have the sports section year round, when the Paris Olympic games arrive in 2024 Roku will be bringing back its special Olympics coverage so that users can find all of their favorite events across the cavalcade of channels.
While the sports section does help users figure out how to watch live sports on a Roku it does have some notable holes in its net. The apps supported in the sports tab include; Apple TV, DIRECTV, FOX Sports, FuboTV, Paramount+, Peacock, Prime Video, Sling, The Roku Channel, TNT, TBS, and truTV. 
This means that at the moment Hulu with Live TV and YouTube TV are not worked into the formula. And while these apps themselves have their own sports suggestions built in, it means users still won't see options on Peacock, Apple TV+ and others. Also notable in its absence is the ESPN app. This means that events happening on ESPN+ and other app-based options will not populate on the sports rows. What that means in short is that the Hockey section will be lacking as ESPN+ is now the home of NHL out-of-market games. Roku says that it will add more viewing options in the coming months.
Roku Sports Section selections can also be found via the Roku Search 
Are you looking for a specific game or match? You can look for it with the search on the home screen. This is the same tool you would otherwise use to find apps, and content. If you start typing in the name of a school or team it will pop up if available. For instance "Bulls" will find the next upcoming Chicago Bulls game and for that matter any other team playing on the system with bull in the name.
"We know that keeping track of where sports are being streamed has only become more fragmented over the past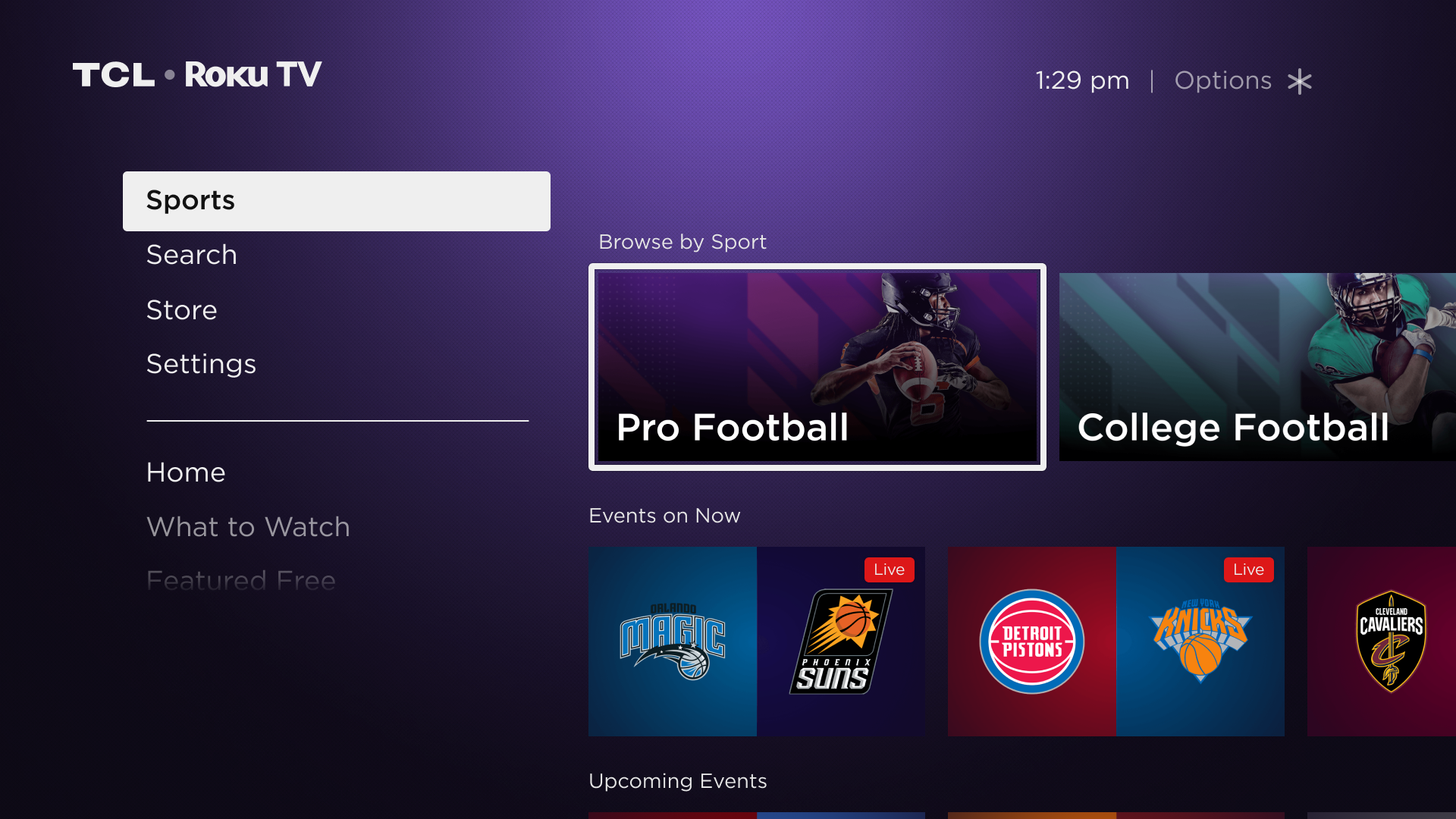 few years," said Hill. "Watching your favorite teams should be simple, so we've made it a priority to build out a more seamless and streamlined way to discover and watch sports on our platform. Sports are a vital part of the streaming experience, and we will continue to make enhancements to that experience, like adding more supported providers and finding new ways for our users to follow their favorite teams."
Overall the move towards the sports aggregator is a great thing for Roku users, and could be a major selling point for the platform. The streaming device and platform game used to be about which apps and services were available on which device. Now that all of the streaming platforms have most of the same apps and thousands of them the question is what actually makes one different from the other. Roku can now boast that it is the easiest streaming platform to watch sports on among other things.
Roku users will also experience deeper, more convenient integration of Sports within other platform features, such as Roku Search, Roku Voice, Sports Zone, and more, to ensure they never miss a minute of action. Sports-related content from supported channels will be available during the season(s) of the sports leagues they air.
To locate and use the new Sports experience on the platform:
Users can scroll down to Sports on the Home Screen Menu, or search for "sports" or associated words like a team or league name in Roku Search or using Roku Voice.
Within the new Sports experience, users will see live and upcoming games for an initial roster of leagues, conferences, and more.
When a user clicks on the tile for a game that they are interested in watching, they'll be presented with watch options for that event from supported channels.
Users can also choose to select various Zones specific to individual sports or leagues to view live and upcoming games or events, discover content specific to their favorite leagues, or explore rows of free sports content