Sling TV announced today that its free streaming options were coming to Android mobile users. The ad-supported service provides close to 400 channels and 41,000 on-demand titles from across a huge spectrum of partners within the Sling TV app. Sling TV says that this summer the free selections will include:
"True Crime Story: Look Into My Eyes" (AMC+)
"The Walking Dead: Dead City" (AMC+)
"Outlander" (Starz)
"Catfished by Captives & the Disappeared" (Showtime documentary series)
"Cannes Confidential" (AMC+)
"Heels" (Starz)
"Billions" Season 7 (Coming in August to Showtime)
But will anyone who isn't a paying customer see them?
One of the most talked about terms in the TV business these days is FASTS. The term coined by industry analyst, Alan Wolk, means Free Ad-supported Streaming. While not a perfect acronym it helps to simplify a somewhat complicated set of apps and services. It should be no surprise that Sling TV got in on that game. People love free content. But Free Stream is different than the majority of other services.
How is Free Stream different than all other services?
Because in order to get ahold of the content in the first place users have to have the Sling TV app installed. And Sling TV is not traditionally associated with free stuff. Sling TV is a subscription-based, cable replacement service, the originator of the concept in fact. The free content is totally available in the app, but at first glance, you would not know it. Especially if you look at the Sling.com website. In order to get to the free content one has to check out a tab in the upper right-hand corner.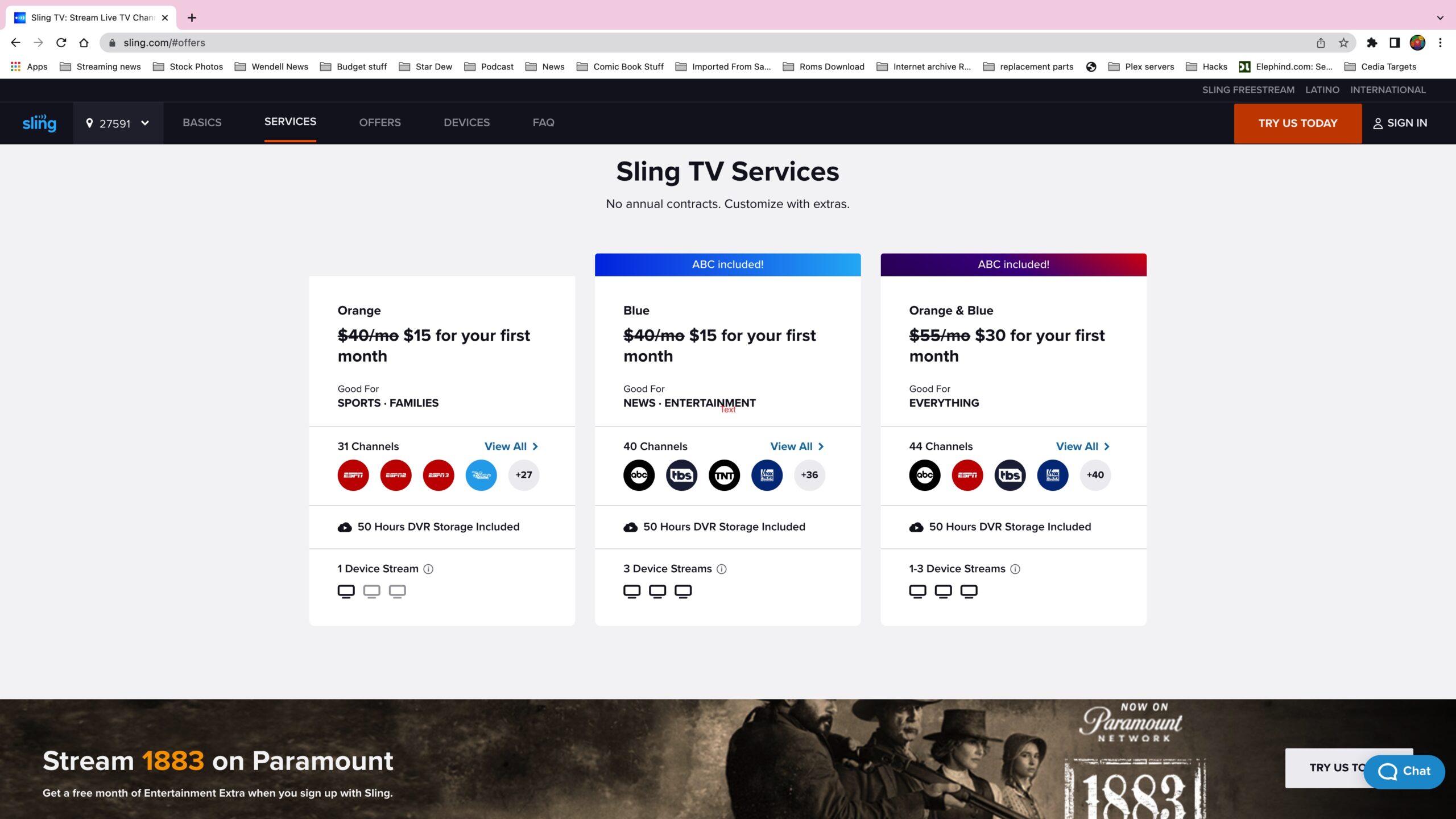 It is small and out of the way vs the big orange/red button that says "TRY US TODAY", or "See the best deals." That call to action leads people to the company's subscription services. It all makes it abundantly clear that the idea of Free Steam is meant to get people to add the Sling app and hopefully sign up for its monthly subscription service. That may well result in new subscribers. But it sort of misses the point. Effective FASTS are part of the advertising and streaming landscape of the future, not a tool to make people sign up for paid services. They create markets whereby they can make money without subscribers the old-fashioned way. By selling ad-time.
Other companies that offer free content as part of their portfolio approach it all completely differently. The similarly named "Freevee" from Amazon is a stand-alone free streaming app with multiple live streaming channels and an on-demand menu. The same content also has a home on Amazon's Prime Video app. But users do not have to navigate through Amazon's paid content to get to it if they do not want to. In fact, we still see people complain about the ad-supported offerings because they think that Amazon is making them watch ads for premium subscription content.  The Freevee app is rather free of Amazon branding with its yellow and purple vibe and is different enough that many people probably have no idea the two brands are part of the same corporate family.  The same can be said for Paramount's Pluto TV. Pluto TV did not start as a Paramount property. But the former startup is a valuable part of the companies streaming ambitions serving as a portal of sorts for the company programming with ads for Paramount+ sprinkled in. But Pluto TV again is its own app. Paramount puts programming it owns on the app along with many of the same free channels found on Freevee and Free Stream along with select episodes of shows exclusive to its paid sibling. The hope is that if users watch 2-3 episodes of something like Star Trek Discovery, they will decide its worth spending $5.99 per month to watch the whole show.
Tubi is owned by FOX, Xumo Play is owned by Comcast, but it does not require the Xfinity app.
I think Sling TV/Dish doesn't understand the idea that Free ad-supported streaming services are their own revenue source that could eventually eclipse subscription services. But using it as a breadcrumb instead of the destination itself is more of a retail approach to TV. Get them in with the sales and coupons and then get them to buy the things that are not discounted and spend more money overall. Maybe I'm wrong. It wouldn't be the first time, but you might notice that the other cable replacement services do not as the same thing of consumers. YouTube integrates free content into YouTube TV but like Amazon allows users to access the same content via the free YouTube app. Hulu with live TV does not have a free app or selection at all. Neither does DirecTV Stream.
If Sling TV wants to get people watching its own free TV and in so, also watching ads, then it needs to launch a slick new standalone service. New app, different branding, easy interface etc. It could use the same bones as the Sling TV interface if it wants. But it needs to get the market asking "What's" "_______" TV? The name almost doesn't matter. Just as long as it is a different app. Heck, it can just be the Free Stream App or like lots of apps a weird collection of vowels and conconents LUJO TV! But what they are doing now, just doesn't make sense in the modern market.