The first two rounds of the NCAA tournament are so chaotic. With the current TV setup stretching across 4 networks in order to allow fans to have access to all the games at the same time, it can be really hard to find the specific game you want to watch. Especially if it's on Tru TV since that might be the only time of the year that basketball fans even look for it.
So this year Sling TV is trying to help basketball fans find the action more easily by extending it new scores section to a tile row within the regular Sling TV interface.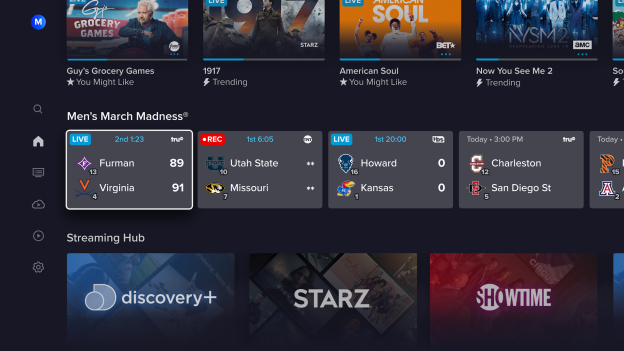 Sling TV will even block out the scores of the games if you are recording them to watch later so that you don't get a spoiler. Though you would sort of have to avoid all social media, ignore texts and crawl under a rock to not hear about any bracket-busting upsets.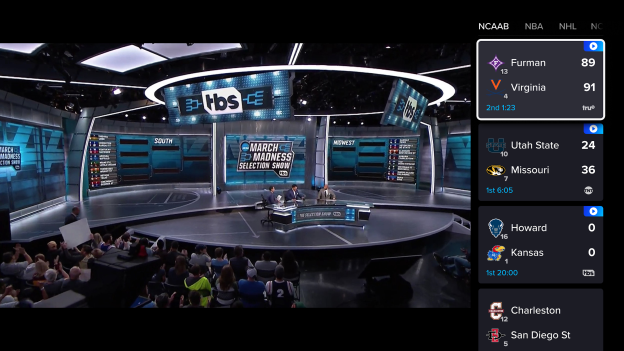 Its sports scores tab will let users see sports scores in general on the side of the screen while still taking in whichever programming they are watching in the first place. This is good for both die-hards and casual fans who only pay attention to the tournament because they filled out a bracket at work with no idea what the difference is between Duke and Drake. Users can see the scores while watching another game or, for what it matters, a Lifetime movie.
For those of you that don't pretend to be sick so that you can stay home and check out the action fans can watch via a browser with a small side view player that can be placed anywhere on the screen so that users can keep up with the action even if they are on a Zoom call, or working on the latest TPS reports.
In general, users will be able to see anything they have access to in multiple ways. Now it should be noted that Sling TV does not offer CBS as part of any of its packages. This means that users who want to see the action on the broadcast network will have to either use an antenna integrated with Sling's Air TV tuner or switch inputs back and forth. Hardcore fans may even be motivated to sign up for the top Paramount+ tier to get the live CBS feed.
Enjoy the tournament. But don't pick too many upsets or you will regret it.