---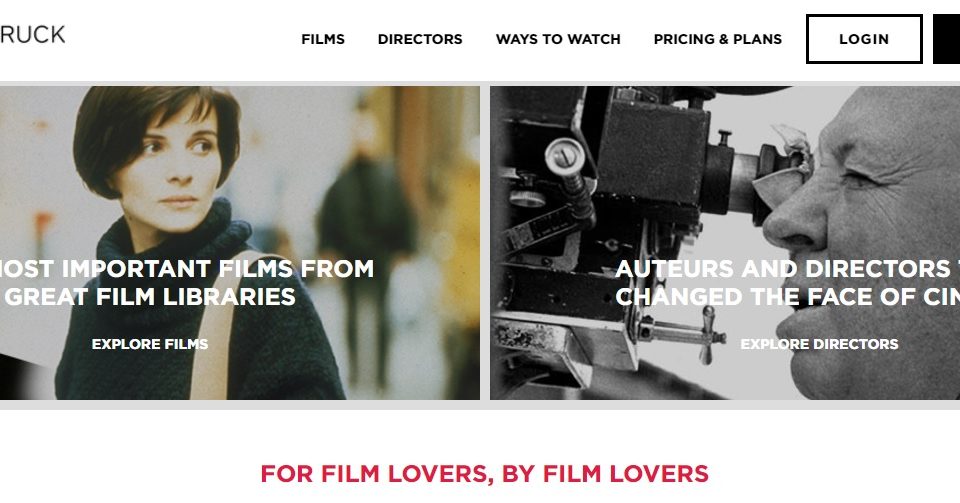 When I was in school at East Carolina I signed up for a film appreciation class. Within about 5 minutes of starting the class the professor who will remain nameless stood in the center of the room nose in the air and said "People think films are about plot, well they're wrong. Film has nothing to do with plot." I quietly stood up and excused myself from the class. The professor looked and informed me that class was not over. I informed him that "it's over for me" 2 minutes later Dr. Auld was dropping the class and replacing it. Now I'm not saying that such an understanding or appreciation for film is wrong, but with internships and more professional training to take care of I didn't have time to spend a semester trying to get in his head and figure out what he wanted me to think about the subject, which is actually one of the keys to getting an A in a liberal arts class when you have a professor like that.
This is what I had in mind When Filmstruck launched last year and we called it the movie service nobody asked for. That take on the service may have been a bit harsh because there had to be someone out there looking for art house movies and films from TCM. After all, TCM's traditional channel does have an audience. But as we have stated before, The people looking for older films is kind of a tough sell for a pay service based on the Internet. On one hand you have older viewers who would enjoy the older films because they were adults when they came out. Not to be overly general but how many people in their 70's are super adept and navigating computer-based technology?
The other big audience for the service is Cinephiles. This is the too cool for school crowd that rolls its eyes at the movies that the vast majority of people you know probably enjoy.
"Wonder Woman that's not true feminism. Why does everyone think movies should have to be fun and have action, adventure or romance," said caricature of a film snob.
The cinephiles of the world are the types that believe the only way to truly enjoy a film is on the big screen where you can appreciate the lighting and the way the subtitles work to paint a portrait and frame a scene. They are not clamoring to watch films on a computer or even a big TV screen after all. They are so hip they don't have one of those "Stupid Boxes" taking up space in their $3,000 a month studio apartment. It would ruin the chi of the room.
Not in Roku's Top 75
Roku has thousands of apps somewhere, over 4000. If you want to get a pulse for what is doing well on the platform you can check the "Most Popular" section. Is it an accurate exact top 75. No it is not numbered like the AP poll in college football, but the first 9 on the grid as of the writing of this story are Netflix, Amazon, Hulu, YouTube, Sling TV, Pandora, The Spectrum App, HBO Go and HBO Now. Would anyone in their right mind say that those apps are unpopular? Next 6 include PS Vue, Plex, Vudu, CBS News, Disney Jr and Watch ESPN. So out of that grouping, you find two major cable alternatives, 2 popular TV Everywhere apps a free 24-hour news service and a Disney based Kids app. Its a nice mix that sort of gives you a flavor for what's big in streaming. Further evidence of the validity of this list is the success of the CW app which has been featured on the list for some time. The free app boasted big time viewership and revenue recently. Its app has 16,405 ratings. Filmstruck has 287. Filmstuck on the Android platform has been downloaded between 10,000 and 50,000 times. The CW app has been downloaded 500,000 – 10,000,000 times. Do you see the trend? Filmsruck did not aim to be popular with the masses and it is not. But considering that the WWE app set a mark of 1 Million subscribers in order to break even, such small returns for Filmstruck as a pay service can't spell high profits. Is it fair to compare Filmstuck to a free app? Maybe not. Should we compare it to Netflix instead? I didn't think so.
How Filmstruck can Find success
As it is placed in the market right now Filmstruck is not poised for overall success. But it coul find an audience if it were marketed correctly. Here is what I think would be the way to approach the market in a way that would make Filmstruck a staple in the streaming world. Embrace academia. Filmstruck is basically a who's who of highly respected films loved by enthusiasts. It would make a great tool for students who study film or those who are part of the type of film class that I mentioned in the first place. Filmstruck should approach universities across the world and come up with a way to offer licenses to English departments for the use of their service so that its students can access the content and professors can use it in class with projectors and movie screens to present the material authentically. How many people learned about Apple computers because they were in their school classrooms growing up?
Show How Older Movies Fit In With Modern Ones
There are many movies based on older source material from outright remakes and reboots to sort of reskinning. For instance, the 7 Samari being the inspiration for the Magnificent 7. Or  Kurosawa's The Hidden Fortress as an inspiration for Star Wars. Filmstruck could build around this and reach out to fans of modern films and say "see the masters who influenced your favorite movies". It could build on that theme with intros by approachable experts who can say "Watch for this and that and compare it to how the same idea was used later in "______". That would let audiences who might have otherwise been put off by the premise of Filmstruck as the sophisticated and discerning service or anti-Netflix. Nobody ever got rich by excluding the population. So include the Netflix and Hulu crowd and it might find that even us popcorn munching rubes can appreciate a good film now and then.
If Filmstruck does not change its course somehow there will be an obit in the culture section of the New York Times for the death of the service for film buffs that never gained traction. But if it plays its cards right it may well become as well known as anything in the literary cannon. That is not a bad place to be. It's not Kardashian numbers mind you but it's profitable.
Fin.

 (image from Screenshot on Filmstruck.com)
---
Trending Now