There is a new Android TV-powered streamer coming to the market. This one is the Verizon Stream TV. The streamer sort of bucks the trend of dongles or streaming sticks and instead is about the size and shape of an old laptop battery. Meaning it's a thin black rectangle. While it is not an HDMI dongle it can be hidden behind the TV with an included mounting kit.
The new item supports high-end video formats including 4K Ultra HD, HDR10 HDR 10+. The level of video performance though will be more dependant on the quality of the viewer's TV screen and the speed/bandwidth of their Internet connection. It supports WiFi 6 (802.11ax) dual-band 2.4 GHz/5GHz connectivity. As for what you will be seeing in all of those fancy video formats, the Stream TV as stated earlier is powered by Android TV, Google's TV operating system. That means that the apps will come from a TV-based version of the Google Play Store so that users will be able to get video and audio apps without having to navigate through spreadsheet programs and Qr code readers. Android TV is a robust app platform that supports every popular mainstream video and audio app from the cable replacements services such as Sling TV, and of course YouTube TV along with Hulu, Hulu with Live TV as well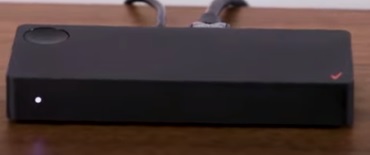 as popular video on-demand apps like HBO Max, Netflix, Pluto TV, Prime Video and many others.
Android devices also typically come with support for browsers like the Downloader, Puffin browser and others. Without using the device we can probably guess that it will support casting from Chromecast-enabled apps.
Verizon customers will be able to link the billing on the streaming device with their Verizon account though it did not say at press time as to whether that means that users will be required to have a Verizon acct set up to use the streamer or just a Google name and password.
The thing that sets the streamer apart from others in the Android family is that it has an interface flavored by Verizon. Those familiar with the Fios environment will be able to walk right in and feel at home. Though the system is set up well enough and intuitively enough for new users.
Interested in a Stream TV? 
The new streaming box sells for $69.99 and is available exclusively at verizon.com/streamtv