Tablo has a new over-the-air (OTA) DVR that modernizes the product line with a totally different look, built-in storage, a spiffy new interface and integrated Internet-based channels. The new model is the first release since the company was acquired by prominent American broadcast company E. W. Scripps.
The new product provides users with a premium experience for free TV that they would not be able to expect from simply attaching an antenna to their televisions. Its features such as the on-board storage, and genre-based searches, and on-demand content via Internet-based channels give users a pay TV-type experience. Take a dive with us to learn more details about the 4th Generation Tablo DVR.
4th Generation Tablo with New-look hardware and software
At first view, you can see that the company is taking a new approach to the product. Its previous models were bulky black boxes designed (it seemed) to blend in with standard TVs and other home theater-related hardware, which is just about always black. The new model is small, white, and round resembling a modern router or a smoke detector. Just with no beeping to wake you up in the middle of the night. The device is designed to be used on a flat surface as well as be mounted with an included mounting kit and instructions.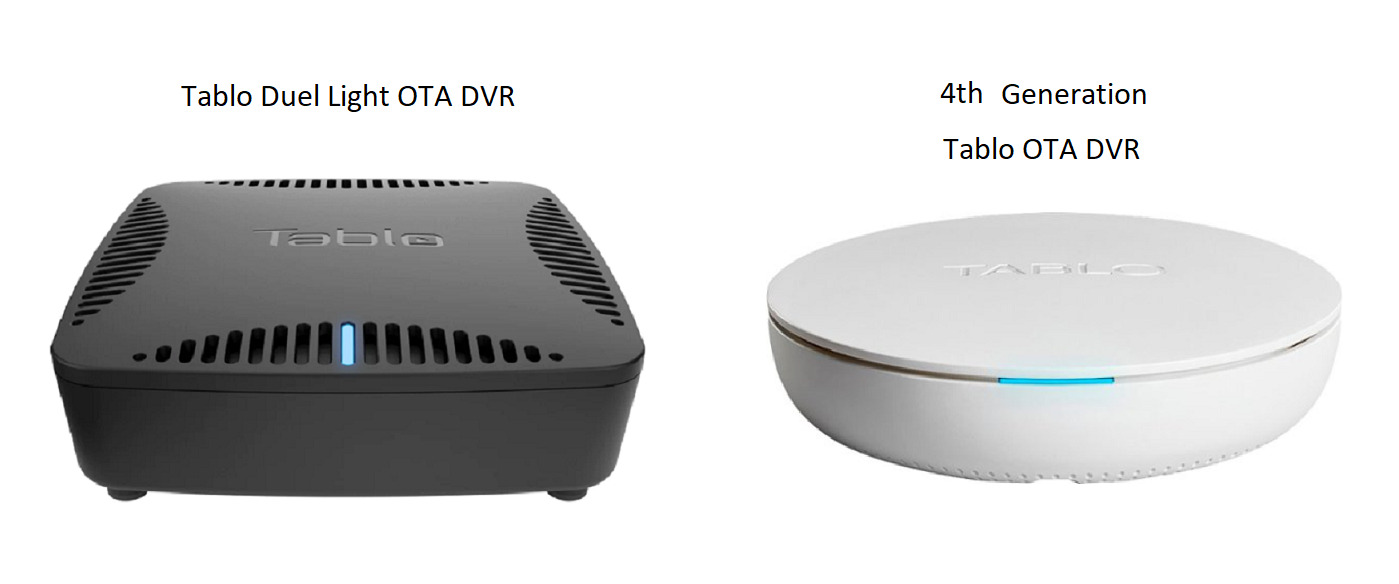 Built-in storage but it's also upgradable
The device comes with 50 hours of built-in storage available right out of the box. If that is not enough for users, the Tablo 4th generation DVR can also support up to an 8TB external USB hard drive. The port for the hard drive can be found tucked at the back of the device. For HD support information see the company's official page here.
No more subscriptions
Since its inception, the Tablo DVR required users to subscribe to its data service in order to receive metadata and scheduling information about upcoming TV programming. The company is turning over a new leaf on the front starting with the new product. The 4th generation Tablo allows users to access full metadata (info like name of a show, plot, air time) right out of the box with no fee. The elimination of the paywall could in turn increase the popularity of the device as a cord-cutting tool.
Interface
Tablo and Scripps have really taken a leap on the Interface front with the new model. The new look feels much more like a premium TV service and allows users to search for programming by name, alphabetical order, and by genre. When the users do so, they are presented with selections from both over-the-air TV channels and Internet based channels. Users can then select what they want to record and whether they wish to record all episodes or only new ones. Though you will see the choice of all or new even when looking over selections for long canceled shows like "Batman" starring Adam West.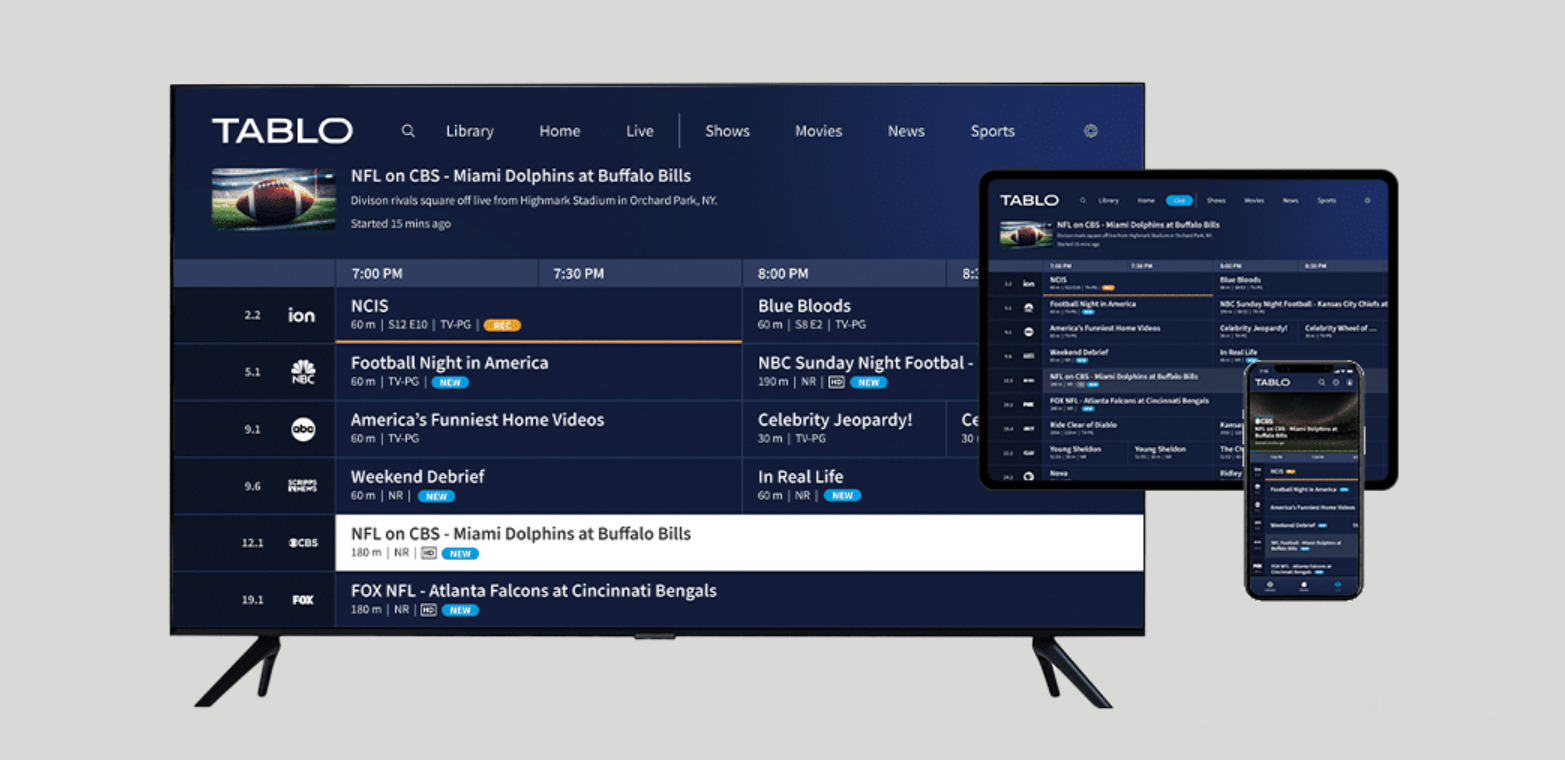 The interface also features programming rows like modern video apps breaking down selections into easy-to-browse categories. Overall it provides an intuitive and easy-to-navigate experience that any user who has used a cable guide or TV video app can learn effortlessly.
Does it connect to the TV?
The 4th generation Tablo DVR does not connect directly to a television via an HDMI cable in the way a video player, game device or streaming device does. Instead, it is designed so that a user can place the DVR wherever they can set up an antenna to receive the best TV signal possible. Once the device has been powered on and attached to an antenna via the coax port tucked in the back of the item, it can be connected to the Internet via WiFi or Ethernet connection and will interact with the new Tablo TV app on multiple streaming platforms.
It highlights sports
Sure you have to be a special kind of sports fan to record a game and watch it later. And by special I mean you have to almost be off the grid to get any kind of spoiler-free enjoyment from a recorded contest. But for those looking to watch live and find out when and where a game will be the new feature is very helpful.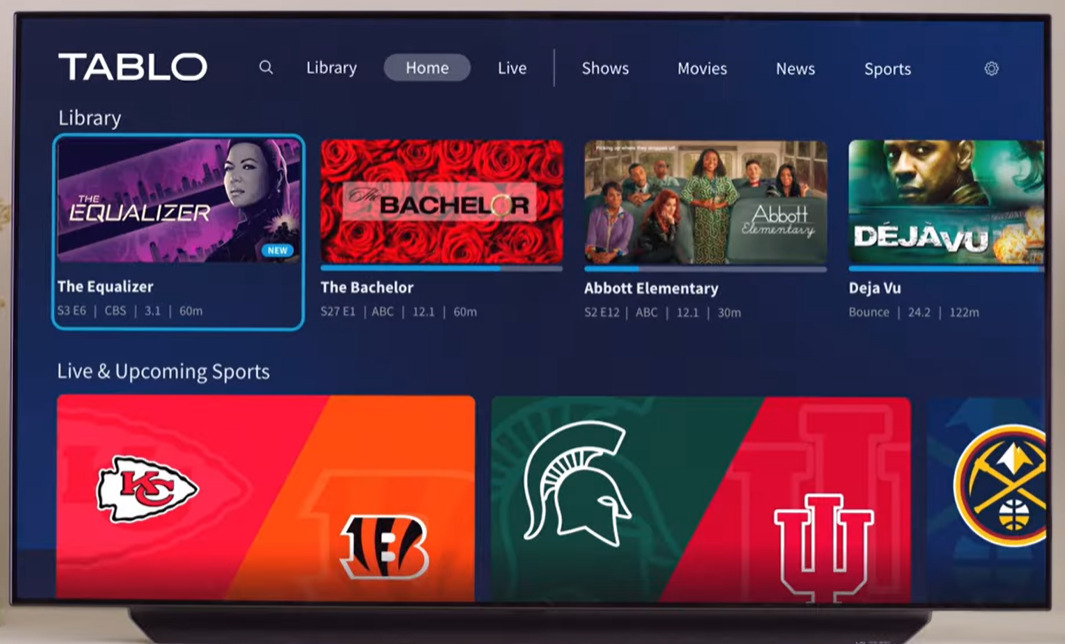 Supports both OTA and Internet-based channels 
The Tablo 4th generation DVR does something no other Tablo has done in the past. It integrates normal over-the-air TV channels with Internet-based programming. Streaming users have probably grown familiar with services like Pluto TV, The Roku channel, and the numerous built-in channels that show up on modern TVs. The Tablo now provides those types of commercially supported options as a group found at the end of the OTA TV lineup. An exciting new feature lets the DVR record programming from the Internet channels exactly like it can OTA content.  The shows or movies will be displayed in the same places as selections from terrestrial TV stations.
What platforms have Tablo apps
At the time of this review, Tablo has apps for Roku, Android TV, Google TV, Fire TV, IOS  and Android (Mobile). The company says that support will be rolling out for Samsung TVs, LG, Apple TV and Vizio.
Whole Home DVR
Once set up, users can access their programming from up to 6 different devices at the same time. If seven different people all want to watch over-the-air TV at once I guess you are out of luck. But considering the many viewing options that users have in the modern multimedia world I really doubt that will cause an average family any problems.
App-based setup
In order to set up the Tablo a user must have either an internet connection via Wifi or a physical Ethernet connection. Once the DVR is powered on and connected to the Internet users are prompted via a supplied QR code to download an app to either an IOS or Android device. Once the app has been installed users are prompted to either sign into an existing Tablo account or create one. From there it's just a matter of following simple on-screen instructions. As soon as the first day of meta data has been downloaded you will be able to jump into the the pool. Downloading the first day of guide data/metadata for the DVR took about a half hour.
Antenna placement help
The placement of your antenna will have a lot of impact on the performance of your channel scan no matter what kind of antenna you are using. In order to take advantage of the fact that the Tablo can be placed wherever it works best the new Tablo app has a built-in compass tool that can tell you which direction you pointing your antenna in regards to where the broadcast towers in your area are.