Our new series on streaming services was supposed to focus on OTT (Over the Top) services that provide cable networks. But I'm going to kick off the series with something that isn't actually a part of the group, Pluto TV. My reasoning and logic for this is simple… being a journalist is hard.
A peek behind the curtain
While I love writing for The Streaming Adviser, my editor tends to be a bit of a taskmaster. Many of my articles are kicked back to me because of my natural longwindedness, a gallant attempt to make sure that my writings are not misunderstood, many of my articles are kicked back to me. Along with a note attached stating "You are writing an article, not a chapter for a book! Make it shorter!"
After the third or fourth time my first article in the series, The Evolution Of TV As We Know It, got kicked back to me with said note, it turned into a phone call that ended with a compromise. We agreed that he was correct. I rewrote the story again, this time to his stating it was a good article.
To those who know me, yes crow does taste awful!
Why Pluto TV
My intention was to start off the meat of the series by talking about Sling, and for good reason. All of the other services compared to Sling TV. I didn't want to compare everything to Sling, I wanted everything to be compared to Pluto. Allow me to explain why I'm going to use Pluto as my first article on the OTT series, even though it technically does not qualify for what I'm writing about.
It is the closest you can get to cable service without actually subscribing to a cable service.
While I know that seems rather strange, let me explain why I say that.
User Interface:
The first thing that you notice when you use Pluto is that it's a very familiar layout. It's obvious that they were going for something that would feel like cable TV. A digital tv style grid occupies the bottom of the screen. There you can scroll through to see what is currently on. The top right corner of the screen is a miniaturized TV screen. It lets you watch and hear the current program while surfing. Top left portion of the screen gives you a brief description of what is currently playing on the highlighted channel on the TV Guide below it.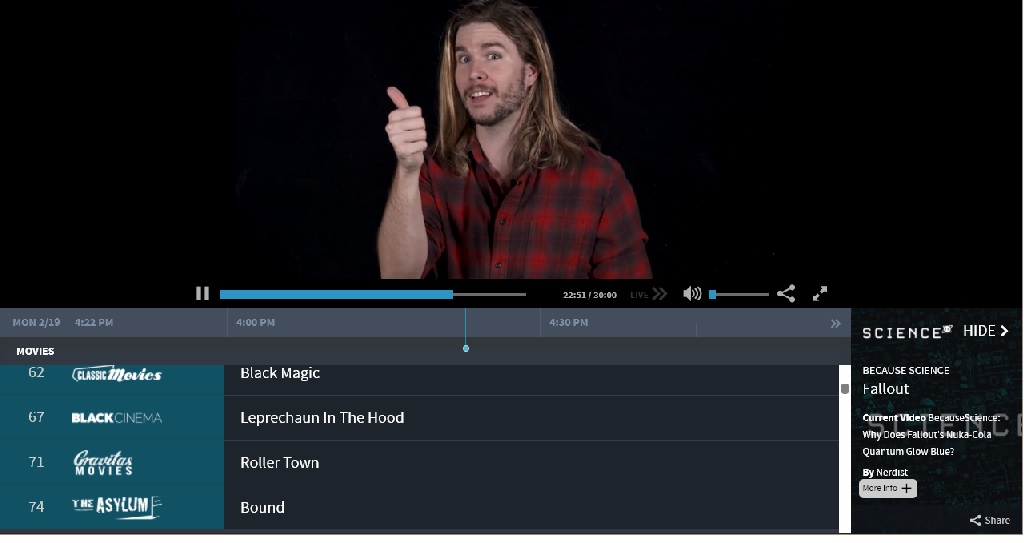 Below the description and to the left of the TV Guide you can choose between Live TV or the Free Movies or TV Shows, aka "On Demand" material. If you select the Free Movies and TV Shows options, your TV Guide grid is replaced with on-demand material and they are broken up into categories to aid in making something you might be interested in easier to find.
The on-demand movies are represented with movie style posters and when you use your remote control keypad to highlight a movie you can see a summary of the movie where the description for the highlighted channel used to be.
I like this. While not the 'prettiest' user guide I've ever encountered, it is the simplest, most intuitive and basic one I've ever encountered not to mention quick. I liken it to when my 14-year-old nephew got onto my old computer that still had Windows XP on it. His biggest complaint about it was that it 'wasn't as cool looking as Windows 7 or Windows 8', but it didn't stop him from figuring out how to access the internet and get a virus on my computer.
So Much To Watch
Back to the TV Guide grid, you have more channels to choose from then you could possibly imagine. Maybe it could even be called overwhelming, and for my two cents worth, some of them are well worth watching. Pluto has things divided into categories and each channel has its own number. Channel 1 & 2 are set aside to act as "Activate Pluto" where they tell you how to activate it on your device giving you control to add or remove channels from the grid's lineup and the other channel is reserved to tell you what is available to watch on Pluto and where it's located.
While channels have an assigned number, they are all given names as well. They also have some hybrid channels that pull content from major cable channels and stream it a day later. I think of them as hybrid channels.  For Instance, while MSNBC isn't available on Pluto, they do have a "NBC/MSNBC" channel which will stream NBC's Sunday Show "Meet the Press" on Monday, while Monday's "Rachel Maddow Show" is available on Tuesday etc. They also have my preferred news source, CBSN (CBS News) which is CBS's online version of many popular cable based news sources.
There are several different movie channels named: Movies, Movies 2, Action Movies, Flicks of Fury, Horror 24/7, Classic Movies, Black Cinema, Gravatas and The Asylum. I'm sure you can figure out the types of movies you'll find on each of the channels.
Some channels on Pluto Cheddar, Bloomberg, Newsey and Stadium are carried on OTT services we'll be looking at.
Availability
Pluto has made their service available on numerous streaming platforms. Roku, Android TV, Android-based phones, Android TV based boxes, Apple TV, IOS Firestick and the layout is pretty similar on each of their devices. That's why I wanted to use it as the foundation for my review of all the over the top services. When I say "CenturyLink Stream has the miniature TV in the lower left-hand corner of the screen" you will have a point of reference. You can look at Pluto and say "ahhh…. I get it. That miniaturized TV screen isn't here, it's over there!" Same with when I talk about the On Demand material, the channel guide and other details. If you already have a streaming device you can install Pluto on it, and use it as a reference.
Features
There are a few other neat features about Pluto that I really really like. For example. Android TV has a feature that will allow me to include a list of live streaming channels into one interface called "Live Channels" and Pluto is compatible with that.
There is a cool feature where I can use my HDHomeRun as a TV tuner on my Mi Box. Once I link it to my Live Channels app, it will merge all of my Pluto channels with my local over the air channels into a seamlessly unified group of live channels complete with its own TV guide.
Unadvertised features
If you have a Roku powered TV with an antenna hooked up to it and you are able to watch local TV through the tuner, Pluto TV will access your tuner and merge your local TV channels with their list of channels, once again giving you a truly cable-like experience of scanning 100+ channels.
OTT providers could really learn from features like this. While some local networks have become available on OTT providers I question if that is the right direction to go. I think that giving customers the ability to merge their TV antenna with the OTT service is a much better plan. With more people cutting the cord it results in antennas being used more frequently. Merging these services so that they can be used with HDHomeRun or antennas plugged into the TV/Devices will have the same effect without the price of the service being jacked up to pay the local channels 'retrans fees'.
Pluto TV summery
So in short Pluto TV has set a very high bar that will be difficult for any OTT service provider to stand against. But it makes a great foundation for me to compare other services too. The OTT service that isn't really an OTT service offers:
A TV guide grid allowing me to channel surf without missing that is playing on TV.
The ability (In some cases) to merge my local channels in with it giving me a seamless interface
Universal compatibility
Free On-demand movies including most of the movies currently playing
A quick and snappy with no lagging. Older devices like many of the 2nd and 3rd generation Roku's may find this a little slow though.