I bet it's happened to you. You've done some kind of streaming search engine, Justwatch, Roku search, or numerous others and you find something that looks like the perfect fit for your mood. And you can check it out if you subscribe today $4.00. Having already subscribed to 4-5 services for one reason or another you balk at the idea of filling out another form, creating a password, verifying it via a text message etc. Moving on you find something else that interests you available along with lots of other things for $5.99 if you subscribe today. So what do you do? You jump into one of the services you already pay for and hit up an old standby. Even worse you just click through menus until you give up and spend the rest of the night on Facebook.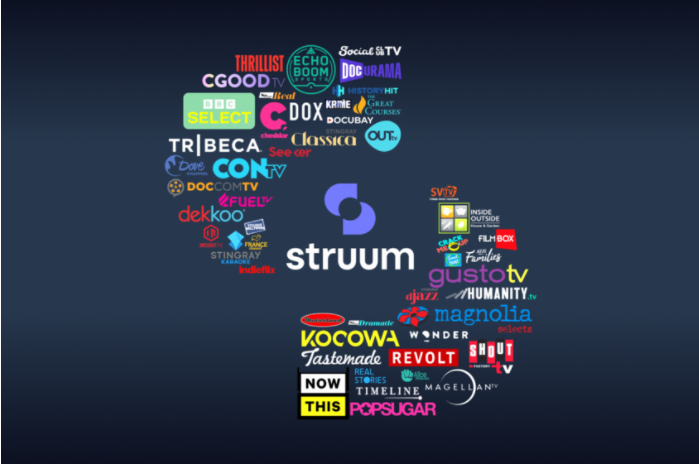 The biggest problem in streaming these days is not a lack of content. There is so much out there that you can scratch just about any itch. But there is a problem. Users are faced with such a wide array of services that they simply look right past content they would otherwise enjoy and in some cases miss out because there are so many services which charge fees that they find themselves in a sort of paralysis of choice. Do I sign up for this educational service or that one, should I try out this sci-fi service or that one? The thing that makes the streaming landscape so different from other consumer markets is we have yet to see a cap on content and availability in the way that say broadcast networks were limited by bandwidth availability or retail products are limited by shelf space. Streaming services have seemingly an entire universe onto themselves to spread out. That is why there is a new service called Struum.
Launched in May 2020, Struum is a service that aggregates content from numerous paid streaming services and gives users a chance to choose which shows or movies from a given source to check out. Yes this is a subscription-based service but it is different in that instead of operating as a hub for one type of programming, or trying and failing to be all things to all people, it pulls together content from (at the moment) 50+ different streaming services and allows customers to pick and choose what to watch based on an allowance of credits via a monthly fee of $4.99. The content partners can set the value of the credits needed to view their content. It is the brainchild of founders Lauren DeVillier, former Head of Product for Discovery Ventures and head of Digital for Disney Channels, Eugene Liew, former Vice President of Product and Technology at Disney+, Paul Pastor, former Executive Vice President of Strategy, Revenue and Operations at Discovery Networks and Thomas Wadsworth, former lead Advanced Product Development for Walt Disney Imagineering. In addition to Eisner, the company has brought on an all-star roster of top tier entertainment and technology executives to its advisory board and executive team, including Nancy Tellem, former President of CBS Entertainment and Xbox Entertainment, Ben Pyne, former President of Disney/ABC Television Distribution, and Donald Hicks, VP Trust Policy and Partnerships at Airbnb.
"Struum is designed to create the easiest way to find more of the content you love through one single monthly subscription.  We view ourselves as the ultimate complimentary service and a perfect fit for TV and film lovers who are increasingly frustrated by the costs, complexity and effort required to discover and watch what they want," said DeVillier, CEO of Struum,
Ok so what exactly does that mean? Remember when your parents used to bring you to say a mall or for people of a certain age, a video game arcade and give you some amount of money tell you that's that is your limit? Once you spent the cash that was it. Whether you went to the movies or spent it all on candy and comic books it was up to you to decide. That is kind of how Struum works. The monthly subscription fee provides users with 100 credits that can be used to take in around 35-40 hours of content a month. That content comes from the multiple partner services and each piece of content like say a documentary or a movie is assigned a number of credits, that are cashed in from that starting point of 100. Watch one movie this evening that costs 4 credits, now you have 96 credits left. It is a clever marriage of a-la-carte streaming and the virtual buffet that comes with other streaming services. Because here is the thing about a buffet. Sometimes you are just there for the crab legs. Sure the salad bar has 40 items, there is mac and cheese and cube steak. But you drove in the rain for the crab legs.
That is the scenario we talked about at the beginning of the story. With so many services there are bound to be things you want to see on one or the other, but you don't want to pay for one service for a month just because you would love to see one two-hour nature documentary or a couple of episodes of your favorite BBC comedy. Because maybe you don't anticipate wanting to see anything else from a given catalog (even though you probably would if given the chance). One service alone may even have 10 shows that interest you. But there may be 100 other shows that you would enjoy if given the chance to discover them. That's what Struum does. It gives you the chance to access the shows you want to see from multiple services for the cost (or less than the cost) of one. Services understand that exclusive programming makes them stand out. But for some viewers, it means that the show will just not be available to them. Because even inexpensive things add up over time in the same way that buying something like coffee every day on the way to work sneaks us and costs $70.00 a month.
With Struum you can watch 3 shows from one service, 1 movie from another, and five from another all without separate logins, fees or having to log in to multiple apps. It gives you a chance to discover services that might fit you perfectly. And if it turns out that a user spends an inordinate amount of credits from one content provider Struum the service will let the user know and put them in a position to subscribe to the service with one click. It's all based on what you want to watch. And it puts users and services in touch with each other almost effortlessly.
Just like malls used to help people find the shoes they liked best from one store and also cure that need for a milkshake, Struum is now there to take the pressure out of figuring out what other services to subscribe to and solves that problem of FOMO (fear of missing out) that can accompany the fact that there are so many things out there these days. And as its selections grow it will be imminently more useful.
Does Struum have apps?
At the moment Struum is available via its website on Google Chrome, Safari and Microsoft Edge and on iOS, AirPlay and Chromecast. The company advertises apps for Android Mobile, Fire TV, Apple TV, and Roku coming soon. Once it drops onto those platforms users will easily be able to check out the content on the biggest screen in the home. Until then we would be remiss to not mention that users can hook a laptop to any TV that has an HDMI port.
Struum Partners:
BBC:
BBC Select
Cheddar News
Cinedigm: ConTV, Docurama, DoveTV, So Real
Dekkoo
Docubay
Echoboom Sports
FilmHub: Alice Movies
Group Nine: NowThis, PopSugar, Seeker, Thrillist
Gusto
IndieFlix
KOCOWA
Little Dot: History Hit, Real Families, Real Stories, Timeline, Wonder
Magellan TV
Magnolia: Magnolia Selects
ShoutFactoryTV
SPI International: Filmbox
Stingray: Classica, Djazz, Karaoke
Social Club TV
Tastemade
Tribeca
Young Hollywood
Coming Soon:
Alchimie: DOCCOMTV, Eureca, Fighting Force, Food Feast, Great Escape, Historic, Humanity.tv, Inside Outside, Krime, Motorland, Open Season, Species, Xtrem
Cinedigm: So Dramatic
CGood TV
France Channel
FuelTV
Great Courses Signature Collection
InsightTV
Magnolia: Crack Me Up, Dox, Monsters & Nightmares, Warriors & Gangsters
OutTV
Revolt
SVTV