Tubi is adding a Tubi for science fiction service DUST. A library of full-length and short film originals,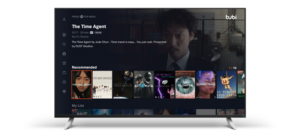 from Gunpowder & Sky's leading sci-fi label, , is now available on FOX Entertainment's free streaming service, featuring Daniel Kaluuya, Meghan Markle, Anton Yelchin, Karan Soni, Thomas Middleditch and Dave Franco.
Dust is one of many brands featured on Tubi, which is a free ad-supported service owned by FOX. The service has been aggressively adding new content partners and expanding its original programming as streaming has grown in importance.
The below titles are now available as part of the new DUST channel on Tubi:
14 Minutes From Earth
ALT
Automata
Corrections
Dr. Megavolt: From Geek to Superhero
Glimpse
Other Space
The Reconstruction of William Zero
Sky Line
The Space Invaders: In Search of Lost Time
The Time Agent
Adventures
Bad Tech
Double Trouble
Heroes
Human Plus
Invasions
Mystery
Spacetime
The Universe
Thrills
Laugh to Hide Your Fear
Creepy Creatures
Cultish Covens
Famous & Haunted
Good Guy Vampires
Run From Tomorrow
Screaming Sci-Fi
Teenage Turmoil
Zombies!
Tubi is available on Android and iOS mobile devices, Amazon Echo Show, Google Nest Hub, and on OTT devices such as Amazon Fire TV, Roku, Apple TV, Chromecast, Android TV, Vizio TVs, Sony TVs, Samsung TVs, Hisense TVs, Comcast X1, Cox Contour, PlayStation 5 and Xbox Series X | S. Consumers can also watch Tubi content on the web at http://www.tubi.tv/