We had a chance to try out the new Hisense X-Class TV powered by Comcast's interface recently and have come away impressed with this entry-level 4K smart TV. It has a lot of great features that help users find things to watch in the streaming age while encouraging users to take advantage of over-the-air TV and even traditional cable or satellite services. The new look sets have a number of shortcuts to aid in content discovery, an intuitive new remote, and simple setup and controls that allow users to get started and enjoy their new big screen. This review looks at the overall TV experience but is not heavy on hardware reviews. Just keep in mind, Hisense is a brand that is priced on the lower end of the scale maxing out at $348.00 to make it more accessible to the average consumer. For those looking for "perfect blacks" and specifications like that you are gonna have to put a little more into the budget.
Set-Up

What you need
Phillips head screwdriver (screws for stand included)
Included remote (batteries included)
Internet passwords or Ethernet cable
Computer/smartphone/tablet
The packaging was easy to get to though I would recommend a small knife just to cut through some of it. You wouldn't want it to fall out on the steps right? There are basic setup instructions pamphlets to make sure that the base stand is screwed in correctly. You will need a Phillips head screwdriver for the task. The base design makes it easy to put the legs of the stand in place until it can be secured. After that, all you have to do is plug in the power cable and get it going. The TV does not come with a mounting rack so if you wish to hang it on the wall you must find that separately.
After powering on, the TV  launches into a setup wizard with a screen reader activated. This means that you will be listening to a robot voice talk to you for a few minutes. Don't worry though, the second screen allows you to turn off the voice guidance if you do not want it. But it's a nice feature to have in place for those who need it. Next, the screen jumps into your internet connections giving you the choice between connecting with Ethernet or Wi-Fi. In general, I always recommend connecting with ethernet because it gives you the fastest most dependable connection. We set it up with Wi-Fi to test it and found our 5g cable internet performed admirably both in the living room and later in the bedroom where the TV lives now.
Grab your device
This is a smart TV so you will need a connected device in order to register your TV and activate it. You can use a phone. tablet. laptop whatever you want. You are just going to need to go to websites and type in codes so use what works best for you. After that, it's on to simple things like setting the time zone. Don't miss or skip through that little step up because it might throw off a lot of things going forward. It's always annoying if the time on your TV is 3 hours off.
Grab your consoles, media players, and antenna (if you have one)
If you have other devices like video games consoles, a Blu-ray player or other streaming devices you are prompted to plug them into the available HDMI ports and component spots. The TV will not automatically recognize your devices, so once you have them set up and have the TV fully finished in the set up you will have to label each HDMI port to match when it's plugged into it. You have the choice to make your own custom name or use one of its pre-done names and icons. This is helpful because it will give you a visual cue when you are looking for things.
Pro Tip
If you have a soundbar or receiver make sure to plug it into the HDMI ARC port. On the X-Class TV's the ARC is HDMI 2. Doing this will allow the soundbar to communicate with everything on your TV once they are connected. The TV gives users a little peek-in window for each port so that they can see What is plugged into each HDMI before they jump in. For those of you with an amplified TV antenna, there is a USB port on the TV that you can use to power it right next to the coax port. Keep in mind which channels you will get will completely depend on where you live, how close you are to transmitters and geography.
Next you get to meet your new TV. Hisense /Comcast has a basic tour setup that allows you to learn all of the various aspects of the TV and its menus.

Remote
The remote is well designed for the system. First of all, it has the basics covered. Power, volume, and a simple directional button with the standard selection button in the middle. There are prominent buttons for the voice selection and home, quick launch buttons, and a numeric keypad. Some system-specific additions are a + button that can be used to add a show to your playlist, the input button so that you can switch to your other devices, a back button (to go back to the last screen duh) as well as a settings button and an ellipse button(…)  This one is used to further explore options on apps. I found it easy to get used to from the start.
Interface
At the top of the home screen there is a simple group of headings that include My List, Free, Search new and Live TV. Live TV corresponds with the antenna set up and launches a full metadata-supported TV grid guide.
Where are the smart apps?
The interface of the X Class TVs seems designed to get you watching TV. At the top is a list of popular apps with the option to jump in and see all of the apps available.
Next, there provide a selection of suggested programming pulled from numerous apps available through the system. This isn't apparent until you click on the title. Once you select a show or movie you're given the option to open the app that corresponds to the selection. Just like with the app sections, you can click on view all to see everything it might suggest for the week in this section you can get a better feel for which apps support which programming.
Jump in with favorite franchises
There is a fan-centered section of the interface called franchise collections that pulls together a lot of the most noteworthy pop-culture franchises. It's like an A-to-Z of the movies you enjoyed growing up from bad boys to Stephen King movies. At the moment I guess it's a B through S, but from this menu, you can bounce around and find where to watch all of the Star Trek movies or Spider-Man or even the two coming to America movies.
Genre breakdown
A section called find it faster is there to help you zero in on things it breaks down into 10 categories with easy-to-digest subjects Movies, TV, Kids, Music, Latino, Sports, News, LGBTQ, Black Experience, Asian American. Each selection will pull you into a menu of available content that fits the mold with both suggestions of programming and selections of apps that will match up with your interests. Again these selections are culled from all of the available services on the TV including paid and free apps.
Being that this system is designed by Comcast you might expect to find a heavy influence from Comcast services like Peacock but you might be surprised to find out this is not the case. Users do have a chance to sign up for a year of Peacock Premium (the commercial supported $4.99 tier) for free.  So far there is a Peacock advertisement on the homepage, but it was further down in the selections and not dominating the whole interface. Compared to say the Amazon Fire OS which is always encouraging you to go ahead and log into your prime account and suggesting TV shows and movies etc this is pretty open. There was also no prompt to sign in to say a Comcast cable subscription. This is probably because the TVs themselves are designed to be sold all over the country as opposed to only within the footprint of the Comcast range. The TV will support the Xfinity app for Comcast customers soon as well as the Spectrum app in the near future.
Do you have anything new?
The X class TV provides a row of recently added movies and TV shows and even breaks it down by kids entertainment as well as a TV and movies "on now". These selections are powered by Xumo and Pluto TV as primary filters but it looks like they would leave room for other services as they pick up different partnerships. On-demand movies and TV shows are also available. Essentially the on-demand purchases funnel through Fandango at least at the moment. Otherwise, if a movie selection is available via multiple paid and free services they will be displayed at the bottom of the screen. When paid services are an option, users are given the chance to sign up for an app instead of just purchasing something. That's super helpful because renting a movie might cost the same as signing up for one month of a subscription service. A sci-fi fan might pull up the Paw Patrol for a child and then say well what the heck I'll sign up for Paramount+ so I can check out all of the Star Trek content like the new season of Discovery.
The bottom three rows encourage users to catch programming before it's unavailable check out free services and jump into what one refers to as popular searches most likely glean from collecting user data from everyone within their network.
Apps
The X Class platform does not appear to have a traditional App Store. There is no launch button for it nor is there anything on the home screen called the App Store. Using the voice remote you can ask to see its apps. When we counted what was available for the review it appears to have 156 apps. The home screen has a selection of apps prominently lining the top of the screen You can expect to see things like Netflix, and YouTube, Disney+, Hulu, and so on. If you want to see the full selection you can select view all located to the left and right of the selection row and be taken into an A-Z selection. This is a bit different than what people have gotten used to as many platforms have thousands of streaming apps. This selection feels more like the greatest hits and best sellers.
The Universal Playlist
A great feature on the X Class TV is a universal playlist. What does that mean? It means that you can make a playlist based on programming from every app built into the TV. By searching for programming on the TV you can find shows or movies on any of the included apps. I love this feature. Like we said, there are at least 156 apps for this system and all of the heavy hitters are there. This feature lets users add any selection from any app available to the play list. Users can look up anything they want to add it to the "My List" section. Once this is set up you can use it as a starting point instead of jumping in and scanning through apps looking for something to watch. You already know what you like.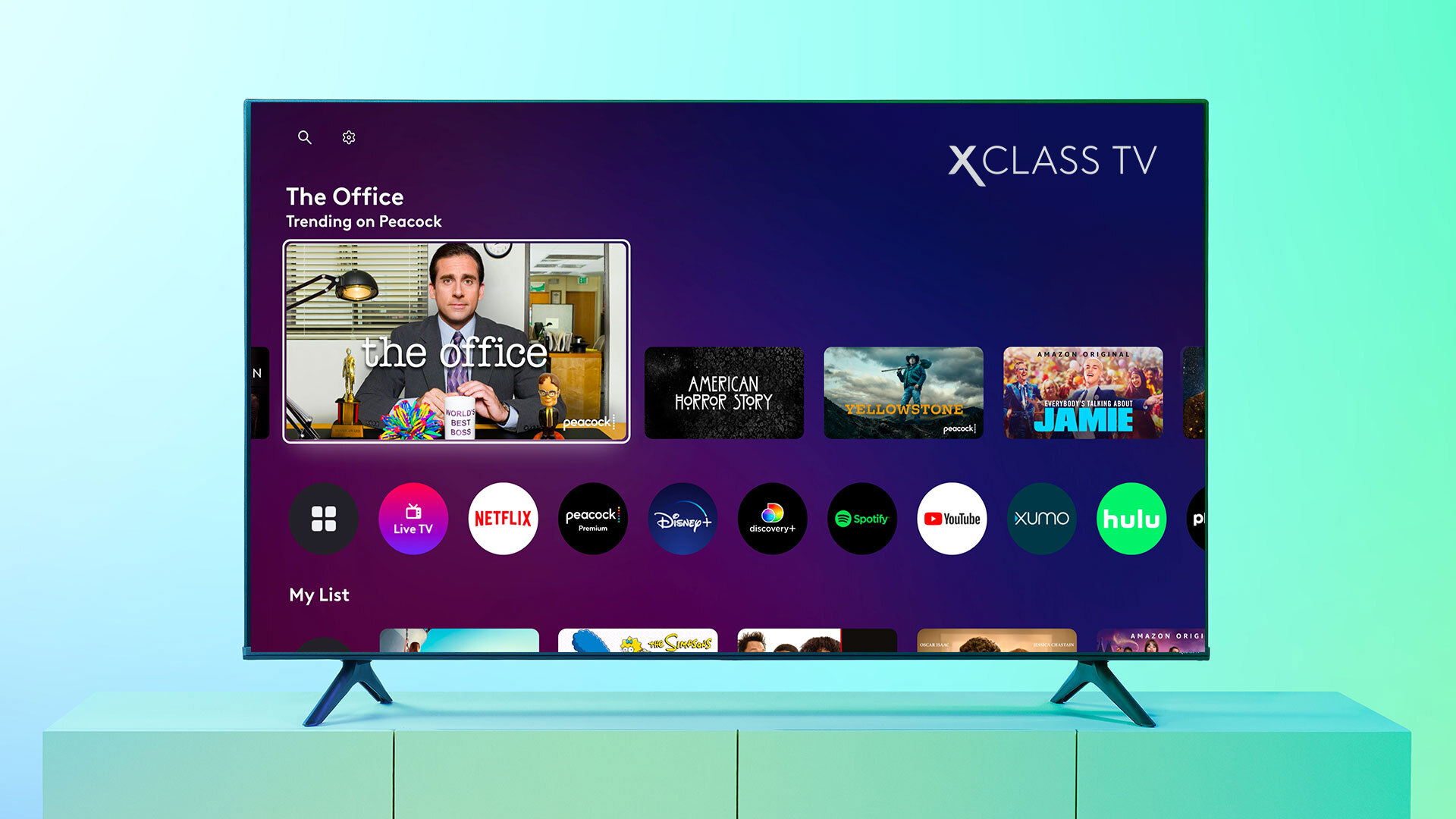 Free
They say you get what you pay for, but whoever said that never saw Pluto TV and Xumo. The free tab gathers popular movies and TV shows that are available through free ad-supported apps and also has a section of apps recommended that are free to download and use while it starts with the household names of that world you can take a look at every free app by clicking on the little view buttons. There's also a row a free live TV that's on at the moment which integrates and with Xumo Peacock Pluto.tv and others as well as groupings of live channels on free services. This allows you to see for instance that there's a history channel component from Xumo that you can jump into and watch their curated programming.  Users should keep in mind though that the history channel as is found on Xumo is not identical to having the history channel do a cable provider or even a cable replacement service like sling TV or Hulu with live TV.
Searching
The search features work with both voice search by pressing the button and by using an on-screen keyboard. Searching by subject and name will bring up multiple results from one selection of all results to a free row so that people can jump into free content and there is a feature apparently sponsored by YouTube called explore YouTube. This would of course just be at supported clips from YouTube.  The search feature returns good unbiased results and again seems focused on helping users find the apps and services that meet the needs of the search. While some systems try to use their voice assistants to do everything from turning on security cameras to launching Stranger Things, the voice search on the X Class TV is built to find TV content and launch TV features. This is not a voice assistant that will make appointments or look up the weather or order your lunch. As far as performing the duties it is made to do, it works just great.
Live TV
The live TV tab activates whatever your TV is picking up via its antenna.
How do you switch HDMI ports?
At the top of the homepage, you will find all three HDMI ports labeled as well as the composite port. If you have things plugged into those ports you will be able to see what is in place via the provided window. Users can label each port according to what is on the system. This saves users the trouble of going through settings and things like that in order to find their Blu-ray player or streamer or video games etc. There is an inputs button on the remote as well. But having a visual cue at the top of the screen makes switching from one thing to another very easy. I highly recommend labeling your ports for quick access.
Strengths
This TV system has a lot of features that make it easy to find content. Its voice search is simple to use and as we said earlier "My List" feature is a real game-changer. It's also nice that there are so many portals to find free content. In an age when people are trying to save money as many ways as possible, it's fun to have a TV that says that you can watch this for free you can watch that for free without having to jump directly into an app. I like the integration of the free streaming channels (FASTS) into the system and look forward to seeing others added over time. The parental controls are intuitive and logical. Acknowledging the difference between parental controls needed for movie or TV ratings versus blocking people from purchasing on-demand contact is a really helpful one. Heck, it probably helps the parents themselves not buying things by pressing the wrong button in a hurry. The remote is easy to use and purists will be happy that it has number buttons. Even if you do most of your TV viewing through streaming having buttons in place or helpful when you're typing in passwords or pin numbers and things like that the home button is well placed and easy to find because it has a different sort of texture than any of the other buttons. It's also possibly the largest one on the remote. Quick launch buttons are always funny because sometimes the companies that end up on your remote don't exist after a while but it's a pretty safe bet that Netflix, Prime video and Disney+ will hang in there for a while and Comcast of course has all the control that needs over Peacock I can't imagine it's going to drop that investment anytime soon. Everybody should be used to the standard control with directional buttons and basically an enter button in the middle and the "My List" button being a permanent feature on the remote is nice for just getting started quickly. Just turn the TV on press the My List button and you're on your viewing list for the night. Overall it's a nice design. Comcast is a company that's been selling TV services for a long time obviously thought of a lot of the TV experience with this system.
Weaknesses
I have never run across a smart TV operating system that did not have an actual App Store area.  Whether it's called an App Store or not it's not important, but there should be somewhere like a tab on the menu that opens up the apps. Once you find the apps they are not broken down well either. Comcast has instead prominently placed the apps at the top of the screen so it's hard to find but with a menu for things like live TV and your viewing list it just feels like there should be a section that says apps with a way to change out your favorite apps at the top of the screen. Something else that I did find a little tiresome was the fact that there are so many things on the homepage. It can feel like an endless scrool to get to certain selections. There should be an option to remove sections the way you can on a tablet or even competing platforms like Android TV or Google TV.
Many people will find they get their favorite content from the provided apps, but it feels just a little old-fashioned not to have a larger selection of niche apps. The heavy hitters get most of the attention but popular mid-tier services like ACORN, Britbox, Popcorn Flix, fubo TV, PBS, Shudder are absent. A number of TV Network-based TV Everywhere services like CBS, ABC, and FOX are also not available. This reduces the availability of a lot of typically free-to-view shows.
The X-Class TVs bring a lot of nice features to the table and some of them are very unique especially at the price point you are going to find it at. And while I feel like some people who have very specific tastes might miss out on some apps, (provided that this is the only app platform you have) there is still a lot to be had. When I compare it to smart TV platforms that do not originate as separate devices like, Tizen (Samsung)  or Web OS (LG) it compares quite favorably. Your average viewer will find everything they like. In general, I have found that smart TVs usually can't handle more than 50 or so apps installed before they run out of space and the big names most people know are right at your fingertips. The strides towards helping people find things to watch are wonderful and I really love "My List". So now if you see one of these new TVs on display this black Friday you will know what to expect.
Stream on my friends.