---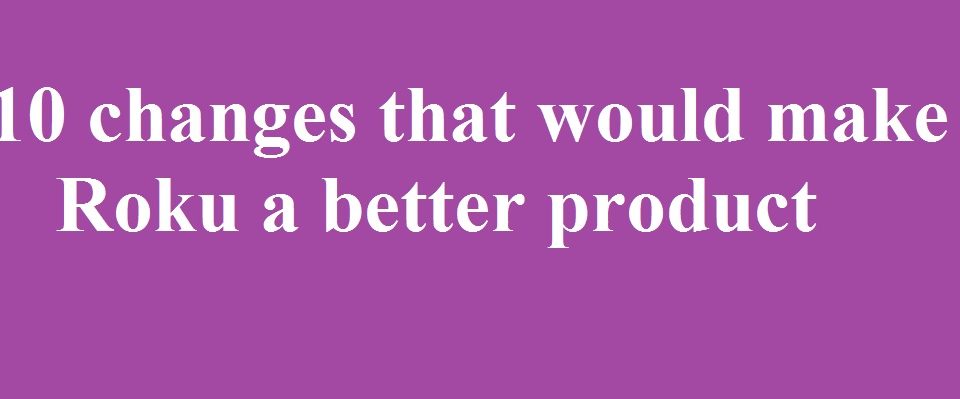 There are 10 things Roku can do to improve its products before its next big roll out. Roku is one of the most well-known names in streaming. It is the only company fully and completely invested in home streaming hardware and development. While its rivals in the market have dozens of focuses Roku has concentrated on building products with one thing in mind. The strategy has worked out well for Roku but it could find a way to grab more of the market share if it were to make some changes. Check out our selections below. 
Add A Tuner
Roku is not a cord cutting device per say but a lot of people who buy Rokus purchase them in order to build a cord cutting solution. Having a tuner built into their product, in at least the most premium model would be a big hit for consumers who want to watch live local channels and networks. It would also invite consumers to stay within the Roku platform full time, which helps Roku's bottom line when it comes to on-screen advertising. Roku has multiple products in Europe that work with antennas.
An integrated guide
Apple TV has an app called "TV" yeah not confusing at all right? But forget about the name. It's the function that matters. The TV app integrates on-demand and live-TV choices into an interface that breaks content down by genre across platforms. This means you can see action movies from FX listed alongside movies from other providers. Imagine Roku with an option that allowed you to look at Netflix selections alongside available films from Tubi TV. How about one place to go and find what sports events are happening across the watch ESPN offerings and Fox sports apps all at the same time? Roku is almost there with "The Roku Channel" a bit of a revamp on the concept may push it over the edge from being a great niche product to a household name.
Simplify channel addition
All of the streaming devices on the market have the same problem. Some streaming options can be added with one button click. But others are a completely different ordeal. Want Watch ESPN? Great. All you have to do is add the channel, go to the special ESPN web page made to add the channel on a computer or wireless device. Then you must type the code provided on the tv screen into the box on the webpage and wait for all the parties to acknowledge you have done so. ESPN might be a TV everywhere option which adds a whole other layer of complication but even integrating a Crackle or Amazon account is far more complicated than adding CBSN which is a 1 click solution. Allowing users to add channels without jumping through hoops would make the device far more user-friendly.
Integrate more DVR solutions
At the moment Roku only has one DVR option. The Tablo. Tablo is DVR a product that allows users to record and playback OTA broadcasts and watch live TV via Roku and a number of other platforms. It works great but it is the only one. Roku can only offer channels if products want to have channels but Roku would benefit a great deal if it were to forge partnerships with other DVR manufactures to allow more DVR options for Roku users. Android TV and Fire TV users, for instance, can add an HD Homerun channel to their devices. Maybe Roku should consider buying a DVR company and build its own branded DVR and channel.
Add something like the live tv channel on Android
A feature that we really like on another platform (Android TV) is an app called Live TV. The app creates a grid guide that integrates about 5 streaming options into one grid including Sling TV and weather apps. The app is nothing more than a framework that can be built on. Android TV has failed to expand it to what it could and should be. Roku may be able to find a way to do more. A grid would give Roku users another way to find and appreciate the content that the platform delivers. A cool step in the right direction is that the Pluto TV app on Roku powered TV's integrates OTA channels into its streaming guide. So much more can be done with this.
Build more interface options
Roku has a very simple and deliberate look and feel. It is super functional and easy to get used to. But could that be a hold up for some users? One of my very favorite features of the Kodi media center for Android and other platforms is that there are a number of skins available for the program. The skins don't change how the program works but they do change the layout and feel of the program to highlight different aspects. At the moment Roku does offer different themes which can change by the season. Users can also buy new themes if they choose. But each theme is a play on the standard. A horizontal menu on the left side, grid on the right side, same menus etc. But having multiple setups for a Roku just a click away could really jazz things up for new and longtime users.
Full Voice Assistant
Roku has a voice search that works just great for finding content. This is the least of what anyone would expect from a voice search on a media device. Roku at the moment does not have its own voice assistant along the lines of Alexa, Cortana and such. It may not matter to Roku users. But the ability to do more with the device like control household items or check weather and such might be a hit. Could Roku build a partnership that works something out? Maybe not. It's still a small company. But it is definitely one thing that stands out between Roku and its competition.
Recommendations
We have talked about a few ways Roku could make its content easier to find from grids to an expansion of the Roku channel. But one thing Roku does not do that is very popular with streaming services and other devices is provide a recommendations section. Do you like Travelers? You may like Continuum also on Netflix. You may also like Future Man from Hulu. But at the moment a Roku user would never know the other options exist without popping into the channel itself.
Browser
Of the four major streaming platforms, two of them now have a capable browser made for TVs. Amazon has at least 3 browsers (Slik, Firefox and The Downloader) in its app store and Android TV has Puffin TV. At the moment Apple TV and Roku are without one. A browser would be a boon to those who want to add private channels to their Roku or find content that is not supported by a channel at the moment. Roku's may be incapable of supporting a browser at the moment based on their operating system. But it Roku was ever to get more advanced, such a change would be welcome.
Filtering the searches
At the moment there are three ways to search for content on Roku. There is the general search. This is a search that returns results based on the term from a number of categories. This includes director, actor, title, channels etc. There is a channel search found in the streaming channels store that concentrates only on results for Roku channels.
This means if there is a Flash Gordon Channel and you search for it, the only results will be channels with Flash Gordon in the name vs listing every version of Flash Gordon from movies to cartoon shows across the whole platform. The third is using voice search which is sort of a mix between the two. Roku could help its users out a great deal if it were to allow for optional filters. An advanced option if you will. Looking for a tittle but want the animated version click the box for animation. That would differentiate between the more recent Lord Of the Rings films by Peter Jackson and the cult classic animated film from the 1980s. What About eras. There are so many versions of A Christmas Carol and Frankenstein and Dracula etc. Filters would help viewers zero in on what they are looking for.
---
Trending Now