Netflix is still King. The first monthly activity report from Apptopia on Disney + engagement shows that despite the very quick rise of Disney+ downloads across mobile and connected TV platforms Netflix and established companies are not loosing any steam. On the other hand Disney is seeing a big impact on its other streaming services Hulu and ESPN+. While Disney + has been downloaded 22 million times since the service launched the other two services have seen dramatic growth as it appears the rising tide or in this case the sudden tsunami has led to s major surge in downloads of Hulu (46%) and ESPN+ (34%) in the month since the launch of Disney+.
Why are People adding Hulu and ESPN+ at increased rates?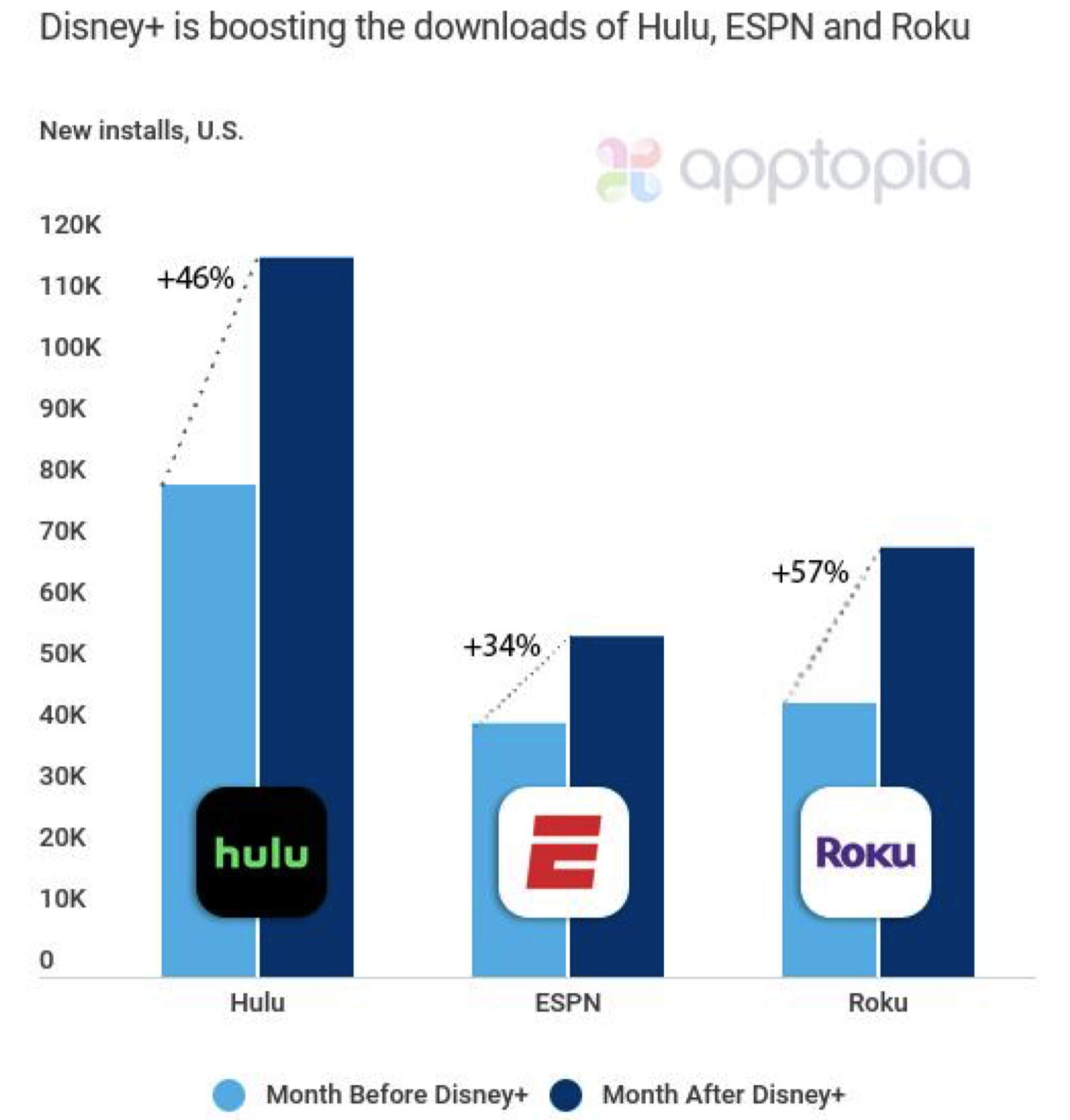 Until now Disney has not openly associated either of the services with its main brand. Disney has owned ESPN  for years and there has been unmistakable cross marketing from on air mentions during sports events and of course the ESPN Zone at Disney World, but until the launch of Disney+ the company has not advertised played the if you like this you will like that card. This is probably because until now Disney did not have another 100 percent owned property to market it with. Hulu until this year was an amalgamation between Disney, Fox and Comcast with a little dose Time Warner. But over the past year Disney acquired Fox and bought out Comcast and Time Warner Via AT&T as both companies plan to launch their own branded services in the future. This means that for the first time Disney now has full control over the marketing of the third most popular streaming service. Packaging it with the most recognizable brand in sports and the most recognizable brand in entertainment appears to working out as a win-win-win. The company is doing this by offering discounts for people who sign up for all of the services at once. Disney+ can be had for $6.99, Hulu costs $5.99 and ESPN+ costs $4.99. With taxes etc the services separately would cost over $17.00 per month. But with the package deal Disney has found a way to offer all of them for $12.99 also known as the price of the most popular Netflix package. It has the affect of causing a customer to say, "Heck I already wanted Disney
Plus, and for 5 dollars I get more sports and a bunch of cool on demand options from Hulu". So its a soft sell that gives people more of what they want for less than a value meal at a fast food restaurant.
Disney Plus may be a win for Roku too
An interesting note as far as app downloads go is the impact the Disney+ rise seems to be having on Roku. In the month since the launch of Disney+ downloads of the Roku App which can be used to control Roku players and TV's as well as launch content from the Roku channel, its own ad-supported streaming option. Roku has not independently released any information as to what has led to this. It may be that because so many retailers have been aggressively marketing Roku powered TV's and Roku products that the company has simply benefited from pre-holiday sales. It could also be partially be driven by people who are interested in adding Disney+ to their consumable media rushing out to the store or online and purchasing a Roku device because it is an inexpensive option that adds streaming apps. Roku was prominently listed as a partner device for the service.
Did Amazon Blow It?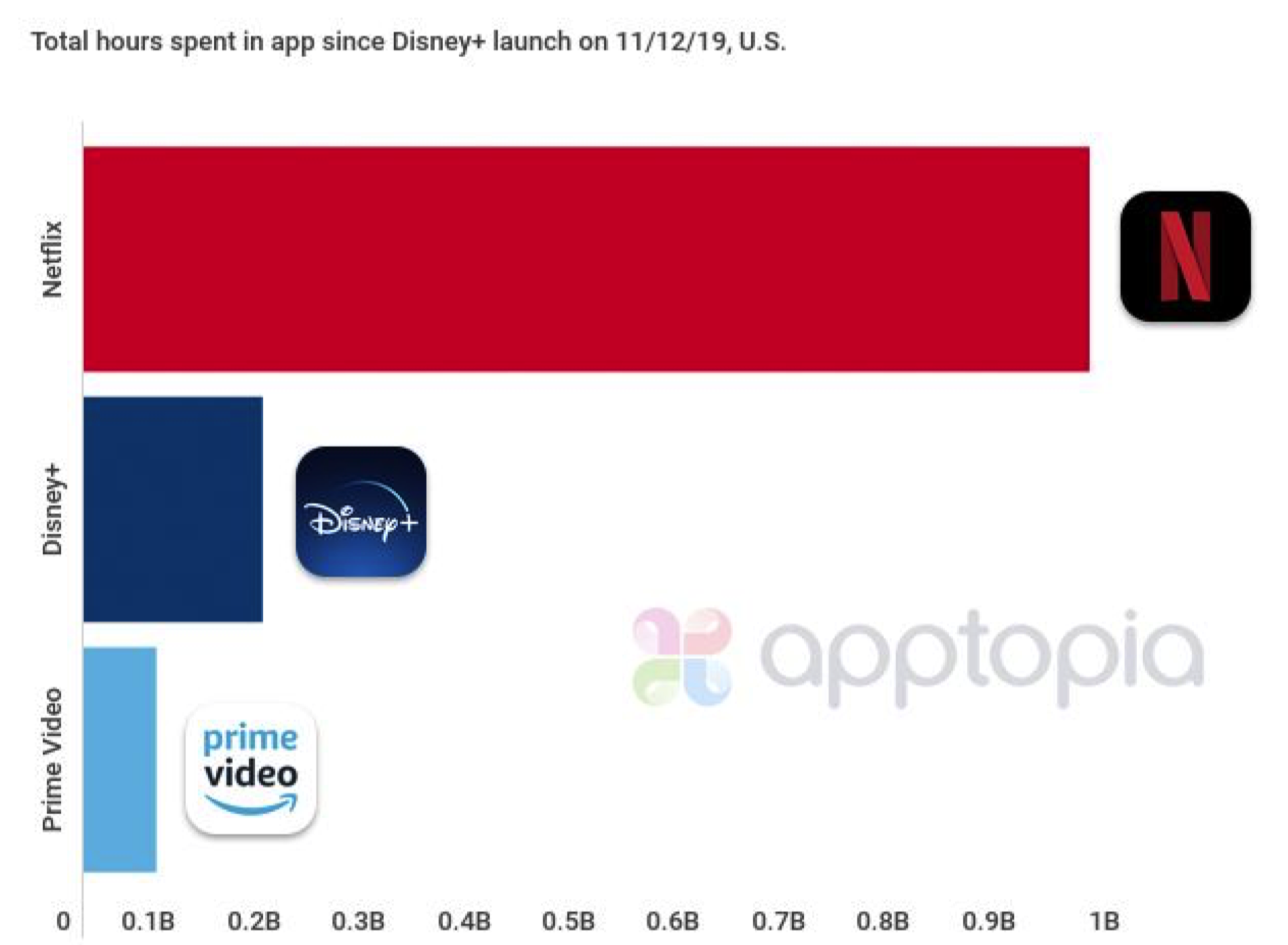 Those looking to save money certainly would not gravitate to an Apple TV product that costs nearly $150.00. But Fire TV devices, like Roku have a wide price range. In what may turn out to be a huge mistake, Amazon's Fire TV devices were not initially listed as partners for Disney+. In fact to the contrary there was heavy reporting that Amazon Fire TV devices would not support the app at launch. While the two companies worked things out before the momentous launch of the service, the damage may have already been baked in as interested parties researching the service pre-launch may well have gotten the impression that all those cheap Fire Sticks would not have the service that all of their friends were talking about. It is really hard to change first impressions. In reality we will not be able to draw any true conclusions without confirming the sales of Roku devices and TV's and Fire TV devices and TV's over the month of November or at least as far as quarterly reports. The reason people are looking at the Roku App downloads is probably because it can be an indicator as to whether there have been new activations. As part of the set up for Roku powered TV's and boxes/sticks users are encouraged to download the app. Fire TV also has an app that works much the same. So the fact that there has not been a big spike in downloads for the app may indicate interest in the products. Though Black Friday sales may well have made up for it. The answer to this question will come out in the wash.
While Netflix totally dominated the viewing hours over the past month Disney+ has proven itself more than viable amongst its more established competitors. For all the talk about how Disney+ would be gunning for Netflix it turns out the service that has seen its market reach affected the most is Amazon. As seen in a graphic from Apptopia Prime video streaming hours ranked considerably behind Disney+.
Disney+ Only has one major original show
At the Streaming Advisor, we are always a bit skeptical as to What kind of an impact 1 show can have on its numbers. Disney+ has had one breakout show so far with the Mandalorian AKA the baby Yoda show. The pop culture impact of that one character has made the new show the current champion of meme makers and has captured the conversation. Even as Amazon's Man in the High Castle wrapped its final season the buzz has been all baby Yoda all the time. As Disney adds more originals like the highly anticipated Wanda Vision it will bear watching to see if there is a new surge in downloads.