Lots of guys have gone through a Weird Al faze during their childhood and now it's Roku's turn. Roku announced this morning that it will be streaming a new original biopic about musician/comedian Weird Al Yankovic, starring Daniel Radcliffe. The project titled Weird will be available exclusively on the Roku channel in early February.  The new film will tell the story of Yankovic's life from his start as a young man through his unlikely rise to stardom. Yankovic sounds excited about the project releasing a statement that is almost a parody of a promotional quote.
"When my last movie UHF came out in 1989, I made a solemn vow to my fans that I would release a major motion picture every 33 years, like clockwork. I'm very happy to say we're on schedule," said Yankovic. "And I am absolutely thrilled that Daniel Radcliffe will be portraying me in the film. I have no doubt whatsoever that this is the role future generations will remember him for."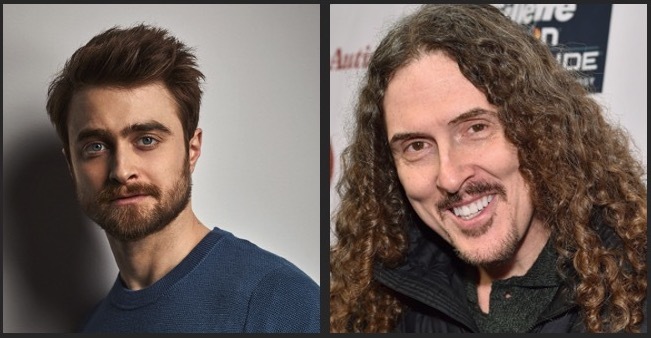 If the Harry Potter star is long remembered as the man who played Weird Al for generations the movie will have either done something very right or very wrong. The writer and of the project Eric Appel seemingly picking up on Al's humor added, "When Weird Al first sat me down against my will and told me his life story, I didn't believe any of it, but I
knew that we had to make a movie about it,".
All jokes aside Weird Al Yankovic has been a star in the music and pop culture world since the 1980s and has legions of fans that cross generations the way only other legends do. Stop in on a concert and you will see grandparents singing along with 7-year olds to 20-year-old hits based on songs that were either top hits or notorious for one reason or another. His comedy style is known for bing clean but to the point, as seen in his recent take on Blurred Lines called Word Crimes, which is a total undressing of the way modern culture butchers the English language. He has reamained popular through every musical shift from the rise of Michael Jackson who he parodied in Eat It and Fat to takes on Star Wars through the years with Yoda (Lola) and The Saga Begins (Bye Bye Miss American Pie). He is the biggest-selling comedy recording artist of all time. A five-time Grammy winner, his 2014 release Mandatory Fun was the first comedy album in history to debut at #1 on Billboard's Top 200. He is one of only three artists to have had their own top 40 hits in each of the last four decades (the other two being Michael Jackson and Madonna). On August 27, 2018, the Hollywood Chamber of Commerce awarded Weird Al with a star on the Hollywood Walk of Fame.
"I am excited that my first project as the owner of Funny Or Die Studios is to help bring the story of 'Weird Al' Yankovic to the screen. Weird Al is a comic genius and his impact on pop culture, his mastery of the music video, his award-winning music and his incredible life are a perfect fit for the talented producers at FOD," said Henry Muñoz III, Funny Or Die Chairman and executive producer. "We are honored to partner with Roku, Tango and our director Eric Appel on this important movie. WEIRD has brought together a weird and wonderful team of creative people, to tell the story of a man who has made people laugh and sing across the world."