Sling TV is one of the live TV cable replacement services on the market today. In fact the service was the first of its type. To an outside observer, Sling TV may seem just like any other service it competes with. It has TV networks, requires the Internet and a device etc. But we are going to look at the things that make Sling TV stand out.
How Sling Works
The Same Across All Platforms
I've used Sling on both an Android Box (Mi Box) as well as a Roku Premiere and there really isn't a difference from one platform to another, in my view a feather in their cap because nothing is more frustrating than going to the same service from one device to another and feel lost or confused.
Two Ways To View Content
Grid: This is the traditional Channel guide you are probably used to. Networks are listed on the left side of the screen. The shows on at the time and upcoming are on the right. It's just like a traditional cable Grid or even like Pluto TV minus the TV screen in the top right corner. The grid is large and easy enough to read on all but the smallest of screens.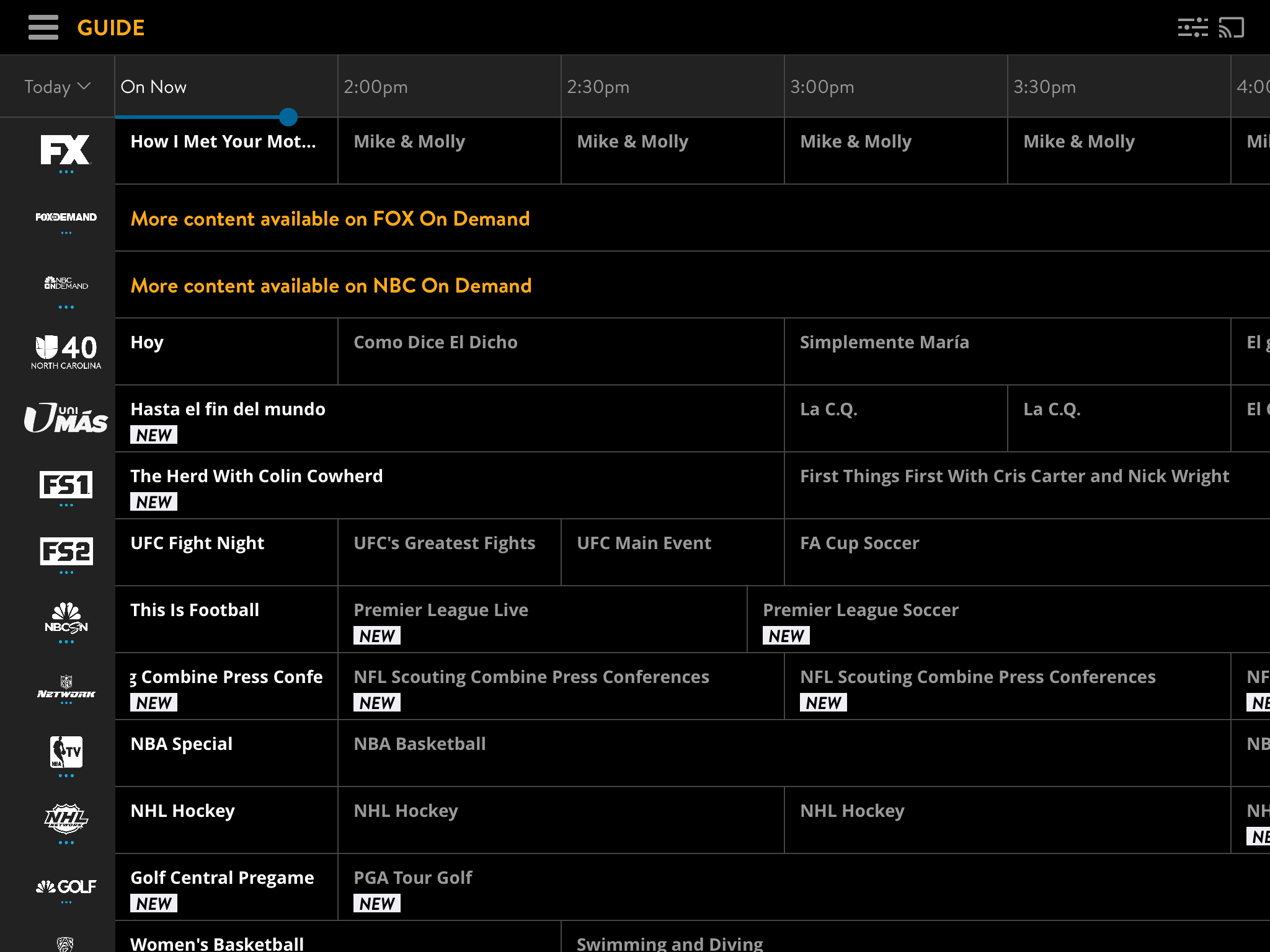 Channel View: Another option you have is the Channel View. This provides a guide across the top of the screen you can highlight by a network. When you do so you can see what is currently on and what will be playing after that. In the rows beneath you are given a row of programs that are available on demand. For me, this is where Sling really shines.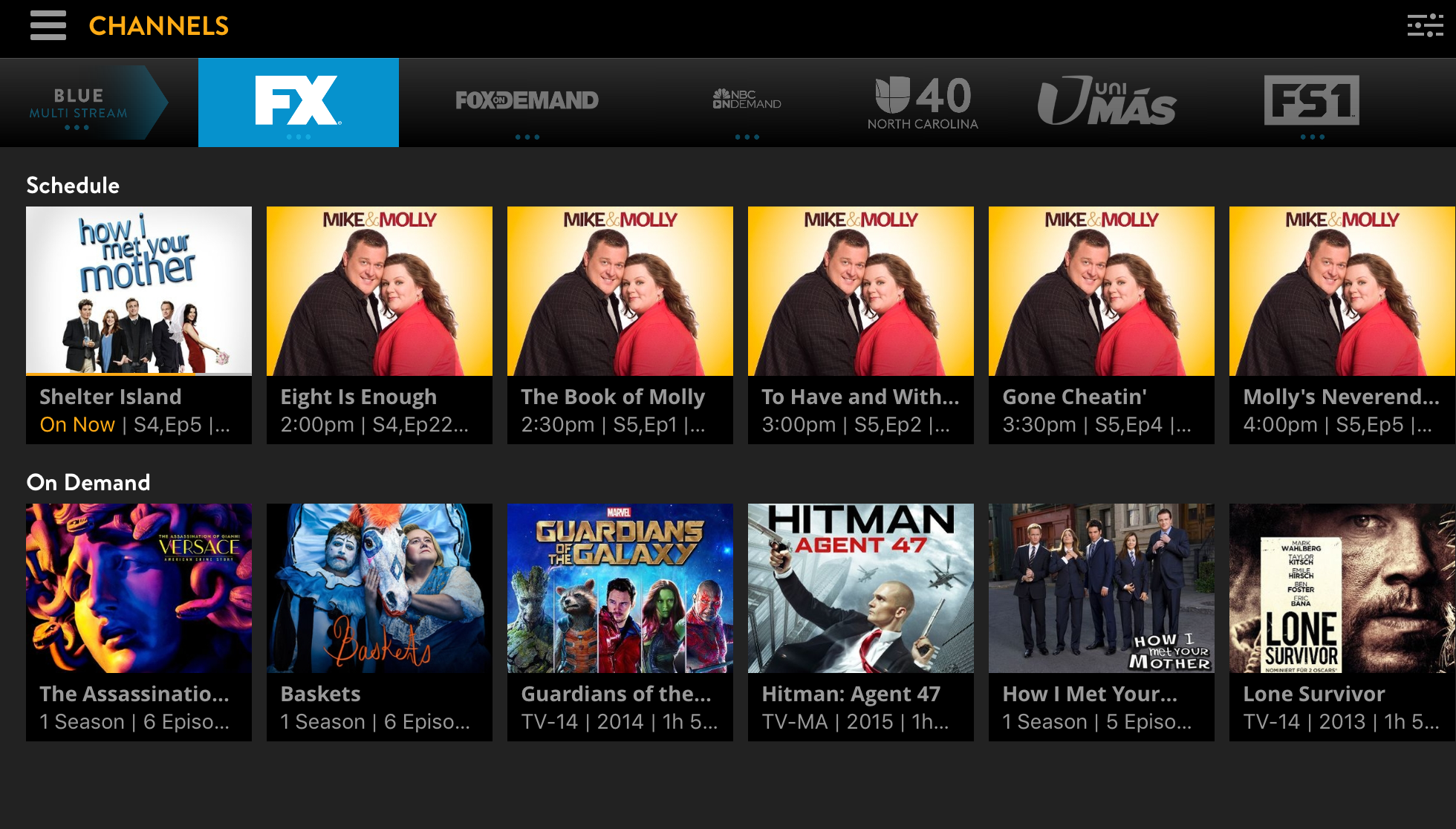 On-Demand Content
There so many shows and movies available on-demand almost to the point where it's mind-numbing. But As stated above it's set up in a way that most people can appreciate. On-demand content is broken up by the networks it airs on. Want to watch Walking Dead? Go to AMC and you'll find that the past three or four aired episodes are available to watch. Want to watch Big Bang Theory or Married… with children? Go to TBS and you'll find it. If you know what cable network it airs on you will have no trouble finding it, even NBC and Fox network prime time programs are available on demand giving you access to some of the network programming you might miss because your antenna reception sucks. For some individuals, this may even serve as a suitable replacement for Hulu. If you don't know what network a show is on you can search for it like other streaming services.
DVR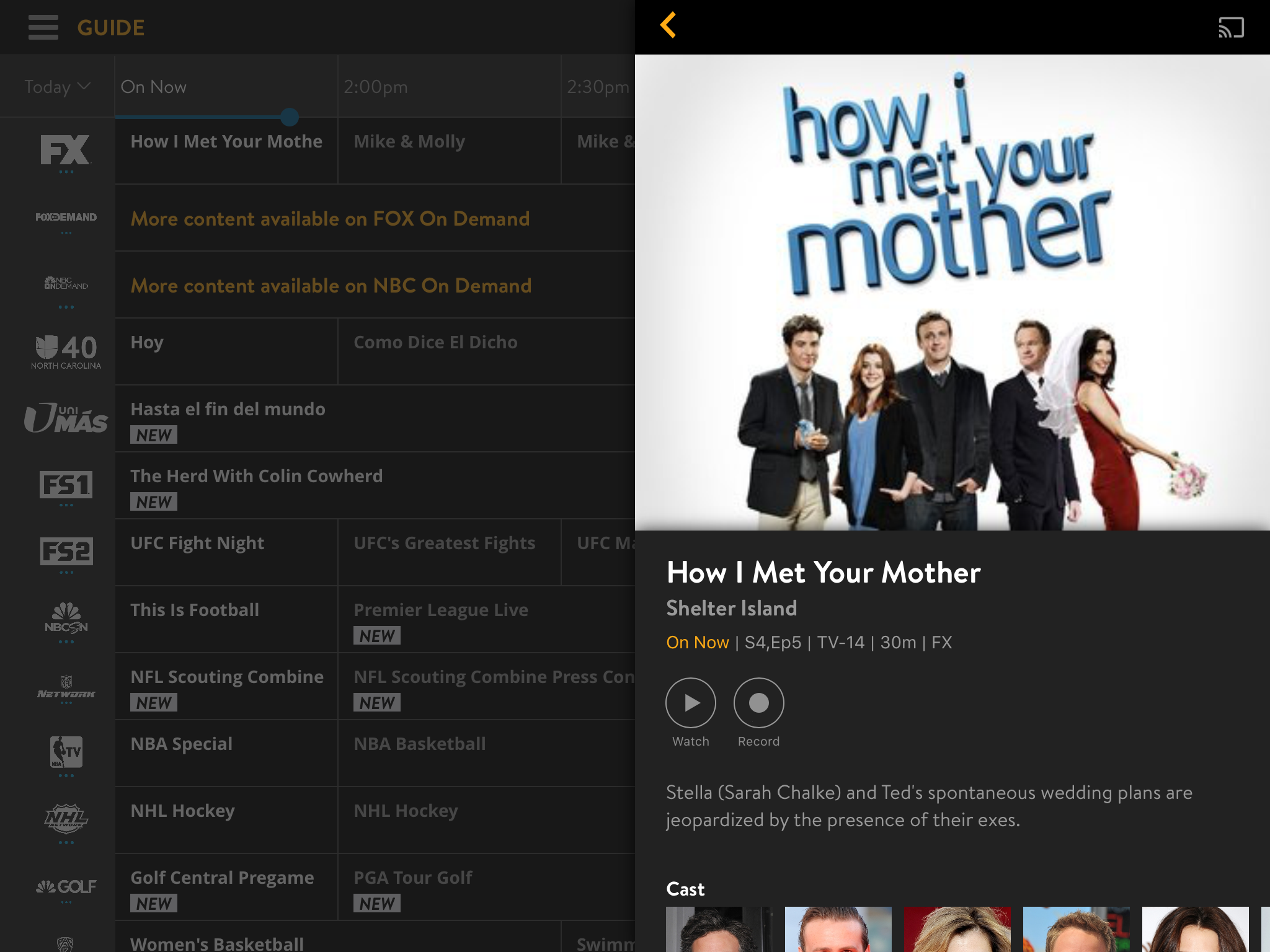 DVR is not part of the basic plan. It one of the addons and it can be added it for $5.00. You have up to 50 hours available which is plenty if you don't go crazy recording everything you can find. When you are in grid mode Highlighting a show by clicking OK on your remote prompts you to set it up to record it with the DVR.
Pricing Two Core Packages

Sling TV is a little different than the other live TV services because it has multiple intro packages. It offers two basic groups of channels, Sling Blue and Sling Orange.  Sling Orange costs $20.00 and offers a package built around Turner and Disney and AMC Networks properties. This means users get ESPN and ESPN 2, along with channels like TNT BBC America and AMC. Overall the package includes close to 30 channels. Sling Orange, which came along later costs 25 to start with, is built on Viacom and Comcast properties meaning that it is home to Comedy Central, Syfy NBC based channels and others. See more info at Sling's website. Users can pick one package over the other or get both for $45.00, which is just a bit more to equal the cost of other services. Both Sling BLue and or have exclusive content that the other does not, but either can fit a user's tastes on their own depending on your needs.
Addon Packages

The biggest differentiator between Sling TV and other services is the way it deals with adding channels. Once a user chooses a core setup they can choose to expand their lineup based on specific interests. How is this different than normal services? Let's say you have ESPN but would like to add the SEC Network or Longhorn Network. A cable service would have you add a new tier or more than one to have the capability to receive the one channel you may be looking for. We won't guess the costs. Sling TV, on the other hand, assumes if you want an extra ESPN that maybe you would like all of the ESPN networks. Want a movie channel, it works the same way. The packages cost $5.00 per month to add and can be changed whenever a user chooses.

This means that if you do want an extra sports channel or two, you don't also have to add a kids cartoon channel and two Hispanic language networks and who knows what else. The idea is not true A' la' Carte" as in adding one channel at a time for a small price. But on the other hand. It is a way to personalize your TV viewing in a way that allows users to concentrate on what they like best.
Overall impression
When compared to any cable service you can save a bundle with Sling, but you need to be careful with what options you select. Because if you add too many of them it could be cheaper to go with another service or just keep your cable subscription. While Sling is popular, it shouldn't be viewed as the replacement for cable because it's entirely possible that you'll be missing some of the channels that you want the most. But if you see are only getting cable for a select few cable networks, it's worth checking out. The majority of the available options are also the most common and popular cable networks.
Video Demo Of Sling TV
Ryan Downey also contributed info to this story
(Images for this story were taken from screenshots of the Sling TV app and website)