Netflix's new original film Game Over Man is a crazy slacker version of Die Hard. Strike that, it's one-half slacker Die Hard and one-half Sharknado. The film centers around three childhood friends who have a dozen get rich schemes. Years of childlike brainstorming sessions along with a boatload of other unresolved issues combine to create a farcical adventure.
Game Over Man Is Caper Meets Chaos
The three somehow end up the only hope for a group of over 100 hostages, The guests at a party. Warning. This movie is not family friendly. There is gratuitous nudity and what I would call serious sexual language. The violence in the feature is also off the charts. While it is almost cartoonish it's in many cases gross.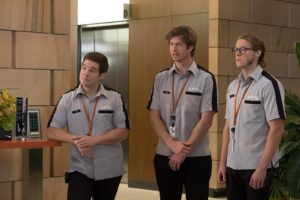 The Anders Holm, movie is a spiritual continuation of Workaholics featuring a group of friends you would not wish on your worst enemy, celebrity cameos, pop culture references and totally over the top situations. But on top of that, it has a full plot and resolution and appears to be ready for a sequel, though we have bit seen that.
The leads, Adam Devine, Anders Holm, and Blake Anderson are backed up by a deranged Daniel Stern who plays the sleaziest hotel manager seen on screen. Stern's Mitch has a penchant for completely inappropriate behavior that is dealt with in a "me too" moment to remember.   
Check out Game Over Man as long as you are not squeamish, just make sure the kids are in bed first.